Hearts Beat Loud, 2018.
Written and Directed by Brett Haley.
Starring Nick Offerman, Kiersey Clemons, Sasha Lane, Toni Collette, Blythe Danner, Alex Reznik, Quincy Dunn-Baker, and Ted Danson.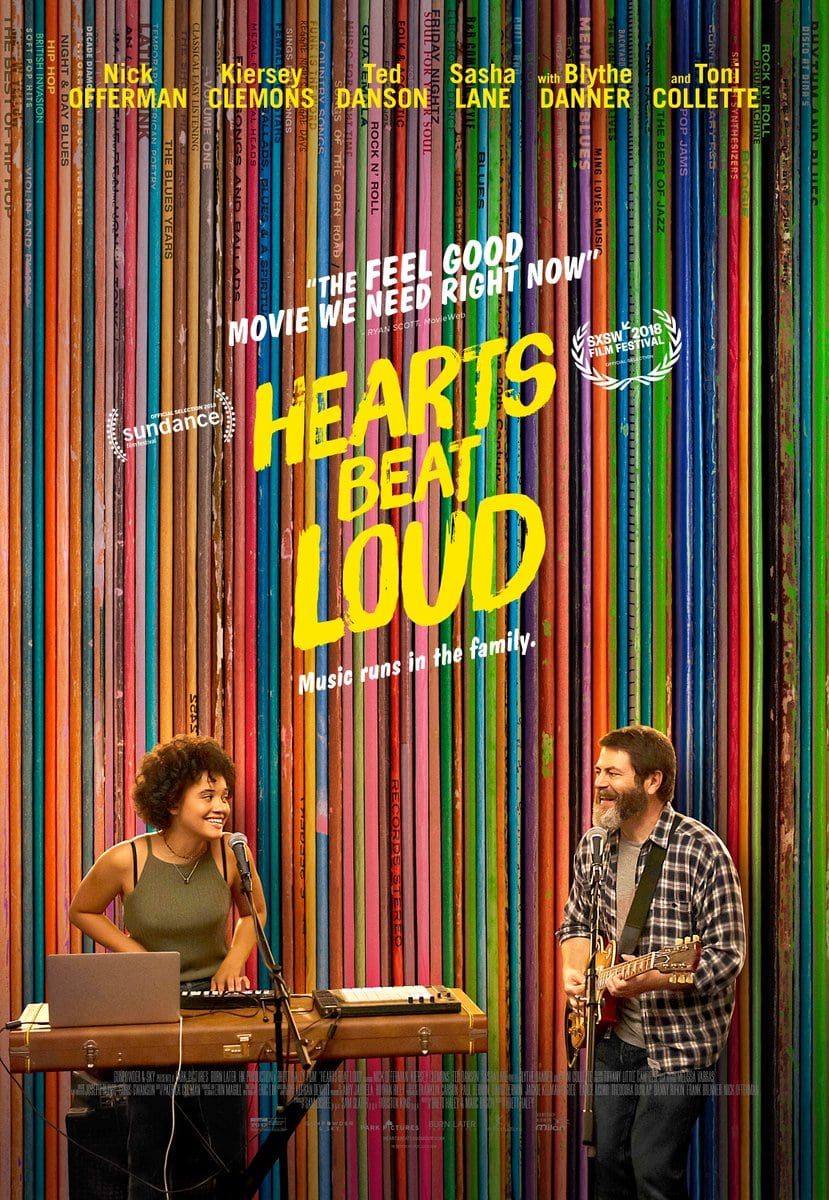 SYNOPSIS:
A father and daughter form an unlikely songwriting duo in the summer before she leaves for college.
Tired of watching aspiring musicians suffer for their art? Hearts Beat Loud (the latest project from director Brett Haley which closed out the 2018 Sundance film festival for good reason considering the uplifting vibes present sure to send the audience home on a happy note) is a much more lighthearted tale depicting dream chasers. More importantly, it is a family film specifically regarding the father/daughter dynamic that while is undoubtedly unbelievably fortuitous in terms of the duo's songs going viral on Spotify's indie playlist, is affecting due to the chemistry between Nick Offerman and Kiersey Clemons as the distant but on good terms pair torn between pursuing fairytales or more realistic ambitions.
Frank is a bit of a dorky father which definitely plays well to Nick Offerman's comedic skill, but he's also clueless to many of the things going on in his daughter Sam's life, including that she is in a relationship with another girl and has apparently given up on any career whatsoever in the music industry despite having written a number of strongly worded lyrical poems a few years prior. Due to an unfortunate cycling accident that took her mother's life, they live alone but get along as well as what is standard for middle-aged dads and daughters about to venture into the world of college. Feeling broken down and defeated from his own record shop failing and on the verge of foreclosing, Frank finds some extra motivation to get Sam back into the creative spirit, purchasing a bunch of modern-day instruments and recording a track together for fun.
Here's where the biggest surprise of Hearts Beat Loud comes; the indie style pop music is actually catchy, well-written, and worth going out and buying the soundtrack for. The lyrics relate to the perceived shortcomings of each character and life, the overwhelming emotions that come from first true love, the pain that they still carry with them from the tragedy of losing mom, and more. There's a good amount of newly created music here, and it's all fantastic for one reason or another, even if you're someone like me that isn't really interested in the genre at all. The ending features a mini-concert that goes through all the hits with all of the major characters in the same vicinity of one another and watching everyone look at each other as Sam sings her heart out says wonders thanks to the passionate staring facial expressions and body language throughout. There is a catharsis through music that allows these people to move on with their lives for the better.
On another note, I do fall into the aforementioned camp of film aficionados that would prefer watching a character go through hell and back and sometimes even failing with their aspirations. And not that Hearts Beat Loud needed to go down this route, but it does play too far into the happy factor including such cringe scenes as Frank walking into a random coffee shop and becoming ecstatic that for some reason Spotify is playing the song they recorded for everyone to hear. Some of the closing moments are even cheesier. Ultimately, it's going to be a personal preference thing, but the one agreeable constant is that the parental dynamic is spot on and will assuredly be easy to relate to similar people.
The film also contains some worthwhile supporting performances from Toni Collette as a friend to Frank basically in the role reversal position of him and his daughter, convincing him not to sell the shop and to find a way to continue keeping the business open. Ted Danson also shows up as a bartender who has maintained the position for the greater period of his life we are led to assume, illustrating that sometimes staying stagnant and doing something simple that's enjoyable is not all that bad.
Brett Haley knows how to get the most substance out of these character interactions wholly making up for the offputting sanitized presentation of the family-friendly affair. The story itself might feel fake, but the characters are deeply real, and we care about them from the very beginning hoping they can achieve their dreams. Hearts Beat Loud is a charming indie rock musical that succeeds on the strength of characterization and the performances from Nick Offerman and Kiersey Clemons, the latter of which is one very talented singer and actress deserving of hopefully receiving some high profile roles.
Flickering Myth Rating – Film: ★ ★ ★ ★ / Movie: ★ ★ ★ ★
Robert Kojder is a member of the Chicago Film Critics Association and the Flickering Myth Reviews Editor. Check here for new reviews, friend me on Facebook, follow my Twitter or Letterboxd, check out my personal non-Flickering Myth affiliated Patreon, or email me at MetalGearSolid719@gmail.com