Red Stewart chats with filmmaker Brett Haley…
Brett Haley is an American filmmaker who has been working in the film and television industries since the mid-2000s. He is best known for his independent feature movies which he directed and co-wrote, including The New Year, I'll See You in My Dreams, and The Hero. His latest work was the comedy-drama Hearts Beat Loud, which stars Nick Offerman and Kiersey Clemons.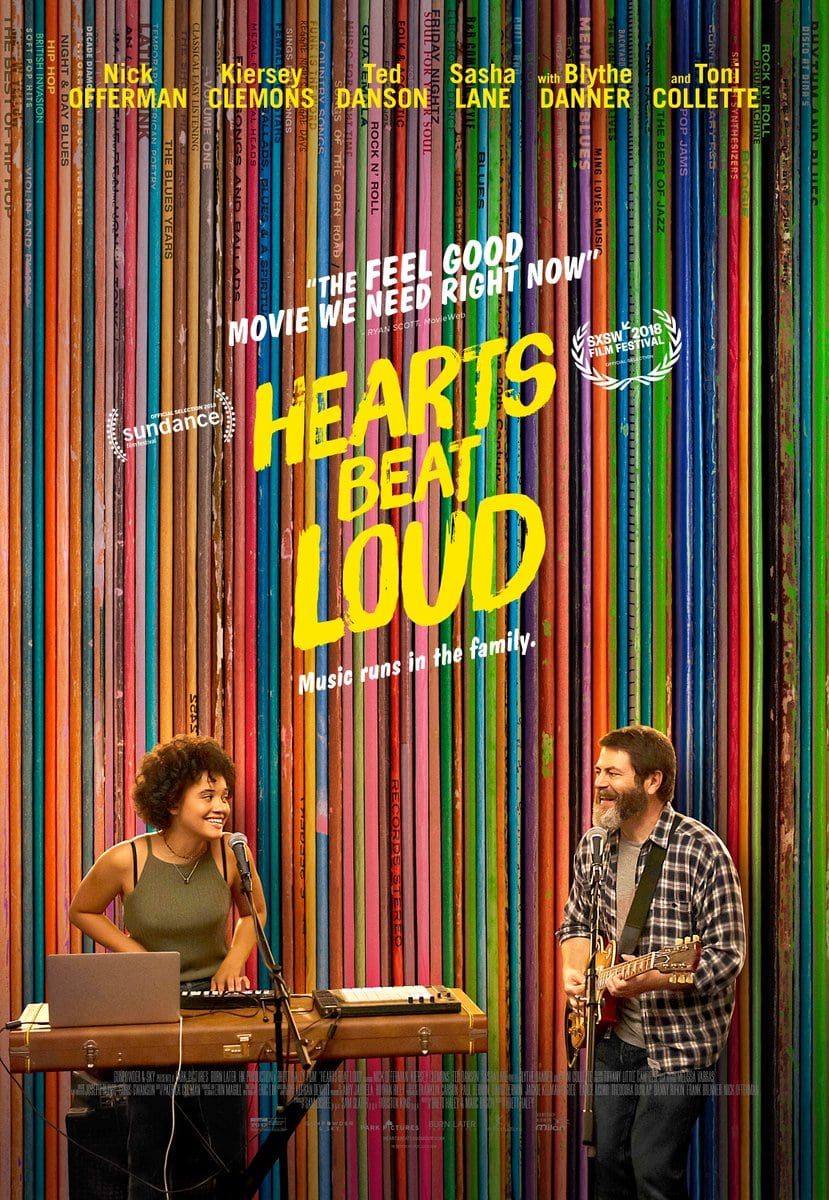 Flickering Myth had the opportunity to interview him, and I in turn had the honor to conduct it:
Mr. Haley, thank you so much for taking the time to talk with me. I know how busy your schedule is these days.
My pleasure.
So, while Hearts Beat Loud isn't a musical, music and song still play an integral part in the movie. I'm wondering, what were your own experiences like with music growing up? Did you play in school bands or play instruments for fun for example?
Yeah, I definitely love music, but I was never in a band: I didn't have that kind of musical talent! But I was in musicals in the drama department, so I grew up with a love of music and telling stories, and I was a big fan of indie music and various things growing up. So I think all of that is pretty present in the film.
Oh, that's surprising to hear. At first glance, I figured you would have a background similar to Damien Chazelle, but it just goes to show how talented you are to incorporate that choral aspect into your work.
Yeah, I mean, I think sometimes people create stories that are about them from them, and that's very clear. However, sometimes you also take ideas that are not exactly yours. Like, I've never started a band with my dad, but I could imagine what it would maybe look like.
Now, one thing I found very interesting when I read over your filmography is that you're not just a director. You've done extensive work in other departments like producing and editing. I'm wondering, did you pursue those multiple roles because, doing independent movies, it helped move through the production faster, or were you always interested in expanding your skill range beyond directing?
I think the majority of that came out of budgetary reasons. I am a writer and a director, and I've edited a lot of my own films, though I'm not editing anymore. And I think a lot of that came out of necessity more than anything. You know, there are certain films I've made where there was no money to pay an editor, and nobody else was going to put in the time and energy for free to complete the film while putting enough love and care into the process, except me. So I did it [laughs].
So I think necessity is, a lot of the time, the answer to that. But I do love editing, and I love writing and directing. However I think that the more I move on, the more that I'm going to be focused on writing and directing only. I love elastics of filmmaking, but those are the ones I have to stay focused on.
But when you're coming up and making small films, you do what you got to do to get them done. So that comes with a lot of different stuff.
That makes sense. I remember speaking to another director and he told that that was one of the reasons he also branched out: because the lower budget meant that you had to take on those roles yourself. So with Hearts Beat Loud, you've done a phenomenal job assembling a terrific cast. I've been a fan of some of these actors for a while now. I'm wondering, were you ever, I don't want to say intimidated because I know you've directed a lot of established actors over the years, but when it came to putting together this cast and this film, was there ever any apprehension over telling these stars what to do, or was everything progressive from the beginning?
I mean, you know, I'm human like anyone else, and of course working with someone like Toni Collette or Ted Danson, these are amazing people who I'm a fan of, and I get excited about famous people or people whom I respect just like anybody else. But you have to do your job, and your job is to work with them and collaborate with them and believe in your vision and go from there. And so, I think it comes pretty naturally to me at this point in my career that I can show up and do what I need to do. And I was lucky enough that everybody on this film was super kind and supportive and we all had a wonderful time working together.
No, I'm happy to hear that, because sometimes you learn about conflicts between younger directors and actors, but that luckily wasn't the case here. Now, tell me, what it was like working with Mr. Keegan DeWitt, because I understand that this time around, he was not only the composer for the film, but also the songwriter. Since music is very integral to Hearts Beat Loud, I know you probably had a lot of strong ideas in mind about how the music should go about, and directors are very influential when it comes to the creation of the score. So what was it like building that relationship with Mr. DeWitt and making the songs in the process?
Well I've worked with Keegan many times. He's done all of my films in some form or another, and so Keegan and I are very close and we sort of have a routine that we've worked out over the years of how we like to work together. As such, there was no sort of "getting to know you," or "how do you work" type scenarios. Everything was very established.
And we just collaborated very closely on what the songs needed to do in the film and how we wanted to do it and it was great: it was great fun. And Keegan proved his talent over and over again; that he had the ability to really step up and create, not only great pop songs, but songs that served the film, songs that really supported the narrative of the story. So it was a true collaborative effort.
It's wonderful to hear that you've built up that strong relationship over the years. Now I have to ask about the story of this film, because one thing that's very appealing about Hearts Beat Loud is that it's relevant to this day with the Internet and the concept of virality. I'm just wondering, do you think that there's a relationship between virality and the stress of fame?
Well, we purposefully went out of our way to not tell a story about fame and success and fortune, but rather how music brings people together through its creative process. [Frank and Sam] catch the attention of some unknown record label, and it's just enough to keep Frank involved, but I don't think that it's some kind of viral sensation where everyone is rocking out to Hearts Beat Loud. It's the most minor of success.
Oh, I see. And I know you said that this story wasn't drawn from any personal anecdotes in your life, but what made you interested in this concept of the connection between music and relationships?
I don't know [laughs]. I think that this was a subgenre in a world that I was interested in and themes that I was interested in telling and figuring out. But yeah, it's not a personal story in the sense that these things happened to me or someone I know. It's personal in a lot of other ways in terms of the themes and what the film accomplishes and what it sets out to do; it's very personal, as any film is, but it isn't anything that happened to me or Mark or anyone that we know. In no way is it based on a true story.
Well, I'm glad you've managed to create a work that's resonated with a lot of people. Congratulations on another success in your esteemed filmography, and thank you once again Mr. Haley for taking the time to speak with me sir.
Thank you very much, I appreciate it!
Flickering Myth would like to thank Mr. Haley for sitting down with us. Hearts Beat Loud will be released in the United Kingdom on Friday, August 3, 2018, and will be available on DVD and Blu-ray September 14th, 2018.
Red Stewart