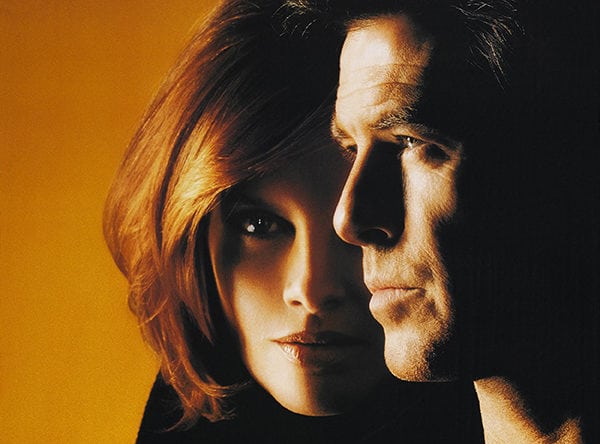 Did you know the actor has his own production company called Irish DreamTime? He founded it, alongside long-time friend, Beau St. Clair in 1996, producing three films in their first four years. After 1999 and the release of The Thomas Crown Affair, they took a break before returning in 2002 with Brosnan vehicle Evelyn– a hugely underrated, old-school drama that tugs on the heartstrings in that classic, idealistic movie kind of way. It tells the true story of Desmond Doyle, a father who had to battle the Irish courts in the 1950s to be reunited with this children, who were been placed in a Church orphanage by law after their mother abandoned them. The titular Evelyn, one of Desmond's three offspring, has vouched for the film herself in real life. There's an absolutely immense scene in which Brosnan barges into the orphanage, threatening to tear an abusive Sister "limb from limb" if she lays another finger on her daughter. It's not that we didn't think Brosnan couldn't act before, but this was a different type of performance – more open, vulnerable and emotional. It flew under the radar a bit, which is a travesty – this is really terrific, historic work.
After Evelyn, the actor branched out even more. At this time, he had finished up on the Bond franchise, so he was completely free (not that many tears were shed after Die Another Day). One film that really stuck out though was 2005's The Matador. Playing a disgruntled, no frills anti-hero, Brosnan stars as an unstable hitman who forms an unlikely friendship with Greg Kinnear's Danny, an everyday businessman looking to set up shop in Mexico. The laughs aren't gut-wrenching but there's a constant amusement in their partnership, thanks to the naturalistic bemusement Kinnear is so very good at, but also Brosnan's unhinged, wildly erratic turn.
The Stinkers
Like any great actor, there are some big, ugly stains in Brosnan's past. First and foremost, his early 1992 turn in the absurdly dated The Lawnmower Man. Inspired by a short story from none other than the maestro of horror himself, Stephen King (although he publicly denounced it and even sued the producers), Jeff Fahey plays Jobe Smith, a gardener with learning difficulties who is recruited by Lawrence Angelo – hello, Brosnan – to be the guinea pig for his new virtual reality game. The nuance in Fahey's turn isn't as subtle, and thereby as acceptable as say, Hanks performance in Forrest Gump. It's a film that routinely overeggs the pudding, with a nonsensical narrative, straight up odd characters and iffy performances at best. Brosnan veers between sympathetic and maniacal, rocketing to each side of the coin – very strange, indeed.
From naive lunatics to a thundering, dull romance – Laws of Attraction sees the union of two, big screen stars, Brosnan and Julianne Moore, in a story about lawyers falling in love. There's not much else to it really. Neither of the actors are game for the jaunt, and the script is hollow and lacking in lust or wit. It's so painfully by the numbers you could read the blurb on IMDb and probably successfully predict the entirety of the movie. There's some reasonable slapstick humour, but what this needed is the quick-fire verocity of say, the Coens. Basically, just go watch Intolerable Cruelty instead. Hell, even What Women Want will satisfy your ignoramus gent and smart lady relationship craving.
In the past few years, we've entered a befuddling realm in which the actor is actually really busy, but barely anyone could tell you what he's doing. His biggest release of the past few years is without a doubt Mamma Mia 2 (which is most certainly not a stinker), but do you know since 2010 he's been in 21 films. Yes, you read that correctly, 21. How many could you name? Chances are, maybe three or four – ones that garnered a little coverage were A Long Way Down, Remember Me, The World's End and No Escape. But he's really stuck in a rut, as most of his work has been average, if not pretty bad. The worst of the lot is 2016's I.T. – a redundant romp that serves about as much use to a film fan as a Linux computer. The thing is, Brosnan isn't awful here. He plays a filthy rich technophobe who sparks a sinister anger in his computer consultant, kicking off a trail of mysterious attacks, which, naturally, leads to hostage taking and what not. While he is comfortable in his role, the film drowns steadily in its derivative operating system as time progresses. You know online you get all those flash games which completely rip off a popular release, such as Mario? This is the film equivalent – an exceedingly useless thriller worth watching purely for Brosnan alone, and even then it's a struggle.
But while he may not be the same prolific superstar from the turn of the millennium, Brosnan has a timeless nostalgia factor. He's firmly in the hearts of film fans around the world. For many, he's their Bond. But speaking of him only in his relation to the spy franchise does his talent a disservice – at the ripe old age of 65, his wicked charm still feels as fresh as it did 20 years ago, and his wide portfolio yields some truly great work.
Cameron Frew – @FrewFilm