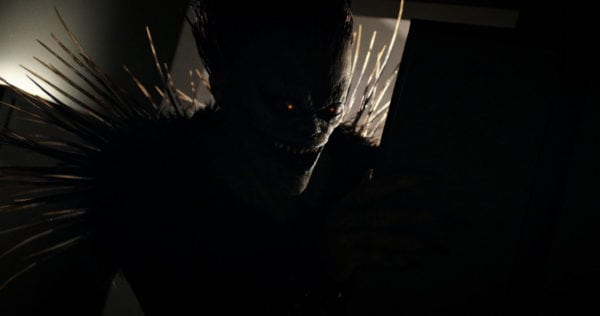 Netflix have an impressive slate of original features set to debut within the next couple of months, including Jeremy Saulnier's Hold the Dark, Alfonso Cuarón's Roma, and David Mackenzie's Chris Pine starring Outlaw King, so amongst a Hollywood Reporter article on the streaming giant's desire to make a movie that culturally resonates, it's perhaps a little surprising to find that the studio are moving ahead with a sequel to Adam Wingard's Death Note.
Adapted from the Japanese manga written by Tsugumi Ohba and Takeshi Obata, Wingard's film was visually arresting, but reviews were less than favourable for the Nat Wolff, Willem Dafoe, and Lakeith Stanfield starring film. However, Netflix film chief Scott Stuber said that Death Note had been a "sizeable" success, and while the studio never release viewing figures, it was enough to get Greg Russo writing a script.
SEE ALSO: Read our review of Death Note here
Whether or not Wingard returns to command Ryuk the demon will depend on how his in-production Godzilla vs. Kong turns out when it's released in 2020.
We suggest you obey the rules. Based on the famous Japanese manga written by Tsugumi Ohba and Takeshi Obata, Death Note follows a high school student who comes across a supernatural notebook, realizing it holds within it a great power; if the owner inscribes someone's name into it while picturing their face, he or she will die. Intoxicated with his new godlike abilities, the young man begins to kill those he deems unworthy of life.
Death Note is available to stream now on Netflix.