Liam Hoofe reviews NXT Takeover: Brooklyn IV…
This Saturday night, WWE presented NXT Takeover: Brooklyn IV, one of the biggest Takeover events of the year. The show featured an incredible card, one which had very high expectations from the NXT fanbase.  The brand has given us some of the best shows of 2018 so far, so let's take a look and see if they could deliver once again in Brooklyn.
The Undisputed Era defeated Moustache Mountain to retain the NXT tag-team titles
This match was the very definition of a hot opener. These four men have been absolute dynamite together in the ring over the last couple of months, and they delivered once again at Takeover.
As with their other matches, the action here was fast-paced, and there were some stunning exchanges during the match. This match also had the added benefit of having more history between the two teams, and the moment when Trent Seven went to throw in his towel, only to change his mind at the last minute was wonderfully executed.
These four guys are four of the best performers in the WWE right now, and they highlighted that with several innovative moments during the bout. The double submission being broken by Bate using O'Reilly sent the crowd into a frenzy, and the near falls at the end were nail-biting.
#JoinTheRaid?@WarBeardHanson @RAYMONDxROWE #NXTTakeOver pic.twitter.com/JT0CV0TYXx

— WWE NXT (@WWENXT) August 18, 2018
The post-match attack from War Raiders sets up a nice bout for NXT Takeover: War Games involving all three teams.
Rating: **** 1/2
Velveteen Dream defeated EC3
While this was the only match on the card where there wasn't anything at stake, Velveteen Dream and EC3 still managed to produce a really fun mid-card encounter that highlighted both men's strengths.
The #VelveteenDreamExperience is upon us. @VelveteenWWE #NXTTakeOver pic.twitter.com/9bhOcTMnhO

— WWE NXT (@WWENXT) August 18, 2018
Velveteen Dream was at his eye-catching best here, coming to the ring with trousers on that said 'call me up, Vince' and then delivering some excellent moments throughout the bout as well. EC3 looked good here, but he needs to have a more clearly defined face vs heel feud to really get over his arrogant persona.
The match was good fun though, if not a little too long. It's good to see Dream winning at a Takeover event again.
Rating: *** 1/4
Ricochet defeated Adam Cole to win the North American Championship
Damn, Ricochet is incredible. Both him and Adam Cole have been two of NXT's brightest stars so far this year, and they delivered once again on Saturday night.
The two men's styles worked perfectly together. Cole is one of the best heels in the industry, and also one the company's finest technical workers, while Ricochet's high flying offence is a sheer delight to watch and is quickly becoming a staple of Takeovers. There were so many wonderful spots to talk about in this match- Ricochet getting caught with a super kick mid moonsault was incredible, his over the top rope hurricanrana towards the end of the match was beautifully executed, and his finisher is always incredible to witness.  What makes Ricochet even more exceptional to watch is just how effortless he makes it all look.
I'd love to see more of these two in the ring together, and this is a strong candidate for match of the weekend. Hopefully, Adam Cole gets a rematch soon and we can get even more magic from these two.
Rating: **** 1/2
Kairi Sane defeated Shayna Baszler to win the NXT Women's title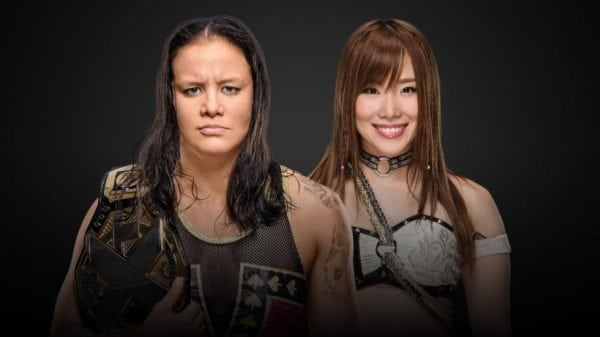 Kairi Sane and Shayna Baszler have always had an excellent chemistry in the ring, but last night they really pulled it out of the bag, delivering what was arguably the best women's match of 2018.
Baszler's critics argue that she is not all that compelling in the ring, and that her grounded, submission based style doesn't make for entertaining viewing, but she proved everyone wrong last night. The match played wonderfully of the history of both women (though, if I hear Mauro Ranallo say 'killer instinct' one more time, I might cry)  and the two women displayed an excellent psychology throughout the match.
The #PiratePrincess @KairiSaneWWE is giving it all she's got! #NXTTakeOver pic.twitter.com/t6iXb03Nl5

— WWE Universe (@WWEUniverse) August 19, 2018
Baszler has mastered her role as the big bully of NXT, and she did an excellent job at working down Sane's leg throughout the match. Sane, being the plucky babyface, did a superb job at selling, and the finish of the match, which saw Sane roll out of Baszler's grasp and pin her out of nowhere, was perfectly executed.
With Io Shirai waiting in the wings, Sane's run as champion could be one of the greatest of all time. Baszler is likely to be called up to the main roster very soon, especially with Evolution looming.
Rating: **** 1/4
Tommaso Ciampa defeated Johnny Gargano to retain the NXT Title
Tommaso Ciampa's feud with Johnny Gargano has easily been the hottest story line in the WWE this year.  The two former team-mates have put each other through hell over the last few months, and they saved their most brutal encounter for Brooklyn.
Everything about these men's encounters has been perfect. The storytelling is on another level to what we are accustomed to these days, and they took that up a notch again last night.
What makes this match so notable is that it was presumably thrown together fairly late. With Aleister Black's injury forcing the company to change the match-up, these two men would have had very little time to make sure that this match was as special as their previous two.
He's done it.@ProjectCiampa is STILL your #NXTChampion! #NXTTakeOver #LastManStanding pic.twitter.com/4WrJ9XpW4I

— WWE (@WWE) August 19, 2018
As we've come to expect, there were plenty of brutal spots throughout the match and once again, the two men harked back to their previous encounters. I love the fact Gargano is becoming increasingly unhinged, and the match's final moments were a sheer delight.
My chief concern was that if Ciampa won, then the feud would be over, but once again, Triple H and the guys pulled it out of the bag. Ciampa's victory was pure instinct, and he just managed to take advantage of Gargano's anger. The two men should be kept a part for a little while now, Gargano should spend the next few months trying to reign in his temper, before finally coming back to put an end to Ciampa's reign once and for all.
Once again, these two men delivered an incredible match-up.
Rating: **** 1/2
Verdict: The quality of these Takeovers in 2018 has been outrageous. The brand just keeps putting together excellent shows and last night's was fantastic across the board. Ciampa's reign as champion is one of the best things in the WWE right now, and with the likes of Io Shirai and Matt Riddle making their way to the brand, things are only going to keep getting better. SummerSlam, you're up next.
Liam Hoofe- @liamhoofe
Photo Credits: WWE.Com