The summer movie season was officially dominated by huge sequels such as Deadpool 2, Incredibles 2, Avengers: Infinity War and Jurassic World: Fallen Kingdom, but as the cooler winds begin blowing in a new crop of films are emerging. Fall marks the time of year when darker films have become the most prevalent, given the spooky holiday, and this year is no different with titles such as The Nun, Halloween, Mandy, Suspiria and Netflix's Malevolent being released. Another film worth noting is Chris Blake's All Light Will End being released by Gravitas Ventures November 3rd. The film stars horror favorite Sara Butler (I Spit on Your Grave) and follows a capricious young author hiding a dark secret as she returns home for her brother's graduation and soon finds herself haunted by the past and tormented by grimly night terrors. In the below exclusive interview we spoke with Chris about numerous things including wearing both hats as writer/director, the horror genre and what will surprise viewers most about this film.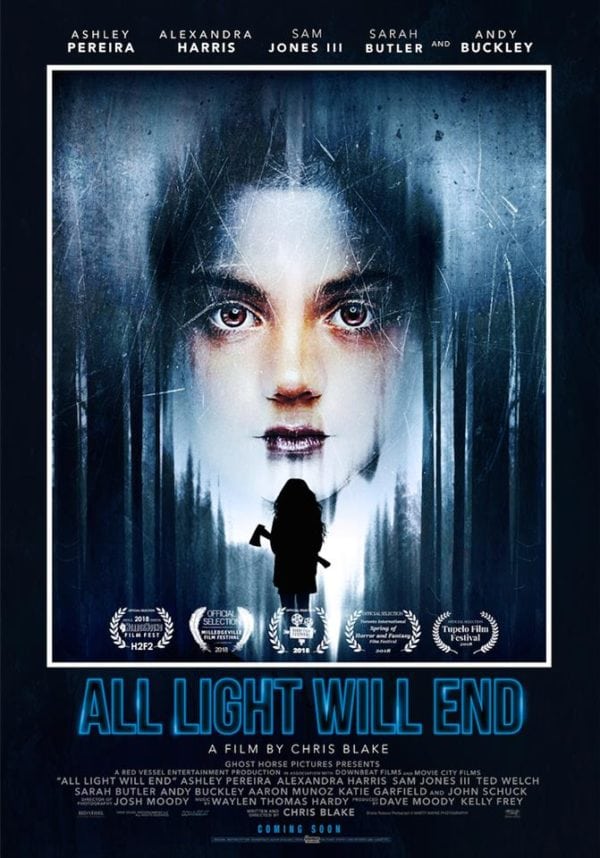 How did All Light Will End come about?
As scripts often do, it began with fragments of scenes and characters swimming around in my head. I went to my producing partner and said, "Look, I want to make a movie with a big heart, a slow burn, and a crazy ending." His response was something along the lines of, "What does that mean?" Eventually, we were able to carve out a basic premise from that and stretch it into a 90-page script. But, seriously, we knew from the beginning we wanted to make something like this and as we began developing it, changing things, making adjustments and doing rewrites it became clear what it could be – an opportunity to tell an original story and do it in a way that allowed for increasingly unbearable tension set among an atmosphere of stillness.
You are both the writer and director of All Light Will End. Because you also wrote the film did that make the directing process easier because you had already visualized how the scenes would play out in your head?
Yes and no. I, of course, came into this wanting to protect the story and my vision, but what I found was that the story and the characters were taking on a life of their own and so it was a lot of give and take. Sometimes I needed to push for more, sometimes I needed to rein it in, and other times I just needed to sit back and let everything unfold. It was a fantastic process. A lot of things in the final film are very different than what was originally written in the script, and that's exciting to me. I think it's a better movie for it.
What was your biggest obstacle with making All Light Will End?
There is this nightmarish figure (we'll call it) in the film that seeps in and out of Savannah's reality, and it was challenging making that figure memorable and scary without overdoing and without a lot of room in the budget to commit to it. It was vital to the story's structure and the character's arc that the figure was there, but it wasn't present in the film enough to justify breaking off a large portion of the budget to do it the way I had envisioned it.
All Light Will End is a horror/thriller. Why did you pick this genre?
We didn't really venture out to make something that fit into the horror genre, but we knew the kind of story we wanted to tell and how we wanted it to feel. And as we continued to craft our story and we began shooting – it just kind of organically found its place within the genre. There is actually a sense of humor beneath everything in this, despite the dread and how scary it is. It was important to me that we didn't make a movie with a bunch of jump scares – not to say that there aren't some of those – but I wanted to make a film that felt authentic. I wanted the audience to believe they were in this situation. The goal was to create moments that you didn't see coming. And when you think you have the story figured out – you don't.
What do you think viewers of the film will be most surprised about when the end credits roll?
Well, that's a difficult question to answer without giving away any spoilers. What I'll say is there are a lot of emotions in this film along with many different types of monsters. But the good news is that it comes out soon. And I hope the audience will find it to be one of those movies that are worth watching.
Was there a particular event or time that you recognized that filmmaking was not just a hobby, and you wanted to make a career out of it?
I always wanted to make movies. Even at seven and eight years old I was in my bedroom writing screenplays. Figuring out what I wanted to do with my life was never the hard part for me. The challenge I faced was getting to a point in my life where I realized it was okay for me to fail. I was born and raised outside of Los Angeles, and I didn't come from a wealthy background- so making movies as a living wasn't something people talked about or considered "reality" when/where I was a kid. I just had to get to a point where I realized that I was in control of my life and in a way permit myself to do it. Make movies. Succeed. Fail. Didn't matter. Just try.
On your IMDB page it says the next project you are writing and directing is called Christmas on Repeat? Can you tell us anything about this?
Christmas on Repeat is a script I wrote a few years ago and has been in and out of development ever since. My career has since taken a different path, and while I'm still a producer on Christmas on Repeat, I likely won't be directing it. However, I have been developing a new horror/thriller that I plan on directing. I'm currently finishing the script, and we'll be shopping it to studios early next year.
You can learn more about Chris Blake here: https://www.chrisblakefilms.com/
Pre-order All Light Will End here: https://itunes.apple.com/us/movie/all-light-will-end/id1435972559