Glass Jaw, 2018.
Directed by Jeff Celentano.
Starring Lee Kholafai, Korrina Rico, Jamie Camil, Boosie, Brandon Sklenar, Reynaldo Gallegos, Vernon Wells, and Mark Rolston.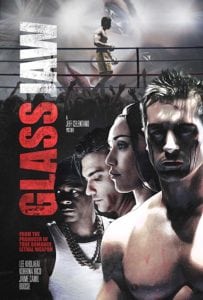 SYNOPSIS:
A champion boxer goes to prison and loses everything for a crime he didn't truly commit. Once out, he fights to earn everything back.
Glass Jaw is a boxing movie. It is painfully and unremarkably a boxing movie. It feels as though it was made by someone who has watched more boxing movies than boxing or other movies. That said, it isn't completely lacking as a movie in its own right. Especially if you really like boxing movies like I do.
We begin by being introduced to Travis Austin as a child. A young, scrappy kid with a deadbeat gambling addict for a father, he is abandoned by his parents at a shelter. Cut to Travis as an adult (Lee Kholafai), where after winning the light-heavyweight championship, a tragic death at the celebratory after-party lands Travis in prison.
Once out, he learns that his old friend and sparring partner Joe is now the light-heavyweight champion and that he isn't much of a friend at all anymore, confirming that the people that were his friends when he went in weren't his friends when he got out, much as his father told him when he visited him in prison. It isn't true across the board, though, as his girlfriend Dana (Korrina Rico) waited for him the entire time. Their relationship experiences some ups and downs that aren't written or played terribly convincingly. An unlikely series of events lands Travis a spot competing against Joe for the light-heavyweight title.
Of course, we get an obligatory training montage for Travis as he prepares to fight Joe. There is no drama here. Travis goes to prison and loses everything, but we're never given an opportunity to sympathize. Mostly because he's an unsympathetic character to begin with, and then his losses don't feel much like losses at all. Before we get a chance to feel much of anything for his predicament, he's on his way back to the top, with no setbacks and few obstacles. Despite Joe pummeling Travis, drama never builds in the fight, either. As unrealistically villainous as Joe has become, we never believe that he might actually emerge from this fight as the victor, so we patiently wait for Travis to bounce back and kick his ass. And of course, the fight sequence ends in a freeze frame, because that's what happens in boxing movies.
The acting is weak, the story is banal, the pacing is too quick to care, the direction is uninspired. There's also no reason for the title, aside being a term used in boxing sometimes. No one is a particularly weak competitor or easy to take down with a face punch. Travis hits the mat hard a couple times, but no one makes a big deal of it.
In a world where there are six Rocky films, Creed and its upcoming sequel, David O. Russell's The Fighter, Martin Scorsese's Raging Bull, and really just too many other boxing films of all different stripes to name, there's not much point in watching Glass Jaw. As boxing dramas go, it lacks heavily. As entertaining boxing movies go, it's not particularly great at that, either. If you're casually looking for a boxing movie, you can do a lot better. If you're really into boxing movies, this isn't awful. You might be better served filling other gaps in your boxing movie encyclopedia, though. Have you seen The Hurricane? Maybe hunt that one down. If so, maybe go ahead and give this one a go. Or go back and watch Rocky V again. It's better than you remember.
Flickering Myth Rating – Film: ★ ★ / Movie: ★ ★
Allen Christian – @FourColorFilm