Mrs. Claus. 2018.
Directed by Troy Escamilla.
Starring Helene Udy, Brinke Stevens, Kaylee Williams, Ryan Poole, and Hailey Strader.
SYNOPSIS:
A group of college students attending a Christmas party at a sorority house that has a sinister past are stalked by a bloodthirsty killer disguised as Mrs. Claus.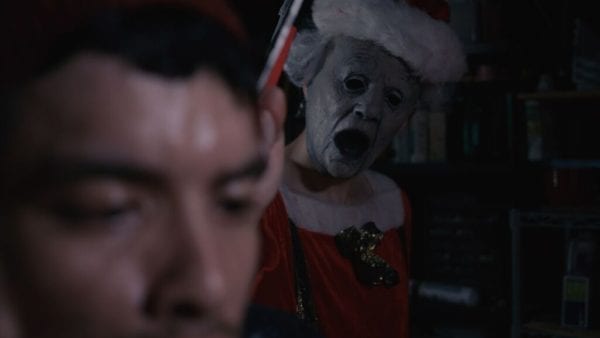 I'll grant Wild Eye's Mrs. Claus more credit than similarly-tiered Christmas Horror indies since writer/director Troy Escamilla, along with his naughty team of special effects elves, churns out emphatic Yuletide gore. No CGI cheating. Santa's wife becomes a slasher who cuts through holiday cheer with a sharpened blade and kill sequences are festively ferocious. Krampus Origins and Elves only care to monetize Xmas spirits with genre intent whereas Mrs. Claus is grimy, get-your-hands-dirty DIY filmmaking that *loves* spilling blood.
Unfortunately, storyboarding holds together like ten-year-old tinsel that's shedding worse than the family pooch.
The sorority babes of Delta Sigma Sigma are preparing for their yearly holiday bash, but this winter is a more somber affair. Danielle (Hailey Strader), a newer pledge, lives with the memory of her deceased blood sister who was murdered while hazing a past Delta Sigma Sigma class. Now, every Christmas, Danielle's reminded of the crime that took not only her sister's life – but the sorority nutcase who carried out said deed then hung herself. Tragic, but the party must rage on. Drunken frat bros and hormonal party girls get to jinglin' each other's bells (or attempt to) with minimal distraction, all seems merry, and that's when a masked Mrs. Claus starts slaughtering the college stereotypes one by one.
Mrs. Claus is a holiday slasher of the thinnest scripted pretense, which can buzzkill scenic moods. Eighties schlock veterans Brinke Stevens and Helene Udy enlist as a security rent-a-cop and unstable mother of the original murderer like we're not supposed to *immediately* suspect funny business. Characters cyclically break off into pairs or isolation only to be mauled. Partiers blissfully unaware, a greyish-faced Mrs. Claus lurking behind dark backyard corners. On-screen chemistry isn't flawless – a girl's awkward hookup attempt gets upturned when the guy confirms he's gay, acts flattered and then invites her on his podcast – because, well, that's not Escamilla's focus.
When the killing begins – kicking things off with a black dildo and slashed stomach – wounds ooze gnarly juices. Red goop pours like champagne on New Year's Eve. Where Elves weakly teases deaths, sure to cut away during money shots, Mrs. Claus plants the sharpened candy cane weapon down sassy podcast man's throat. Flesh peels away, and effects work stays in view as a boast. It's not all perfect – camera tricks can't hide prosthetics and a few whacks with obviously fake slicers fumble sound-match editing – but the skewered couple? Impromptu blood drain via pole through the mouth? Escamilla's here to honor 80s late-night entertainment by staying *completely* practical which in turn respects the audience. I, for one, approve this message.
Alas, Mrs. Claus suffers from low-budget scuff marks like the killer's slender physique not concealing her "secret identity" or the film's inability to define characters beyond corpse meat. Is there a character who meta references Silent Night, Deadly Night? Of course. Horniness leading to death? Over and over. Every sleepaway camp, isolated cabin, or sorority slasher situation we've seen regurgitated a thousand times over. Dialogue references family-dinner-ruining diarrhea interruptions, bafflingly inappropriate prods into Danielle's past, and emotional drivers landed without impact. Wicked deaths, dim in other aspects.
Mrs. Claus gets a recommendation *only* if you've dredged the deepest, endless waters of horror's indie culture. Mainstreamers who're only accustomed to theater-grade budgets won't last more than a few minutes. The gorehounds and after-dark nuts and "watch 'em all" crowd? Engage Mrs. Claus after you've crossed off your Christmas Horror must-sees and a good chunk of maybe-sees. Technical merit provokes dark seasonal delicacies by way of Killer Claus' sword – if only the villain and plotted wrappings wound together a little tighter.
Flickering Myth Rating – Film: ★★ / Movie: ★★★
Matt spends his after-work hours posting nonsense on the internet instead of sleeping like a normal human. He seems like a pretty cool guy, but don't feed him after midnight just to be safe (beers are allowed/encouraged). Follow him on Twitter/Instagram (@DoNatoBomb).