The Mule, 2018.
Directed by Clint Eastwood.
Starring Clint Eastwood, Bradley Cooper, Laurence Fishburne, Michael Peña, Dianne Wiest, Andy Garcia, Alison Eastwood, Taissa Farmiga, Ignacio Serricchio, Loren Dean, Eugene Cordero, Jill Flint, Robert LaSardo, Manny Montana, Noel Gugliemi, and Clifton Collins Jr.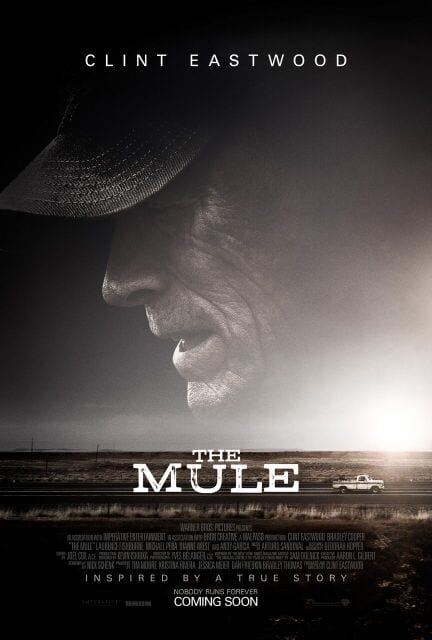 SYNOPSIS:
A 90-year-old horticulturist and WWII veteran is caught transporting $3 million worth of cocaine through Michigan for a Mexican drug cartel.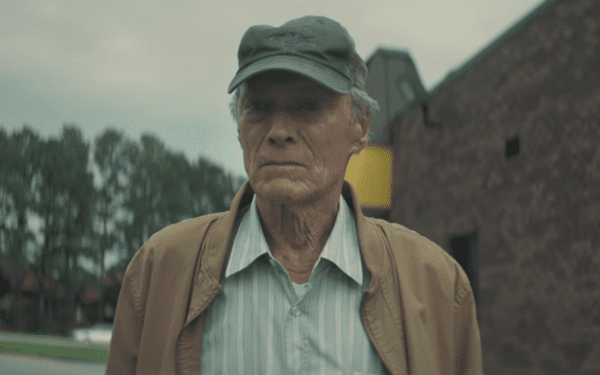 The Mule has much in common with one of Clint Eastwood's more recent efforts Gran Torino (which also marked his second to last time in front of the camera until now), and not just because they are both centered on an unfiltered elderly conservative man frustrated with the current generation, also flippantly doling out some casual racism. Based on the New York Times magazine article The Sinaloa Cartel's 90-Year Old Drug Mule from Sam Dolnick, The Mule sees the legendary cinematic icon re-teaming with that screenwriter (Nick Schenk), this time with scattered results despite admirable themes regarding worth and the distancing bridge that materializes from family negligence in favor of 100% job dedication.
Given that Earl Stone (Clint Eastwood pushing 90 now, appearing so fragile and jittery that one isn't even sure how much of this is actually performance art) would apparently rather drunkenly celebrate newly awarded trophies for his excellence as a horticulturist rather than attend his daughter's wedding (played by real-life daughter Alison Eastwood adding another layer to the dynamics of their fractured relationship), it's more fitting than surprising that the story abandons the majority of those characters altogether in favor of drug running for a Mexican cartel. However, in doing that the film somewhat backs itself into a corner in trying to make us empathize with the countless mistakes Earl has made and accepting that he genuinely does want to write some wrongs; even in the upper 80s, it's never too late to make amends. The charisma of Clint Eastwood is almost enough.
Flash forward 13 years, Earl is eager to pay for his granddaughter's wedding (Taissa Farmiga), an endlessly forgiving young woman no matter how many times he screws something up, but there's also compassion and kindness that goes beyond his family whether it's from using the drug money to help repair local buildings or stepping on the brakes to assist a couple with a flat tire. Of course, his age and clueless nature to certain aspects of society's progression is lost on him, referring to them with the outdated label of "Negroes". His inability to comprehend technology or the Internet (the latter of which he hates for ruining his flower business, subsequently causing a foreclosure on his land, all serving as the reason he embarks on these drug runs in the first place) furthers his out of touch presence, but what's important is that there is good in him. Sure, he might refer to a Mexican character's vehicle as a "taco wagon" in jest, but he also doesn't seem like the type to endorse Trump's stupid proposed border wall or anything indefensible.
The characterization of Earl is fine, but unfortunately, it's really the only redeeming quality of The Mule. For a film with quite a lot of talented actors, every scene feels rough around the edges with unwieldy dialogue and unconfident performances from the supporting cast, as if they haven't quite fully figured out the feelings of their characters. The script itself feels like it was written in one night with no edits, no on-set alterations, with one take for every scene. Considering the movie started production sometime in September and is now ready for release, and factoring in what we know about Clint Eastwood's impressive but questionable swift work rate (The Mule is his second directorial effort of the year having released the atrocious 15:17 to Paris in February), his steady decline in quality as a filmmaker over the past decade with only American Sniper (which also starred Bradley Cooper) standing out as his last truly great movie, then yes, it's easy to accept that not much thought was put in here at all beyond giving Earl some depth.
I'm not expecting the story to take every Mexican cartel member here and give them their own fleshed out arc, but they are embarrassingly one-note, especially for a luxurious leader that regularly likes to fire off a golden shotgun for sport. At one point, a hedonistic party is thrown to celebrate how successful the arrangement is going, where Clint Eastwood, and I promise I'm not making this up, gets into bed shirtless with multiple women. It's only one minute, but still, that one minute could have gone to elaborating on literally any other character. It's not just minorities either; freaking Bradley Cooper is a DEA agent with no motivations besides job commitment. Towards the end, the film evokes some of David Lowery's recently released Robert Redford vehicle The Old Man & the Gun with a chance meeting, but by then it's too late for the film to redeem itself. From there, it also goes into an emotional subplot that falls flat. Also, in what I can only assume to be an act of make-good for depicting about 50 different interchangeable criminal Mexicans, Michael Peña also plays Bradley Cooper's partner.
Clint Eastwood's rushed style of filmmaking can't be helping things, but the script desperately needed a rewrite to iron out the kinks and balance out the characters more, with room to make Earl's character and story more interesting. There is a scene in the trailer where a police officer and drug-sniffing canine potentially might find them out, but it plays with more tension there than in the actual movie. Characters constantly talk about hauling over hundreds of kilos of cocaine, but the casualness and safety with which it all occurs (admittedly, this is the point since no one suspects a nearly 90-year-old man smuggling drugs), means you never feel the pressure and weight of how dangerous these activities are. Similarly, a minority is pulled over by officers, frightened for his life and announcing the ongoing event as statistically the most perilous part of his life; if the dialogue and acting weren't so stiff the film might be making a great point and subverting itself as far less racist/more woke than anyone would have rightfully assumed it might have been coming in.
The Mule is far from problematic, but rather an intriguing story done little justice with its glacial pacing and basic old white man characterization. Probably the most interesting dynamic in the whole film is Earl's disdain for technology, but it never goes beyond anything other than "back in my day" cringe-inducing and dated stereotypical ranting. There needs to be more excitement, more explored family dynamics, more suspense, and about 50% less of Earl singing and driving. I know Clint Eastwood still loves cranking out movies, but if he doesn't have a hit soon, well Bradley Cooper should whip out his guitar and croon that it's time to let the old ways die.
Flickering Myth Rating – Film: ★ ★ / Movie: ★ ★
Robert Kojder is a member of the Chicago Film Critics Association and the Flickering Myth Reviews Editor. Check here for new reviews, friend me on Facebook, follow my Twitter or Letterboxd, check out my personal non-Flickering Myth affiliated Patreon, or email me at MetalGearSolid719@gmail.com