Fighting With My Family, 2019.
Directed by Stephen Merchant.
Starring Florence Pugh, Jack Lowden, Nick Frost, Lena Headey, Vince Vaughn, Dwayne Johnson, Kim Matula, Aqueela Zoll, Ellie Gonsalves, Thea Trinidad and Stephen Merchant.
SYNOPSIS: 
The true story of Paige, a WWE superstar who rose from the rags of Norwich to the riches of professional wrestling.
The world loves an underdog. An everyhero you can see yourself in against the chiselled, refined and lucky. Of all sports in the world, few fans are as religiously engaged as those of the WWE. Not only are its athletes ruthlessly fit, but they tell a story better than some books, tales of villainy and heroism, good vs evil. One character mentions, in this hilarious biopic, that for all the scripts, the people know when you're faking it. For Stephan Merchant, his heart and soul have imbued Fighting With My Family a charming honesty.
We open with Paige and her brother Zak fighting over the TV. Their parents (Nick Frost and Lena Headey) rush in; not to split them up, but to egg them on. "What you going to do about it, then?" they ask. We soon cut forward to them in their late teens, at their local wrestling club, training kids who would otherwise be loitering in the streets (including a blind boy).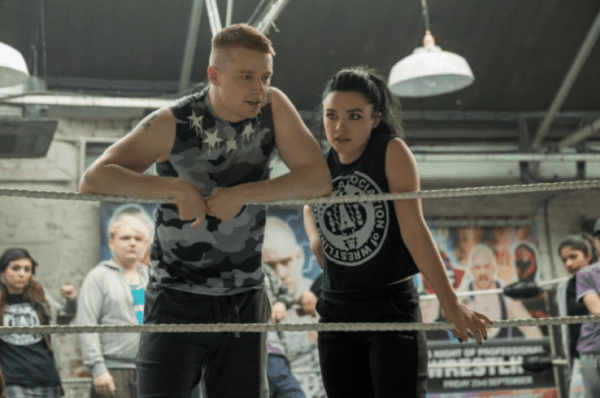 Everything changes when the family get a call from the WWE. They saw a tape of Paige (Florence Pugh) and Zak (Jack Lowden) and want them to try out. So forth begins their journey, or rather, Paige's – real name Saraya, after her mother's former wrestling title.
As a first time feature for Merchant, it's a strange one. An independent feature about wrestling, produced by, arguably, the biggest name in movie entertainment – The Rock. But its been said in interviews that after the director saw a documentary about the Norwich wrestler, he was sold on the story. The result is genuine entertainment that celebrates the camaraderie and courage against the odds of an impossible dream.
The opening third of the film is incredibly strong, with Frost and Headey shining as a pair of irreverent, oblivious oddballs. They lack any sort of filter outside the conventions of their own world, such as a scene in which Frost tells Zak's girlfriend's parents that he went to prison for "mainly violence". Their chemistry isn't just electric; it's downright loveable. Merchant's roots in situational comedy are abundantly clear, bringing together the physicality of the story and smart, but silly humour with aplomb.
It's when the WWE enter the film it gets a little more feeble. Vince Vaughn is legitimately terrific as Hutch Morgan, the sardonic talent coach, nicknamed "sex tape" because he makes people famous. His frequent down-to-earths with Paige can become a bit tedious, engaging in some unnecessary clichés that are forecasted a mile away. But it's hugely enjoyable to see an actor who's recently turned to the dark side of acting (True Detective, Brawl in Cell Block 99, and the upcoming Dragged Across Concrete) make a detour back to his wry talents so smoothly, reminding us of how he managed to stick around in so many sub-par efforts through the noughties.
Pugh is a fantastic emotional core though, keeping you firmly engaged through the predictable story beats. Alongside Merchant's cinematographer, Remi Adefarasin, she is authentic as an energetic, dedicated wrestler. But its outside the ring where Pugh brings a poignant touch, resonating with anyone close to their family and thrown into a completely different universe by all accounts. Her conflict with Lowden's Zak is particularly hard to bear, because you believe so strongly in their bond ("riddled with wrestling" they say, "with no cure"). In that regard Merchant pulls off something quite impressive; he portrays the WWE as both a place where dreams are made and a rather brutal commercial machine.
Long stretches thrum with the dread of some sort of fall before the rise, but that makes that inevitable triumph all the more sweet. Wrestling may be a brand, but this story feels completely pure. Full of wit, consideration and optimism, and some all-time cameos from the people's champ, Fighting With My Family doesn't escape the rookie errors of a debutant filmmaker (shots could be filmed much wider, frantic editing occasionally takes the place of capable choreography), but it does succeed at telling the story of someone we can all get behind. Vik Sharma's score provides comfortability to the flick, innocuously constructed to suit the mood of the piece.
The charm of Fighting With My Family is irresistible. Uplifting and hilarious, embodying the tropes and delights of the underdog genre with a shameless smile.
Flickering Myth Rating – Film: ★ ★ ★ ★ / Movie: ★ ★ ★ ★
Cameron Frew is a film critic who can be found on Twitter @FrewFilm. You can also find him on Facebook, or send an email to cameronfrew97@gmail.com.