Fighting with My Family, 2019.
Directed by Stephen Merchant.
Starring Florence Pugh, Jack Lowden, Nick Frost, Lena Headey, Vince Vaughn, Dwayne Johnson, Kim Matula, Aqueela Zoll, Ellie Gonsalves, Thea Trinidad and Stephen Merchant.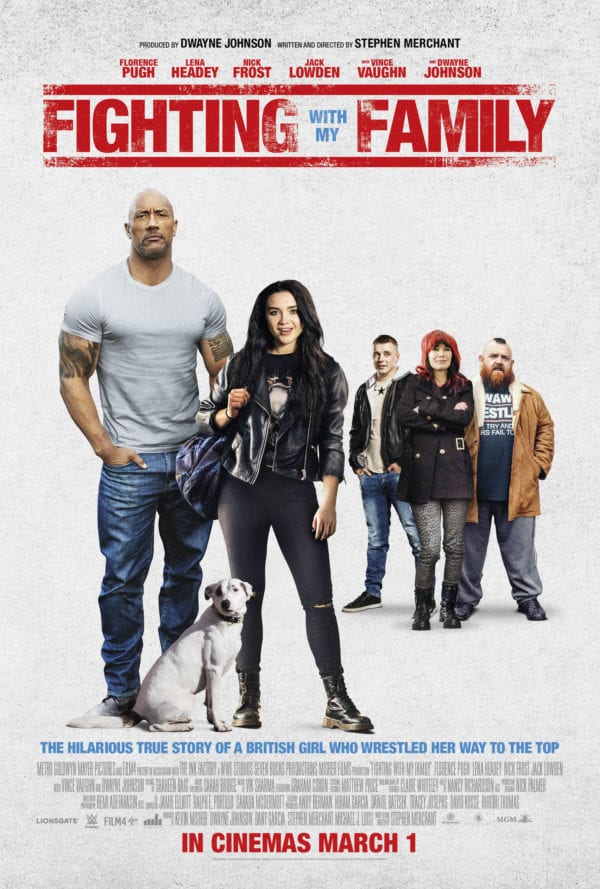 SYNOPSIS:
The underdog story of WWE superstar Paige, who rose from the ranks of a wrestling family in Norwich to the biggest stage of the industry.
The WWE Studios logo appearing in front of a movie has long been a cause for groans until now, and it's telling that the world's biggest wrestling outfit has finally found its cinematic footing with a heartfelt true story based on one of their own talents.
The only thing weirder to wrestling fans than WWE's Paige getting her own biopic despite being just 26 years of age is that Brit comedy legend Stephen Merchant (The Office) was drafted in to write and direct it, courtesy of his producer pal Dwayne "The Rock" Johnson. And despite plenty of reasonable scepticism, Fighting with My Family delivers a charming spin on familiar sports movie tropes.
Saraya "Paige" Bevis was always made for a life in the wrestling 'biz, and if it wasn't with the WWE, it'd be back in her hometown of Norwich, where she starts out her story, living with her brother Zak (Jack Lowden) and her wrestler-promoter parents (Nick Frost and Lena Headey). All four of them are wrestlers, in fact, with Paige and Zak filling empty slots on their dad's lacklustre wrestling card where needed, even if formal professional training is in evidently short supply. And then, one day, the siblings receive a call inviting them for a try-out at the WWE, and everything changes.
Few would've been surprised if this film felt like an over-glamorised dramatisation at the behest of eccentric WWE Chairman and CEO Vince McMahon, but surprisingly enough it has a real homespun charm about it, likely a result of Merchant's involvement (given his history working in kitchen sink British comedy). His cult HBO show Hello Ladies saw him writing about a Brit transplanted to the glitz of Hollywood, and so he's really more of a natural creative fit than you might initially think.
Fighting with My Family begins with a broad assessment of what the WWE is – opening with clips of the superstars in action, which will certainly prove both weird and neat for fans of the product to see on a cinema screen – but doesn't overdo it to the extent of feeling like a crass branding opportunity. Merchant smartly focuses squarely on Paige's ascent to super-stardom on the biggest wrestling stage there is, while actually giving the WWE as a company a fairly polite berth.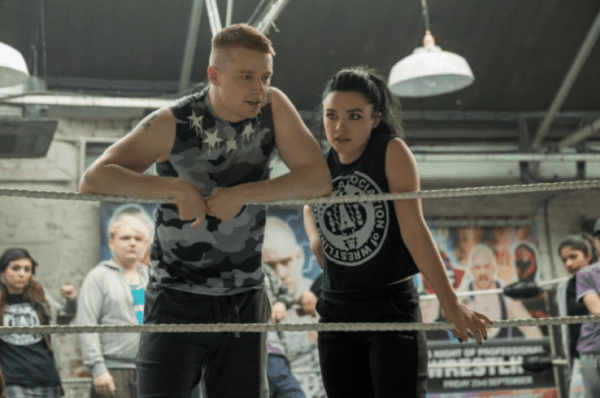 This is an undeniably weird sports movie given the obviously predetermined outcomes of the physical encounters, but this is quickly confronted and the focus shifted to the tough entry requirements for making it in WWE, where peak physical condition is a must no matter the choreography involved. Fantastic rising lead Florence Pugh (Lady Macbeth) does a wonderful job conveying the turmoil, even if her accent is a bit spotty in places, excelling in the tough spot of depicting someone who is still very much a part of the sport, and whose rise happened not even five years ago.
There's also a cracking supporting cast in the bargain – Dwayne Johnson plays his usual effervescent, endlessly charming self for a few short scenes, seemingly intended solely to skyrocket the movie's profile (alongside a few other sneaky superstar cameos).
Jack Lowden meanwhile adds another highly compelling performance to his growing cachet – following a strong turn in last year's under-appreciated Netflix thriller Calibre – as Paige's ambitious yet downtrodden brother. In many ways his arc informs the movie's emotional core as much as his sister's, and Lowden wrings out every drop of pathos possible from a potential walking cliche.
Also solid are Nick Frost and Lena Headey as their roughshod parents, who might appear to veer into cartoonishness at times, but the end credits footage of the real-life couple confirms their portrayals as accurate. Despite the expectation that WWE would smooth a lot of the rougher edges of Paige's origin story, her 'rents are represented here in all of their imperfection, and the film smartly restrains itself by refusing to give them a gooey, sentimental personality transplant in the third act.
And finally, Vince Vaughn's casting initially sparked outrage after it was rumoured that he would be playing WWE legend Jake "The Snake" Roberts, but thankfully that was pure bunk, and he in fact gets a meaty supporting role as NXT trainer Hutch Morgan. He's surprisingly effective in such a forthright authoritarian role, which couldn't be more counter to the slacker goofs he's spent most of his career playing. Then again, after his volcanic, violent performance in Brawl in Cell Block 99, it probably shouldn't be that surprising that he can command a room.
In terms of the narrative trajectory, the ups and downs occur basically as expected, with Paige wrestling (sorry) with self-doubt at a crucial late-stage moment, little of it proving surprising ahead of her final big-league push.
The resulting third-act finale is a fascinating yet slightly iffy recreation of Paige's 2014 Raw debut match, re-enacted in front of an actual live WWE crowd with current WWE roster member Zelina Vega filling in for Paige's opponent, long-departed superstar AJ Lee. Even accepting Vega's middling resemblance to Lee beyond the obvious superficialities, it's a blatant hamming-up of the real match, and as such will likely prove more effective for casuals than the hardcore set.
But the movie's heart is always in the right place even in its spottier moments – save perhaps for a People's Eyebrow-raising sex tape joke that clearly should've been cut (as Paige herself had a sex tape leak back in 2017, mere weeks after this scene was shot). Credit to Merchant, who despite not being a prior fan of the sport himself, deftly tackles the subject matter with both respect and good humour.
Even though the film glosses over significant passages of Paige's story – namely her sudden retirement last year due to injury, which goes completely unmentioned – Merchant and his cast filter the necessary beats through a lens both snappy and agreeably weird, making them feel just fresh enough.
Fighting with My Family is a broad-skewing but satisfying underdog sports romp for fans and non-fans alike, enlivened by great performances and some surprisingly nuanced writing.
Flickering Myth Rating – Film: ★ ★ ★ / Movie: ★ ★ ★ ★
Shaun Munro – Follow me on Twitter for more film rambling.