Shaun Munro reviews Dick Wilde 2…
You'd be forgiven for missing southern fried VR shooting gallery Dick Wilde when it launched back in mid-2017 (and you can find our review here). The inauspiciously-monikered shooter was nevertheless an instant cult classic, and remains one of the most impressive uses of PSVR's Aim controller. Just less than two years later, we have a follow-up; a sequel half-ambitious and half-not, which delivers more varied thrills for fans of the first, even if Dick Wilde 2 hardly reinvents the wheel.
Much like the first game, players are tasked with battling their way through a series of swampy levels, shooting down aggressive, mutated marine life with a vast array of weaponry before they can collide with your face. Levels are comprised of several checkpoints at which you can purchase power-ups, buffs and bigger weapons to aid the journey, while shooting golden fish to collect keys, which allow you to unlock more levels and progress towards the end-of-world boss.
The game offers just over 30 levels lasting 5-10 minutes a-piece, split between choose-your-own-weapon affairs, weapon-specific challenge rounds and a boss fight to close out each world. Much like the original Dick Wilde, there's virtually zero narrative to speak of here, though a number of significant changes are introduced to the core gameplay. For starters, you're no longer stationary; rather than stand in one position dodging the fishies, you're on a raft permanently moving around, resulting in a constant conveyor-belt of not just enemies but also debris for you to shoot down.
This might sound ripped from the same tough-as-nails school as the previous game – after all, Dick Wilde was frustratingly tough with a steep learning-curve which belied its breezy, arcadey aesthetic. But thankfully developer Bolverk Games has listened to the criticisms and made the sequel a more streamlined and progressively difficult experience. The first few levels will be an absolute breeze to fans of the first, and it's a good while longer before things get particularly tough.
That's not to deny that Dick Wilde 2 is an extremely physical experience like its predecessor, because once again, you're required to bob and weave clear of projectiles you haven't got the time or the wherewithal to shoot. Much of the difficulty lies in the strategy of knowing when to shoot and when to let your pride slide and dodge an incoming enemy or projectile. But the balance feels more even and steady this time, ensuring this follow-up is a much more amenable proposition to show to your friends.
It perhaps could've gone even further in the way of accessibility, though, making the mid-level checkpoints actual save-points to minimise the frustration of getting tripped up by an irritating end-level boss (which can result in 10-ish minutes of wasted time if the solution isn't immediately apparent).
All that sweat – and yes, you will sweat – would be worth nothing, however, without great Aim controller tracking, and unsurprisingly, it's very much an "if it ain't broke, don't fix it" affair. Even a lot of good PSVR shooters can't get away from bizarre controller drift issues and wonky tracking, but everything here feels incredibly tactile and, dare one say, real.
An early Uzi challenge level is especially satisfying, holding down the fire button and letting loose on everything in sight, though for my money the uber-powerful Mamba pistol proves the most fun to play with. The game overall would've certainly benefited from a greater variety between enemies and aesthetics across chapters – especially given the 16 weapons available – but it's still a damn fun time.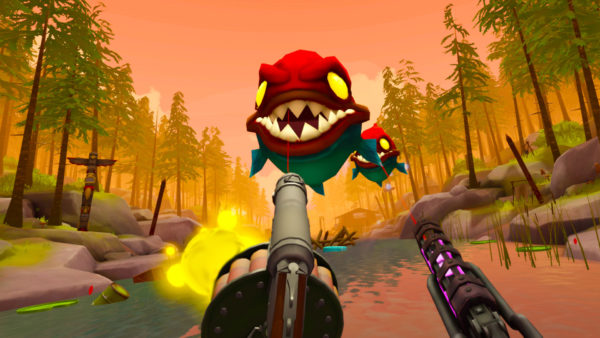 In addition to the several-hour campaign, there is an online co-op component, allowing players to team up to tackle the game's levels. Sadly, despite making repeated attempts to try the multiplayer mode during peak times, I was unable to locate another single player.
This being mere days after the game hit the market is a touch disappointing – especially as it's cross-platform with PC – and so those truly desperate for multiplayer thrills may want to seek out online communities such as /r/PSVR where they can organise private matches. In a small mercy, you can at least shoot the various knick-knacks placed around the interactive main menu while waiting to join a game.
Visually, Dick Wilde 2 looks solid, though the cel-shaded style of the first game has been reduced significantly in favour of less angular textures and a slightly more "realistic" look. So many games in this style have been released for PSVR since its inception that it's admittedly starting to feel a tad numbing, but the gun models are nicely detailed as they were in the first game. Sound-wise it's pretty much in one ear and out the other as with the original, though thankfully the obnoxious redneck V.O. has been toned down considerably.
It doesn't push the boat out – or rather, the raft – as much as it could, but Dick Wilde 2 delivers a mild improvement over its predecessor, favouring accessibility and fun over the original's punishing challenge.
Pros:
+ Movement is a welcome change.
+ Great Aim controller tracking and shooting.
+ More forgiving than its predecessor.
+ Decent suite of content for the price.
Cons:
– Levels could be more diverse.
– Your mileage may vary online.
Rating: 7/10
Reviewed on PSVR (also available for HTC Vive and Oculus Rift).
Shaun Munro – Follow me on Twitter for more video game rambling.