Serenity, 2019.
Directed by Steven Knight.
Starring Matthew McConaughey, Anne Hathaway, Diane Lane, Jason Clarke, and Djimon Hounsou.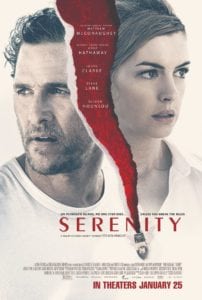 SYNOPSIS:
A fishing boat captain juggles facing his mysterious past and finding himself ensnared in a reality where nothing is what it seems.
Quietly dumped in a smattering of cinemas and on VOD in the UK this week following its disastrous late-January U.S. release, Serenity is destined to be remembered for several things, but none of them good. In addition to being thoroughly panned by critics stateside, stars Matthew McConaughey and Anne Hathaway reportedly made every effort possible to distance themselves from the impending dud.
Despite his general inconsistency as a screenwriter, writer-director Steven Knight (Eastern Promises, Locke, Seventh Son, Burnt) has truly outdone himself with this fascinatingly off-key misfire, which begins as a seemingly self-consciously trashy thriller before transitioning into ill-advised territory with a mind-boggling plot twist that, in a better movie, might be called "ambitious."
The less said about the story the better, though it basically follows fisherman Baker Dill (McConaughey) – monikered so stupidly as if to compensate for his impossible handsomeness – as he's visited by his ex-wife Karen (Hathaway). Naturally she offers him $10 million to kill her abusive new hubby Frank (Jason Clarke), and Baker eventually accepts, sending him down a surreal rabbit-hole that, well, you really just have to watch it. Or, you don't.
The opening of Serenity honestly feels like a glossy SNL parody of a Lifetime movie, what with its excessive and gaudy visual effects, its bizarre, overly kinetic camerawork, its hilariously overdone acting from its two leads, and a wealth of aggressively expository dialogue to boot. And indeed, it can be said without spoiling the film that this is all a convoluted artistic flourish in the service of an end-of-second-act rug-pull, and one which has already become infamous in film fandom abroad.
It's tough to talk about the film without mentioning the reveal, because it so fundamentally alters how it is ingested by the viewer. Even mentioning the films that the big reveal invokes will give the game away, so we'll stop there.
Needless to say, Serenity is a far more bonkers film than its marketing ever implied, and distributor Aviron Pictures might've been smart to lean into the schlock once it became clear they didn't have a Best Picture winner on their hands (seriously, this thing originally had a prime awards season release date).
What good can be said about Serenity beyond its compulsively watchable strangeness, as though inspired by Tommy Wiseau's The Room? Well, McConaughey is well-cast as a dreamy, perennially sweaty fisherman, and his performance has some interesting inflections at least. This is especially true post-twist as he increasingly starts to resemble his haggard character from the infamous 1994 Texas Chainsaw Massacre sequel The Next Generation. Not-so-coincidentally, that's another film his management also tried to bury.
And the movie as a whole is full of likeable and talented actors; Hathaway should've been a blowsy delight as the femme fatale, yet her performance can't quite find the sweet spot of delivery between faux-sexy breathy whisper and vocal fry overdose. Elsewhere Diane Lane has a small and disposable role as one of Baker's lovers, while the brilliant Djimon Honsou does precious little as his virtuous fisherman pal Duke, and Jason Clarke is a cartoon character of a sexist pig as Baker's mark.
Had it committed to a consistent tone and narrative through-line, Serenity probably wouldn't have been talked about for more than a few days following its initial U.S. bow, but the whiplash that its big "gotcha!" presents is so violently wrong-headed that it causes the viewer to rethink everything they've just seen.
Is there the potential for it to become a Showgirls-esque camp classic one day? Perhaps, but I doubt it. It's certainly unique and memorable in its badness, but feels less like a bold vision gone awry as it does a filmmaker committing to weirdness for no sake but its own. As a result, long stretches of the film are otherwise merely turgid.
Serenity is a rarest of bad movies where it's tough to imagine what anyone involved was thinking. One can only guess that Knight's prior successes entrusted him to his A-list cast, but even then, really?
Flickering Myth Rating – Film: ★ / Movie: ★ ★
Shaun Munro – Follow me on Twitter for more film rambling.