EJ Moreno reviews the first episode of RuPaul's Drag Race Season 11…
The world of RuPaul's Drag Race is everchanging, with a brand new season quickly following the polarizing All-Stars 4. While it feels a bit tiresome for the fanbase to deal with back-to-back seasons, you can't help but get wrapped up in the glitz and drama of the show. But how does the eleventh season stack up compared to the rest?
For the first episode of Season 11 of Drag Race, it didn't disappoint in the drama department. Prominent personalities began to rub others the wrong way, particularly Silky Nutmeg Ganache. The way she tries to command the camera and takes over the moments shown on the show is seemingly annoying the other queens, especially when she took over the big reveal moment of guest judge Miley Cyrus. Asking to carry her piggyback and run her around the room pissed off some of the queens and felt like it took away from their time with Miley. Add on a very awkward exchange with Plastique Tiara about picking boxes for the challenge, and it seems like Silky Nutmeg Ganache made some enemies on the first episode.
It was a bit sad during Untucked when none of the other queens took the time to talk with Silky about her behavior and how it makes some of the cast feel. Sitting her down and asking her to allow maybe some other queens to have a moment to shine or at least lower the volume of the comments would be a productive way of going about it, but instead, Ariel Versace went straight for a jab and threw a little shade at Silky. Felt like a missed chance to avoid a brewing a situation like last season's Eureka and Vixen feud.
Now for the glitz mentioned above, the fashions didn't impact like the drama. With this being the fourth season in less than a year, you need to pull out every stop, and it seems like some queens are holding back. Scarlet Envy pulled out two fairly bland looks, while Nina West seems stuck in a drag of yesteryear. Then you have Kahanna Montrese pulling out two weak looks and landing herself in the bottom two. Montrese's runway outfit being a mashup of two very different styles to make one bizarre outfit, getting lost in trying to balance the bold challenge and her style.
The other person in the bottom two this week was YouTuber Soju, who came into the workroom looking fierce but floundered in her flowy dress. Unlike Montrese, Soju adapted the challenge of mixing with a former queen's style, instantly getting inspiration from fellow Korean queen Kim Chi. That inspiration didn't carry over into the craftsmanship as her outfit ruined her silhouette and broke the lowkey rule of no flats on that mainstage runway.
It wasn't all bad this week though as some of the entrance looks and the runways being absolute knockouts. Brooke Lynn Hytes served a Mountie outfit as she entered the competition and then gave a perfect homage to former contestant Detox for the challenge this week. She wasn't the only one who took the assignment to make a Drag Race's legend style your own; Plastique Tiara served quite a beautiful rose look inspired by Season 9 winner Sasha Velour. The judge also enjoyed A'Keria C. Davenport's look this week with this being the first win for the House of Davenports. There is three this season, and it seems like they are coming to take the crown to the legendary drag family.
But with this being the first episode and all the usual stunts of Drag Race, any feelings now could be vastly different in just one week. Someone who didn't impress much in this first episode could very well easily win this whole season, so you never know with RuPaul's Drag Race. Next week might be Kahanna Montrese's time to shine while a top queen like Brooke Lynn Hytes could easily stumble. That's the beauty of a regular season of Drag Race compared to an All-Stars season: it feels harder to predict the twists and turns, but still feels familiar enough to enjoy.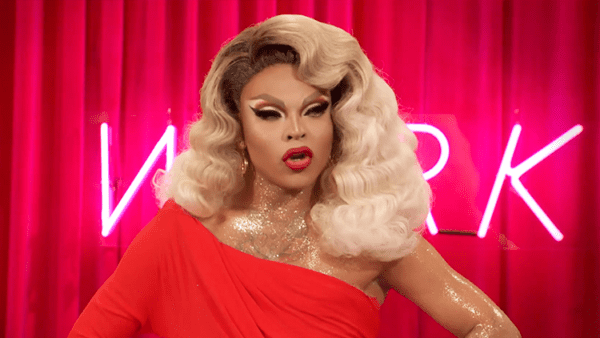 One of the most significant talking points from this episode, and hell most of last season is Vanessa "Miss Vanjie" Mateo. From her instant meme moment during Season 10's premiere to her social media campaign afterward, Vanessa Mateo worked hard to earn a spot back into the race as this year's returning queen. When actor Andrew Garfield is saying "Miss Vanjie, Miss Vanjie," you know you have a hit on your hands.
But could she translate that to an epic return on the show? So far, so good! Vanessa Mateo came in fighting with a stellar entrance look, an instantly hilarious moment of hiding to surprise the queens (thus creating another meme), and then slaying the challenge. Her Valentina-inspired look showed off everything she hid last season with that ugly flower dress and proved to the doubters like Scarlet Envy on why she is meant to compete. While none of the queens are taking this lightly, none of them have more to prove than Internet sensation Miss Vanjie.
RuPaul's Drag Race Season 11 is off to a big and bold start. The exhaustion of so many seasons is wearing off, and the hype feels all too real. There are so many standout queens and so much potential for a wild season that it's nearly impossible not to be excited for what's to come.
EJ Moreno