The Hellboy reboot reportedly suffered from on-set clashes over the director, producer, and star David Harbour.
The David Harbour-led Hellboy hasn't been received very well by critics, with the film currently sitting at a dismal 13% on Rotten Tomatoes. And if reports are to be believed, it's not that surprising that the film has not turned out as well as fans would have hoped.
According to The Wrap, there were clashes between the film's director Neil Marshall and the film's many producers: "Insiders on the film told TheWrap about a series of disagreements that boiled over when the producers decided to replace Marshall's go-to cinematographer, Sam McCurdy. Other spats involved rehearsals, star David Harbour and the design of a tree, insiders said.
"Two people familiar with the situation said McCurdy was fired simply for doing what Marshall asked him to do, and that producers Lawrence Gordon and Lloyd Levin were trying to send a message to Marshall that despite being the film's director, Marshall was not in charge."
SEE ALSO: Read our Hellboy review here
Additionally to this: "Two insiders said Harbour repeatedly walked off set, refusing Marshall's requests for more takes."
ComicBook.com have confirmed the on-set drama and have reported that Marshall was so unhappy with the finished film that he refused to go to the premiere.
It goes without saying that none of this is particularly encouraging. Fans can, of course, make up their own minds when the film hits cinemas.
SEE ALSO: Hellboy gets a super gory R-rated sizzle reel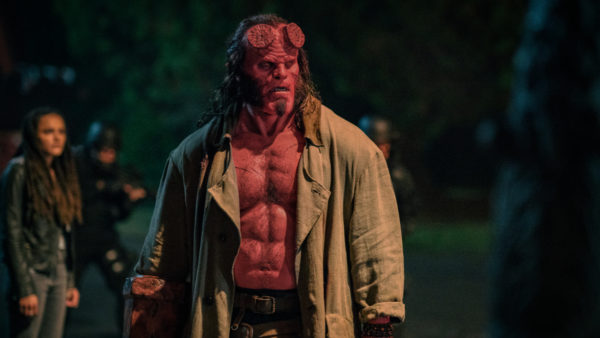 Hellboy is back, and he's on fire. From the pages of Mike Mignola's seminal work, this action-packed story sees the legendary half-demon superhero (David Harbour, "Stranger Things") called to the English countryside to battle a trio of rampaging giants. There he discovers The Blood Queen, Nimue (Milla Jovovich, Resident Evil series), a resurrected ancient sorceress thirsting to avenge a past betrayal. Suddenly caught in a clash between the supernatural and the human, Hellboy is now hell-bent on stopping Nimue without triggering the end of the world.
Hellboy is set for release on April 11th 2019 sees Neil Marshall (Game of Thrones) directing Stranger Things star David Harbour in the lead role alongside Ian McShane (American Gods) as Professor Bruttenholm, Sasha Lane (American Honey) as Alice Monaghan, Milla Jovovich (Resident Evil) as the Queen of Blood, Daniel Dae Kim (Hawaii Five-O) as Major Ben Daimio and Penelope Mitchell (The Vampire Diaries) as Ganeida.