Peter Serafinowicz, the original voice actor for Darth Maul, has revealed that he recorded lines for Solo: A Star Wars Story before being replaced by Sam Witwer.
Maul's cameo appearance in Solo: A Star Wars Story was a huge surprise to audiences and remains one of the film's most memorable moments, linking the Original and Prequel trilogy eras in a big way.
Maul was performed by original actor Ray Park in the film with Sam Witwer providing the voice, much as he has done in recent Star Wars animated properties. But it turns out that this wasn't always the plan as Peter Serafinowicz, who voiced Maul in Star Wars: Episode I – The Phantom Menace, originally recorded lines for Solo before being replaced.
Speaking to Collider about the situation, the actor said: "I was like, 'Wow, okay, cool. How cool to bring this character back.' And Ray Park was doing it and it was all secret. I went in and did it. I recorded this scene and I went to whatever studio, Pinewood Studios, and I was on the set and I spoke to [director] Ron Howard for about half an hour about the character, and like, what he'd become, which was like 29 minutes more than I spoke to George Lucas about the character 20 years ago.
SEE ALSO: Solo: A Star Wars Story concept art shows alternative Maul designs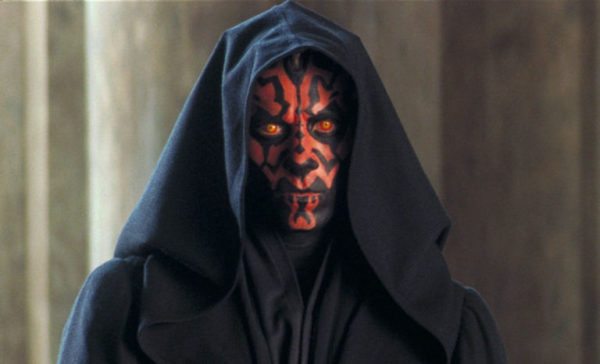 "So I did it and then it was all super secret. Ray Park was coming in the day after to film the actual physical thing and they had to bring him in a blacked out limousine. It was like an area of the set that was off limits to everybody and it's all secret, secret, secret. And then I was excited that this film was gonna come out because I was gonna take my kids and a friend and be like, 'I got a secret.' I mean, I told my kid, but it'll be a cool thing. We'll just go with your friends to see the new Star Wars film and then your dad's in it.
"I saw it on Twitter that there were people at the premiere and I thought, 'Huh, I was not invited.' And then I got this email saying, 'We're sorry, but we actually changed the voice actor to [Sam Witwer],' which is, kind of, fair enough. They said it was better for the continuity of the thing, which is a bit disappointing."
While it is understandably disappointing for Serafinowicz personally not to be in the movie, it certainly makes sense that Witwer was eventually chosen for continuity purposes. It's surprising, however, that this wasn't the plan all along.
SEE ALSO: Star Wars Celebration mural celebrates The Original Trilogy
A new adventure with the most beloved scoundrel in the galaxy. Through a series of daring escapades deep within a dark and dangerous criminal underworld, Han Solo meets his mighty future copilot Chewbacca and encounters the notorious gambler Lando Calrissian, in a journey that will set the course of one of the Star Wars saga's most unlikely heroes.
Solo: A Star Wars Story features Alden Ehrenreich (Hail, Caesar!) as the famous smuggler, Donald Glover (Atlanta) as Lando Calrissian, Woody Harrelson (War for the Planet of the Apes) as Tobias Beckett, Joonas Suotamo as Chewbacca, Phoebe Waller-Bridge (Fleabag) as L3-37, Emilia Clarke (Game of Thrones) as Qi'Ra, Thandie Newton (Westworld) as Val, Ian Kenny (Sing Street) as Rebolt, Harley Durst (Wonder Woman) as Moloch, Jon Favreau (Spider-Man: Homecoming) as Rio Durant, Paul Bettany (Avengers: Infinity War) as Dryden Vos and Warwick Davis (Star Wars: Episode VI – Return of the Jedi) as Weazel.