Avengers: Endgame, 2019.
Directed by Anthony and Joe Russo.
Starring Robert Downey Jr., Chris Evans, Mark Ruffalo, Chris Hemsworth, Scarlett Johansson, Jeremy Renner, Don Cheadle, Paul Rudd, Brie Larson, Karen Gillan, Danai Gurira, Bradley Cooper, and Josh Brolin.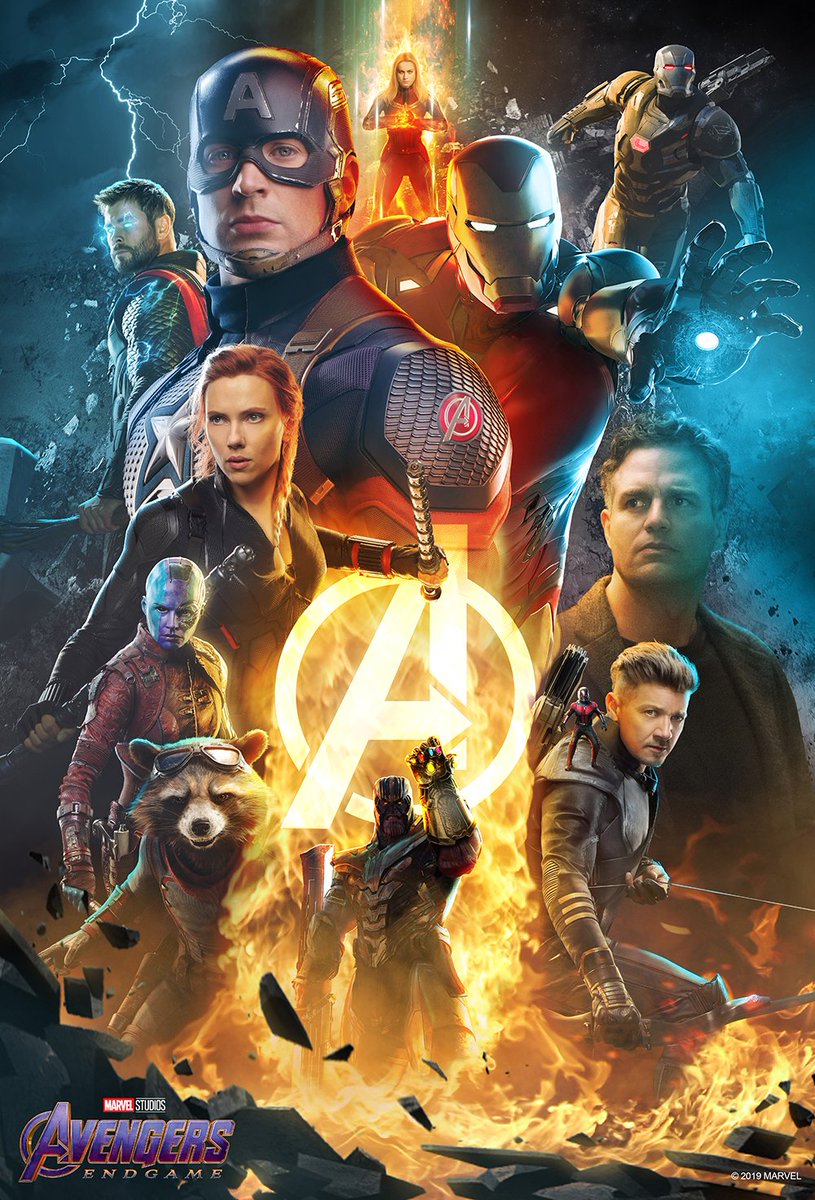 SYNOPSIS:
After the devastating events of Avengers: Infinity War, the universe is in ruins. With the help of remaining allies, the Avengers assemble once more in order to undo Thanos' actions and restore order to the universe.
There are currently 214 reviews of Avengers: Endgame on Rotten Tomatoes, a few on this website, and countless fan reactions floating around the internet. Nearly all of those reviews are positive. My review will be no different. Unfortunately, this puts me in an awkward position: what can I say that hasn't already been said? I'm not sure, but join me, and I'll do my best.
Let's get what you already know of out the way first. Endgame is huge in just about every aspect. The runtime is vast, as is the cast, and the plot moves with tremendous speed to accommodate this, at least in the second and third acts. The special effects are beautiful even though they are predominantly CGI, and there are plenty of poster worthy wide shots. Most importantly, the action is tense, explosive, and at times downright overwhelming, but in a good way. There is also plenty of fan service. This is something I'd usually be opposed to, but since this is meant to be the concluding chapter in a 20+ film franchise, the numerous nods to previous films fits thematically.
None of this should really be news to fans of the franchise, even those who haven't read any of the reviews. Something that might surprise those who haven't dived into any reviews is Endgame's slow burn of an intro. Whereas most Marvel flicks open with a bang, this begins with a sombre whimper.
For the first thirty minutes, there is little confrontation, and what little there is is stripped of its superhero charm and flare. In its place are some of the best performances I've ever seen in Marvel movie, and a script that is far smarter than any other in the franchise.
By this point in the extended universe timeline, most of the original Avengers have reached their logical narrative endpoints. However, the opening minuets of this film presents a dichotomy; the endpoint of each character given The Snap, and their hypothetical endpoint should The Snap have never happened. Some are left broken when they should have been revered, others are simply lost, and others are finding that their new, quiet world provides the peace they have always desired. Therefore, when a harebrained scheme to right Thanos' wrongs is proposed, the characters are not only thrown into a convoluted plot, they are also forced to introspect and learn how they can become heroes again.
It is this level of introspection that leads Endgame to take my unofficial prize of Best Marvel Movie. Upon looking inside themselves, the heroes we have come to love and admire finally learn what it is that they most desire, and through the many twists and turns of the story, right some of the wrongs that affect them personally. Their individual journeys are, for the most part, complete, and their actions stand as the guiding light for the next generation.
Endgame doesn't break the mould like its predecessor, but it was never meant to. It was made to reflect the journey of its heroes – to restore order, albeit a new kind of order, to the chaos and uncertainty following Infinity War. Though it is certainly sombre, and by far the most moving movie of the franchise, Endgame is, at its core, cathartic. A perfect end to cinema's biggest experiment to date.
Goddamn it's good.
Flickering Myth Rating – Film: ★ ★ ★ ★ ★ / Movie: ★ ★ ★ ★ ★
James Turner is a writer and musician based in Sheffield. You can follow him on Twitter @JTAuthor