Tom Beasley sits down with Simon Kinberg to discuss X-Men: Dark Phoenix and the wider universe in the wake of Disney's takeover of Fox…
The X-Men are finally back. Three years after Apocalypse proved to be divisive, to say the least, Charles Xavier's team of mutant heroes have returned to the big screen for X-Men: Dark Phoenix. Telling the titular comic book arc, which was previously a part of X-Men: The Last Stand, the story promotes Sophie Turner's super-powerful Jean Grey to lead, as she deals with a cosmic force within her. Long-time franchise writer Simon Kinberg has decided to make his directorial debut with this one.
Ahead of the release of Dark Phoenix, Kinberg was in the UK and he sat down for a chat with Flickering Myth all about the film, some of the difficulties behind it and the future of a number of different X-Men properties in the wake of the Disney merger…
This story obviously harks back to The Last Stand, which was the first X-Men film you worked on. Is this a case of coming full circle for you?
It's full circle in a lot of ways. I began as a co-writer of that movie and I'm now the writer and director of this film after so many years of working in this universe. When I started writing X-Men: The Last Stand, it was probably about three years before it came out, so that's 15 or 16 years of my life spent in the X-Men world. It's a lot of films and in a lot of different capacities.
For me, having grown up reading the comics and watching the cartoons, the 'Dark Phoenix' story was always my favourite story. When I got hired to write what was then just called X-Men 3, they said they were going to do the 'Dark Phoenix' story and I couldn't have been more excited. It was beyond my wildest dreams. I was getting to tell my favourite comic book story on film. But something shifted along the process where the studio made the decision that they wanted to make the 'Dark Phoenix' story the background story – the B-plot – with the A-plot being the 'Cure' plot, maybe to foreground the people who had been the heroes of the first two films.
My big regret from that film was that we didn't tell the 'Dark Phoenix' story. It really became the background of that movie. So I always dreamed of having a chance to tell the story in a proper way that was truer to the essence of the source material.
SEE ALSO: Exclusive Interview – X-Men: Dark Phoenix producer Hutch Parker on saying goodbye to these characters
I've just been speaking to Hutch Parker, one of the producers, and he said that one of the great things about you as a director is your connection with the cast. I know there was a lot of contract renegotiation that time, with some of these people becoming far more famous since they were first signed…
Yeah! Jennifer Lawrence was a kid when we hired her.
I was thinking of Jennifer, particularly. How easy or difficult was it to get these people back on board, especially seeing as Jennifer has been vocal about not liking the make-up and things like that?
I worked really closely with the actors in previous movies, as the writer/producer. Bryan Singer, specifically, was very open and collaborative and encouraged me to work closely with them. At the end of Apocalypse, when we knew Bryan wasn't going to come back, that First Class cast came up to me – Michael, James, Nic and Jen – and said I should direct the next movie. Jen is probably the one of them I'm the closest with and she said to me privately that she wasn't going to come back and do another X-Men movie unless I directed it.
So I had her support and I wanted to do it anyway because it was the 'Dark Phoenix' story, which is my favourite like I said, and it was a chance to redeem myself after The Last Stand.
By the way, I think The Last Stand is perfectly fine. I think it's quite good fun.
Yeah, it's got good stuff in it, for sure. But it's not the 'Dark Phoenix' story.
Anyway, all of those things were happening and I also felt like I was ready to direct. I had been around a lot of these movies and apprenticed under some of the greatest filmmakers around. So bringing those actors back was not that hard because they were really supportive and excited about championing someone to take the reins who was one of their buddies.
And the other part of it was what I promised them, because I really meant it. I wanted this to be a very different kind of X-Men movie. I think for actors like this, who are such extraordinary actors and have such incredible opportunities, what they want is just to do something different. They want a new challenge. And so I promised them this was going to be a different kind of film – a more raw, dramatic, intimate, personal movie than we had done before, and certainly more than we had done with Apocalypse. It was not going to be a spectacle-driven movie, although there is plenty of spectacle. It's a character-driven movie and it does different things with the characters, especially for that First Class cast.
Charles, for example, is darker than we've ever seen. I explore his ego and problematise the patriarchal side of him in ways we never have. Hank, for the first time, breaks ranks with Charles. He's no longer his lackey and he becomes much more of a fan. Magneto actually starts the film in this zen-like place, which is very different than what we've seen before. And, of course, Jennifer is a mentor and obviously what happens to her in this movie is wildly different to anything we have done in the past.
One of the people who's notably not involved is Hugh Jackman and Wolverine. Obviously, Logan put such a good full stop at the end of his story. Was there ever a discussion about having Hugh, or even a different Wolverine, in this movie?
No, is the honest answer. And the truth is he could've been because our movie takes place in 1992 and Logan takes place 30 or 40 years later. But, for me, the thing I really committed myself to creatively is that I was telling Jean's story. After so many years of the guys being the focus of this franchise, I really wanted to focus on Jean's dilemma, her personal struggle and the demons she's trying to exorcise because of this phoenix force inside her. I made a lot of decisions to include things from the saga in the comics. The Hellfire Club is not in it. Lilandra is not in it.
I just wanted to really have this be the most personal and intimate story we've told in the larger X-Men franchise, not the stand-alone movies. For me, the idea of bringing Hugh in for a cameo or a couple of days like he did on Apocalypse felt somehow like it would muddy the waters of what I was trying to create, tonally and narratively.
Especially as Wolverine is such a part of Jean's story in previous versions?
Well that was a part of it to be honest. If I were bringing him back, I'd want to tell the full story of the Wolverine and Jean relationship but to do that with Hugh and Sophie Turner is obviously not what I would want to do. And I also didn't want to recast because that felt like it's own separate thing that could've overshadowed the story I was trying to tell.
And obviously this movie came before the Disney merger for the most part, but New Mutants has very much been caught up in it? I wanted to ask where that is in terms of its new release date and how much it has changed in the process of the merger?
It hasn't changed at all because of the merger. We were always going to do reshoots on the movie.
At Fox, we have not had the intelligence that Marvel Studios has had about scheduling reshoots going into movies. So, we've just been trying to get the New Mutants cast back together because obviously a lot of them are on television shows as you know. Once we get them together, we're going to do some pick-ups on that movie, like we do on all of these films, and then it'll be ready to go.
I wanted to ask also about Multiple Man, with James Franco. Where are we on that?
We have a writer who's writing the script. But I don't know what's going to happen with the Fox-Marvel movies given the merger. I genuinely don't know and I don't know that Marvel knows yet. So I'm just waiting to see how all of that shakes out.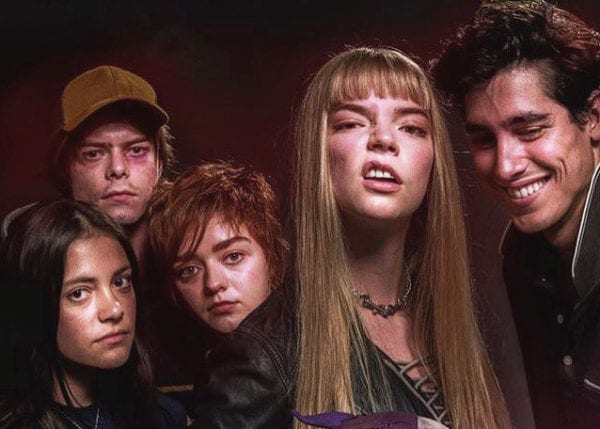 And Gambit is caught up in the same thing. But that one seems to not be in the pipeline any more?
I think all of these movies are open. Marvel, obviously, is ingesting all of these new characters and this material and figuring out what they want to do with it. They're very deliberate and thoughtful about the way they handle their properties, so they're not just going to make a snap decision. They're going to really take their time. They already have the next wave of Marvel movies, so they have some time to make those decisions.
And this film feels very much like you guys, as a cohort, saying goodbye to the characters…
It's definitely the culmination and the climax of 10 years of storytelling since First Class and 20 years if you count the originals.
Do you have any hopes for what might happen with these characters now they're passing into different hands?
I was so immersed in telling this story that, even though I've been the sort of architect of this universe at Fox, I wasn't thinking that way. I was thinking about how to tell the best story, full stop, so that people would leave the theatre feeling something. But now that I'm on the other side of completing the movie, I have very high hopes given that Kevin Feige is the greatest at managing this universe. All I hope is that they remain part of a character-driven, emotional franchise and there's nobody that I trust more than Kevin to handle that.
Thank you, Simon!
X-Men: Dark Phoenix sees Simon Kinberg directing a cast that includes franchise veterans Michael Fassbender (Magneto), James McAvoy (Professor X), Jennifer Lawrence (Mystique), Nicholas Hoult (Beast), Alexandra Shipp (Storm), Sophie Turner (Jean Grey), Tye Sheridan (Cyclops), Kodi Smit-McPhee (Nightcrawler) and Evan Peters (Quicksilver) alongside new additions Kota Eberhardt (The Persian Connection) as Selene, Andrew Stehlin (Hacksaw Ridge) as Red Lotus, and Jessica Chastain (Molly's Game) and Lamar Johnson (Kings). It is set for release on June 5th, 2019 in the UK and June 7th, 2019 in North America.
Tom Beasley is a freelance film journalist and wrestling fan. Follow him on Twitter via @TomJBeasley for movie opinions, wrestling stuff and puns.