Tom Jolliffe continues his look back at 90's video action stars (read the first part here)…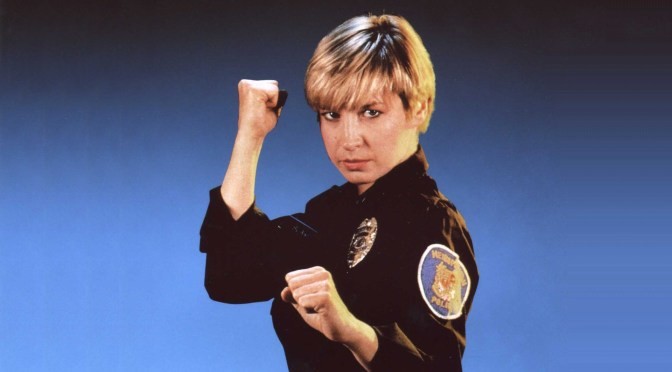 As I continue on with my 90's action rampage, revisiting those VHS purveyors of fisticuffs and footicuffs (footicuffs?), I find myself already suffering brain degradation. Some films I revisit have blurred in my memory and re-watching only confirms what I remember, others which I've watched for a first time have proved unsuccessful gambles (even by the C-Action general standards), It's the exception and not the rule when my expectations are exceeded (or indeed memory). Still, I do this, so you don't have to. You'd also think by now I'd be inspired to get a gym membership and pump iron and roids for 4 hours a day, but no.
Round 2
Jeff Wincott in Martial Outlaw
Wincott may be a name you're familiar with. There is Michael Wincott a prolific bad guy extraordinaire, known for such films as The Crow (in barnstorming form), Robin Hood: Prince Of Thieves (playing second villain to the barnstorming Alan Rickman)and The Three Musketeers. His older brother Jeff would find his own niche through the 90's as an action headliner.
Jeff Wincott, star of moderately successful 80's crime show Night Heat, has a few choice selections in the 90's action arena. Martial Law 2 would see him team with Cynthia Rothrock (more on Cynthia later), The Killing Machine and PM Entertainment classic, Last Man Standing (which featured almost non-stop action and some genuinely impressive set pieces).
Martial Outlaw was one I wasn't familiar with before watching. It's not a stand-out of 90's action, nor is it terrible. It just kind of 'is.' It exists. Wincott had a smattering more ability as an actor than many rivals, perhaps bolstered by a solid footing from TV work in the 80's (whilst many like Wilson, Gary Daniels and Billy Blanks didn't really kick off until the 90's and were often thrown straight into headlining roles). He certainly never seemed as awkward on camera as some rival kickboxers who got pulled from Golds Gym and chucked straight into VHS limelight.
As is normally standard for video premiere actioners of the time, there's just about every possible cliche thrown in here and the almost cartoonish stock sound effects for the fight sequences make some of the action feel a bit goofy. The fights range from looking like filmed rehearsals, to a couple of more impressive set pieces (perhaps where more time was devoted) including a dojo scene where Wincott single-handedly takes on multiple opponents all considerate enough to attack one at a time from the front. That aside one disappointing aspect is that despite a rather catchy Jan Hammer-esque opening theme (and credits track) the score is otherwise pretty flat.
Michael Dudikoff in Rescue Me
Cannon Films became synonymous with a productive outpouring of B movies throughout the 80's. For a time it was going well. Films made for a relatively small amount, aspiring often to try and match weight with the blockbusters that the big studios were making. For every Indiana Jones, there'd be a Cannon version like King Solomons Mines. They also found a booming market for the action genre, pioneering the low level action headliner. Cannon paid fairly good money to lure in the likes of Sly Stallone to headline films, knowing that those names would sell regardless of how much money was left to actually shoot with.
Chuck Norris and Charles Bronson were particularly busy for Cannon, becoming their action poster boys. Then Golan and Globus the heads at Cannon, began looking to launch younger stars. One was a jobbing actor with an almost classic rebellious 50's Hollywood icon image, named Michael Dudikoff (who in his younger days drew comparisons with James Dean). The one which really launched Dudikoff was American Ninja. Like many Cannon films it was savaged by critics and it was cheap, but it seemed to strike a chord with audiences, pulling in good theatrical numbers, before hitting even bigger on video. Dudikoff did a sequel (and eventually came back for the fourth film too). He was prolific for Cannon and whilst American Ninja is the iconic work, Avenging Force was probably his Cannon master work along with Midnight Ride (think The Hitcher with an excellent Mark Hamill as villain).
In 92, Cannon was dying out. Not long before they closed down entirely, Rescue Me was released without much fanfare drifting quickly out of a limited theatrical release in the US, but essentially a video premiere. It would also mark the start of career decline for Dudikoff. It's a shame. Rescue Me has the charm that many of Cannons films had. It's got a decent cast. A young Stephen Dorff stars opposite Dudikoff in this coming of age action comedy which never quite fully nails the landing as either action, comedy or coming of age. That being said, it's still enjoyable.
Cannon always seemed thematically behind the times and in the end that contributed to them losing a foothold in theatrical films. Rescue Me's 80's soundtrack and mid-80's plotting always made this a tough sell in a rapidly changing market. Dudikoff is very good here (as is Dorff). In the long line of B movie action actors, he was one of the best in terms of acting. Cannon was a blessing and a curse. A career in the likes of American Ninja won't often allow for character depth, but of course they'd taken him from a supporting artist and turned him into a leading man. Still, that Dudikoff didn't quite achieve stardom in a higher level remains a surprise. He perhaps hit the wrong era and had the kind of qualities that would have seen him do well in the MCU. A good mix of toughness, vulnerability and easy comedic charm (at his best).
Mark Dacascos in Sanctuary
For a variety of reasons, and largely the luck of the draw, it never quite happened for Mark Dacascos in the 90's. Before anyone figured out that video game adaptations were a bad idea, he was given a co-lead in Double Dragon. It bombed, released not long after Super Mario Brothers and Streetfighter. According to director Sheldon Lettich, around the time Dacascos' first leading role in Only The Strong was being released, he was unable to join in the promotional tours due to filming Double Dragon. That inability (through no fault of his own) to really put himself on stage and help sell the film was in part what contributed to Only The Strong (which is a very decent Dangerous Minds meets Karate Kid, with Brazilian Capoeira, action flick) underwhelming at the box office. Two breakout films in succession which disappeared.
Dacascos would then headline a couple more really excellent action films with Drive and Crying Freeman. Both have gathered a cult following but didn't do much upon initial release. Thanks to a variety of issues, Crying Freeman completely bypassed a US release. Even until recently it wasn't available, though I believe it's finally and quietly found its way onto Prime. Drive had so many elements that could have sold well, but ended up heading to cable, and took a few years until the rental numbers were significant. Director Steve Wang had some issues in getting his vision across (there'd later be a directors cut released on DVD in some territories). By the late 90's Dacascos had made three films in Only The Strong, Crying Freeman and Drive which showed his talents as both physical performer, but also vulnerable, complexly sympathetic action hero. A few studio heads, perhaps somewhat coldly, viewed him as a successor to the late Brandon Lee, and again, even a fairly popular stint in the TV show Crow: Stairway To Heaven could have been the gig that put Dacascos into a brighter limelight. It was cancelled, to the disappointment of many, after a single season.
Those aside his general standard of DTV films was solid. Included within that, a quadrilogy of films working with Tibor Takacs (The Gate, I Madman), one of the video markets most engagingly visual directors of that era. Sanctuary was the last of those (Armageddon was odd but engaging, and Sabotage had a great cast and clever touches among some stylish set pieces). Sanctuary mirrors a few elements of John Wick, in which Dacascos of course recently appeared as lead villain in the third part. In Sanctuary he plays a one time assassin extraordinaire trying to live quietly (as a priest) before being drawn back into the underworld and tracked by his old team. It's a pretty solid action thriller all told. Dacascos is excellent. He makes the role interesting and layered, and gets good support from Jaimz Woolvett (as the antagonist).
Cynthia Rothrock in Sworn To Justice
In the 90's there was one undisputed Queen of video action. That was Cynthia Rothrock. Having made her break in Hong Kong in the ground breaking era for HK action, Rothrock was back in the US by the 90's and became a popular fixture on the video shelf. Her glory days and best work remain those early HK films which would see her headlining films with the likes of Michelle Yeoh (the pair both broke through in the same film, Police Assassins), Yeun Biao and Sammo Hung.
In the US, Rothrock's output was a mixed bag. She had two popular China O'Brien films (which by US standards of the time had great fights, and helmed by the director of Enter The Dragon, Robert Clouse) and two Lady Dragon films (from Kickboxer director David Worth). She's also had a couple of Godffrey Ho greats (he's an 80's, 90's martial art film equivalent to Ed Wood) in Honor and Glory and Undefeatable. Both of those very much in the so bad they're brilliant camp.
Sworn To Justice is a Death Wish meets Get Carter meets Mystic Meg type of film. After her sister and nephew are murdered, and she's left injured, Rothrock seeks revenge. Lucky for her detective work is unnecessary as she has developed psychic powers she can use to track the bad guys. It's daft, clumsy, ham fisted but also pretty enjoyable. In terms of pure action it's far from Rothrock's best work, even though there's some decent fight scenes for Cynthia to display her physical talents. The film itself oddly shifts in tone and structure with sequences that feel strange. One such scene is actually one of the best, when Rothrock's character decides she'll strip down to her nightie and do a Kung-Fu demo for the guy she met a couple of days ago. What marks this film out from most of Rothrock's others, is that she's allowed to display her femininity in a way she was rarely afforded in her career (where to all intents she's playing a 'male' role that's just been given a female name). It's also not done overtly gratuitously either. It feels like she owns those moments.
This remains, anything that managed a sequel aside, one of Rothrock's better 90's efforts, if only for the odd nature as well as the benefit of a surprisingly fine cast. There's Kurt McKinney, most known for starring in No Retreat No Surrender (and perhaps surprisingly, never really becoming an 'action' guy), Walter Koenig (Chekov from the original Star Trek) and no less than TWO Oscar nominated actors in Brad Dourif and the late great Mako.
Come back for the next instalment soon for more video action. Let us know your favourite straight to video action films/stars of the 90's. Hit us up on our social channels @flickeringmyth…
Tom Jolliffe is an award winning screenwriter and passionate cinephile. He has a number of films out on DVD/VOD around the world and several releases due out in 2021, including, Renegades (Lee Majors, Danny Trejo, Michael Pare, Tiny Lister, Ian Ogilvy and Billy Murray), Crackdown, When Darkness Falls and War of The Worlds: The Attack (Vincent Regan). Find more info at the best personal site you'll ever see here.