EJ Moreno reviews Godzilla: Kingdom of Monsters…
As a long-time Godzilla fan, it's clear that there will always be limits to what a film can showcase. No matter if its men in suits or a VFX spectacle, only so much can be done through the movie medium. So, Godzilla: Kingdom of Monsters is a perfect example of "comic book" magic; if an artist can think it up, it can happen.
And the artists of this epic saga thought up some of the best moments in this entire long-running franchise. There are more monsters and more madness than you could ever imagine, but somehow, it never loses the soul that makes these stories so strong. While it detours into political satire a bit much, the action and plot are refreshing given the fact so much feels the same in movies and animation.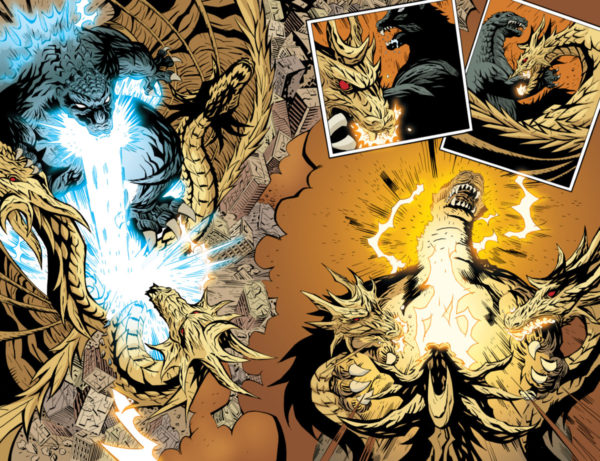 Godzilla: Kingdom of Monsters brings together the 12 issues of the IDW Publishing series that ran from 2011 to 2012. In this wild story, Godzilla emerges in modern Japan for the first time, and he's not alone.
Soon after his arrival in Japan, more iconic monsters begin to appear, some of them including series heavy-hitters like Destroyah and King Ghidorah. The kaiju attacks quickly throw society for a loop, and two psychic twins do not help the situation as they look to control as many monsters as possible.
While the comic does feel like the active imagination of a child, it's easy to get lost in the drawings. Sometimes things get a bit too hectic on the page, and it begins hard to tell what's happening. Thankfully excellent character design and inventive action scenes more than make up for some murky moments.
Also, there's a bit too many references to pop culture that feel a bit dated now, basically the struggle anytime you try to remain topical. It's not the biggest issue, but it does take you out a bit when they mention Lady Gaga or President Obama casually. Feels odd to see Godzilla placed in a world so familiar and then for them to remind you of it often.
This epic collection of one of the very best Godzilla comics works as an entertaining read and love letter to the franchise. If it's an erratic Mecha-Godzilla trying to save the day or multiple kaiju fighting it at one time, it's pure magic to see.
Godzilla: Kingdom of Monsters is the perfect use of the comic medium. It expands what you can do creatively while remaining true to what makes Godzilla and giant monsters so fun. For an enjoyable, easy read featuring your favorite kaiju, this is undoubtedly a natural choice to read.
Rating: 8/10
EJ Moreno