Escape Plan: The Extractors, 2019.
Directed by John Herzfeld.
Starring Sylvester Stallone, Dave Bautista, Curtis "50 Cent" Jackson, Jaime King, Max Zhang, Harry Shum, Jr., Devon Sawa and Daniel Bernhardt.
SYNOPSIS:
After security expert Ray Breslin is hired to rescue the kidnapped daughter of a Hong Kong tech mogul from a formidable Latvian prison, Breslin's girlfriend is also captured.
You'd be forgiven for being unaware that 2013's moderately successful Sylvester Stallone and Arnold Schwarzenegger-starring action thriller Escape Plan ever had a sequel, let alone that it was dumped straight-to-VOD after Arnie couldn't be convinced to return.
Despite critical and commercial failure signalling the end of this most unlikely franchise, Escape Plan 2: Hades was shot back-to-back with a threequel, Escape Plan: The Extractors. Bizarrely, Sly keenly went out of his way to bash the previous movie ahead of this third film's release, dubbing it the worst-produced film he's ever appeared in, as though that might in any way drum up hype for its successor.
The Extractors, shot in just 17 days with new series director John Herzfeld (The Death and Life of Bobby Z), is an action film so utterly lifeless and lacking in personality you'll likely be left begging for the deeply terrible yet occasionally amusing sci-fi genre shift of the previous film. But only barely.
Ditching the pure prison break set-up of the first two films, the third go-around finds Ray Breslin (Stallone) tasked with breaking into Devil's Station, a Latvian prison where the daughter of a Hong Kong tech mogul has been stashed. If that's not enough, Ray's decades-too-young girlfriend, Abigail (Jaime King), has also been imprisoned there by Lester Clark Jr. (Devon Sawa), the son of the first film's antagonist (Vincent D'Onofrio, recycled footage of whom is peppered throughout to pad the scant runtime).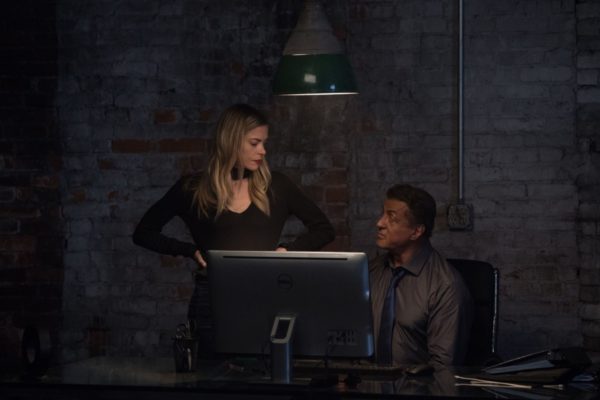 Like the overwhelming majority of these cynically junky "star-studded" VOD actioners, this film makes every possible effort to keep its budget as low as possible, evidenced by the first two-thirds of its mere 87-minute run-time proving depressingly low on action – and low on our featured actors, too – while doubling down on soul-sapping expository dialogue about dodgy business deals, complete with the requisite stilted acting.
At least those wooden actors are present, mind. Anyone lured to this on the promise of some Dave Bautista head-cracking action has been forewarned; he's barely in the movie and looks bored even when he's there, clearly just filling time between more fruitful shooting assignments. Still, he gets more to do than 50 Cent, returning as Breslin's payrolled hacker (!) pal Hush, and whose revolving door cameo is absolutely worthless.
As for Stallone himself? He's in maybe 40% of the movie if we're being generous, and doesn't even enter the actual prison itself until late in the game. In what's surely a laughable attempt to save money, Breslin spends about 15 minutes navigating a dark tunnel on his way into the prison itself. Awkward.
The one vaguely promising performer here is Devon Sawa, for while it's easy to scoff at his casting given that he's hardly carved out a filmography suggesting himself an imposing villain stood next to Stallone, he actually works fine with what he has. Sawa has filled out appropriately since he was Final Destination's skinny protagonist, with age adding a sure weathered grit to his face, even if it's ultimately a bit depressing to see him in a role like this.
On a most elementary technical level, however, this film is really quite repulsive. The cinematography touts an ugly, unfussed digital sheen throughout, which in conjunction with poor lighting and jaundiced colour grading, renders almost the entire film an eyesore; seriously, you'll be begging for the comparatively peppy blue-neon overload of the previous film.
And even when the action finally abounds, most of it is ruined by spasmodic editing, as well as blatantly chroma-keyed explosion and gunshot effects. It's somehow all still more palatable than the film's excessive Dell product placement, though.
The third act does at least deliver a few surprisingly brutal deaths – including a memorable one involving a crowbar – and the central third act fistfight has a basic, rough-hewn effectiveness to it, even if it's ultimately tough to care about any of it.
That A-listers like Stallone and Bautista feel the need to work on such inept, slung-together projects like Escape Plan: The Extractors is both baffling and embarrassing. With virtually nothing to praise and little entertainment value to be found, this might truly be the worst thing either actor has ever been involved with.
Flabbergastingly lazy bargain basement tosh from Sly and co., and one unlikely to please even the scarce few who enjoyed its rancid predecessor.
Flickering Myth Rating – Film: ★ / Movie: ★
Shaun Munro – Follow me on Twitter for more film rambling.