Martin Carr reviews the second season of American Gods…
Trying to breakdown this second season into component parts is impossible. There are so many tangents, segues and narrative diversions that a simple explanation would represent an injustice. For the most part that invention which comes thick and fast with little consideration for audience participation kicks down doors to rounds of applause. New comers, regulars and cameos alike possess a gilded permanence which breathes life into the fabric of every moment with little fear of distraction.
This high end production contains historical touchstones, theological debate and innumerable educational soundbites communicated both verbally and visually. As the new and old clash belief systems are dissected, reconstructed and then disregarded leading watchers on a merry dance. Past and present tense meld, carnal transgressions intersect with conversations over race, human rights and how inconsequential humanity remains in all this. There are tribal tangents, vaudevillian digressions and a bringing together of meticulous storytelling which never feel forced.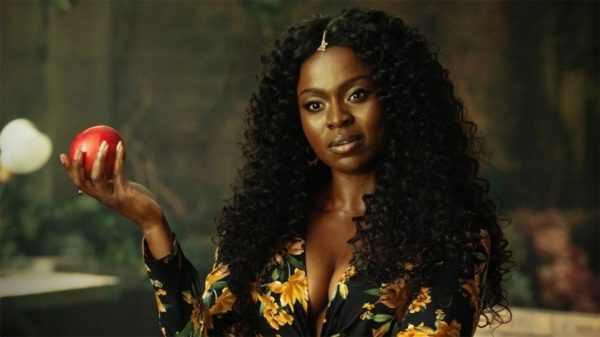 Production design and affects work build, expand and support without ever tipping tone into a realm of unreality. There is humour throughout both contextual and pitch black while character progression is carefully realised as the story continually unfolds. Here more than in season one there is a sense of folklore drawn from the source material which grounds everything. There is a feeling of eternal occupancy which these actors instil that gives Gods an almost biblical quality. Orlando Jones, Yetide Bakadi and Demore Barnes as Mr Nancy, Bilquis and Ibis respectively dominate.
Unspoken eloquence permeates every exchange between them communicating eons of time, suffering and inequality. Carefully considered flamboyance, a measured magisterial presence and an understated understanding categorise their screen time. Elsewhere McShane's Wednesday is the grand manipulator, chief puppeteer and aged rebel rouser, riding rough shod over those of no consequence whilst squeezing others for obligations owed. Elsewhere Kahyun Kim emerges on the opposing side as New Media mainlining social media preoccupations and emoji fuelled optimism whilst ushering in regime change.
Playfully unhinged and sporting a K-pop overhaul this New Media foreshadows fundamental contemporary change, communication predominance and multimedia reliance globally. In an understated sequence which opens episode four this is taken one step further through some of the most inventive visual storytelling committed to a small screen. Clever, contemporary and still respectfully classic in origin this is only one example of what makes American Gods unique. There is so much to be learned from dialogue exchanges alone while performances remain effortlessly charismatic throughout, breathing life into an adaptation of importance.
Nowhere is this more obvious than in episode seven entitled Treasure of the Sun where considerable light is thrown on the hard drinking, hard living and soft centred Mad Sweeney as embodied by Pablo Schreiber. Alongside episode four this represents another pivotal moment in narrative growth and character motivation whilst employing eloquently effective flashbacks. Matched only by Orlando Jones in the flamboyance stakes Schreiber has barnstormed his way through this series from the outset, becoming somewhat of a fan favourite. Cocky and in possession of a coffin nail constitution Sweeney is the stuff of legend and barfly of mythical renown, whilst Schreiber has become an essential element in a formidable cast.
Spread across eight episodes of just under an hour a piece this series is infinitely rewarding and worthy of repeat viewings. There are moments of melancholy, equal measures of revulsion and flashes of wonder which all amount to a unique experience. There are those who would claim solidarity and deem themselves worthy of comparison with American Gods, but they offer up something quite different. Only Preacher or The Boys are comparable and yet even they share similarities in attitude only. Brave television comes from making uncompromising creative choices, respecting your subject matter and being clear on objective. That maybe the mind set shared by a select few but only one can play God.
BLU-RAY / DVD SPECIAL FEATURES
• "The House on the Rock: Setting the Stage" Featurette
• "The Second Coming: Neil Gaiman on Season Two" Featurette
• "Gods and Ends: Random Musings from the Cast" Featurette
Martin Carr