Tom Jolliffe on why Stephen Graham is one of the most electrifying actors of his generation…
I recall, (probably in the same film as a lot of people), the first time I became aware of Stephen Graham. It was as Tommy in Snatch, Guy Ritchie's cockney gangster epic mk2. Tommy was sort of slow, a bit gormless, but endearing, and for a time I'd just assumed Graham was another East End actor that I might see pop up in other gangster films. In actuality, I didn't and he wasn't. Such was the seemless transition from Stephen to Tommy, that it didn't occur to me his background might actually be further North, just outside Liverpool in Kirkby.
Certainly in that first role in Snatch, one could see an accomplished actor, but not at that point someone able to produce the sort of brimming intensity and threat of constant explosion from within that you'd likely see in the golden period of 70's American cinema with De Niro, Pacino, Nicholson (okay, he often just exploded…brilliantly) etc. For a couple of years he'd pop in things. 'Look, it's Tommy from Snatch.' Gangs Of New York, where all and sundry were consumed under the sheer majesty of a freshly dusted off from (another) retirement, Daniel Day-Lewis. Then in a film not many will have seen, a straight to video kick-boxing film (with surprisingly philosophical musings) called Pit Fighter.
The next film I noticed him, which was his ultimate blessing, but similarly drew an unshiftable stamp on his CV that would forever be looked at, was This Is England. 'Well, we definitely can't cast him as the eternal optimist in this' is how I imagined many casting agents in the wake of that film might have felt. Graham starred as Combo, in Shane Meadows beautifully crafted look at misguided 80's youth, as skinhead gangs found themselves infiltrated and slowly turned from being anti-establishment, two fingers, punk inspired rebels, to far right neo-Nazi's. Combo was a dark yet complex figure. He's not inherently evil, like the increasingly far right views he begins imposing on the youngster, Shaun (Thomas Turgoose) – these were drilled into Combo young, and a stretch inside has only amplified his connections. What we see, aside from Meadows giving a window back to his own childhood, is the slow ticking time-bomb in Combo. He starts off as a fairly cheery presence, with a little warmth, but the darkness and hate is bubbling under, and it's all displaced from some other aspects, probably from childhood and adolescent troubles. When he explodes, he explodes in a scene that haunts the viewer. In portraying Combo, Graham delivered one of the most intense, magnetic and haunting performances in modern memory. It was a performance which caught the eye of many in the business, including Johnny Depp who to paraphrase, said that what Stephen (and Thomas) did in that film 'destroyed him.'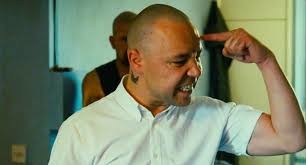 No surprise then that Graham would later appear in a number of Depp's films including Public Enemies and a couple of his Jack Sparrow jaunts. Over the years since This Is England, Graham has become predominantly a supporting artist and worked consistently. He's not going to get cast as leads, except by auteurs with carte-blanche on casting (see the upcoming re-team with Meadows, The Virtues). Whilst his credits have amassed impressive roles in top TV such as Broadwalk Empire (as Al Capone no less), Taboo and most recently in Line Of Duty, what is slightly disappointing to see is how few film houses, particularly in his native Britain, want to make Graham front and centre in interesting and challenging drama. At best he'll get support roles brimming with a little of that sizzling intensity in films such as Hyena (a stylish and largely compelling gangster film). What Graham deserves and indeed cinema, are more top billings in films like A Patch Of Fog (an engaging thriller, making good use of Graham's gifts). Indeed, TV leads should be coming thicker and faster. He's too good to be a walk-on. Recent ITV drama Little Boy Blue put Graham in the centre, and he was typically magnetic. I suppose this boils down to something. When he's given intense characters who might have 10 minutes of screentime, he inevitably makes proceedings imminently more engaging, and then his departure (whether temporary or permanent) leaves a void in proceedings.
Generally one issue, aside from him not having the atypical leading man looks and stature, is that film-makers are often loathe to portray protagonists on the edge. He could of course quite easily play controlled or passive. He's done it extremely well. He can also do comedy. He's a fantastic actor, and like the very best (going back to De Niro, Pacino etc) whilst seeing him at his most intense is the most engaging (because actually, to reach that level of intensity is something many, perhaps understandably, can't do) it's always a joy to see him in any well-written and complex role. Again, this perhaps boils back to his role as Combo that possibly in the eyes of some narrow-minded casting directors, painted him as 'too intense.' Yet if you watch Combo's arc continue into the subsequent TV spinoffs it's a beautifully crafted development that sees that boiling rage dissipating as a crushed man seeks redemption. In fact his departure from Combo was suitably crushing.
Graham may not be short of great upcoming projects, from his re-team with Meadows, to a role in Scorsese's Netflix feature The Irishman, but what would be great to see before his age works even further against him as far as casting, is someone to give him the kind of role that puts him front and centre in something that might attract the Oscars board. He's got more than enough capabilities to get that statue. It may not be the be all and end all of course, but just for one night the studios might see what the artists and his contemporaries see, and that's an actor whose intensity levels are only matched by a select few British thespians. Still, his most iconic work came in an underground cult film, that really deserved a mainstream audience. As an aspiring screenwriter myself, and occasionally reluctant producer, I do often daydream about dream casts were I ever to get the kind of budget to have carte-blanche. Graham is very much high on that list. If we were talking fantasy football, he'd be that player that isn't the brand that Messi is, but you got on budget and scored you masses of points.
Time will tell, but until he gets the dues he deserves as one of Britain's finest, as opposed to 'accomplished character actor', there will just be a sense that we could be getting more, and given the chance, he could be giving more. Until that new iconic turn comes, I'll continue to enjoy an actor's work that is never less than compelling.
Tom Jolliffe is an award winning screenwriter and passionate cinephile. He has three features due out on DVD/VOD in 2019 and a number of shorts hitting festivals. Find more info at the best personal site you'll ever see here.