The LEGO Group has today launched LEGO Hidden Side, a new augmented reality-enhanced theme which integrates AR and physical construction to reveal a hidden world of interactive play, with each set giving its builders the opportunity to turn a haunted world to normal and back again, one ghost at a time. The first Hidden Side wave includes eight "haunted" building sets full of awesome functionality and secret surprises; check them out here…
SEE ALSO: LEGO meets Augmented Reality with new Hidden Side theme
Newbury Haunted High School 1,474 pieces, $129.99 (USD)
Enter a spooky-fun school that features a lot of fun play-starters, including a hidden chamber, bus station out front, computer lab, library, bathroom, chemistry room and bell tower. The entire school can change from normal to haunted.
J.B.'s Ghost Lab 174 pieces, $19.99 (USD)
J.B.'s Ghost Lab playset features a cool mad scientist-inspired laboratory with a 'Tesla-powered' chamber to remove ghosts and a lot of tech details to inspire creative play.
Wrecked Shrimp Boat 310 pieces, $29.99 (USD)
This Wrecked Shrimp Boat playset features a cool, nautical-inspired shrimp boat that can split into two and be put together again, as well as a brick-built cliff that can become haunted.
Graveyard Mystery 335 pieces, $29.99 (USD)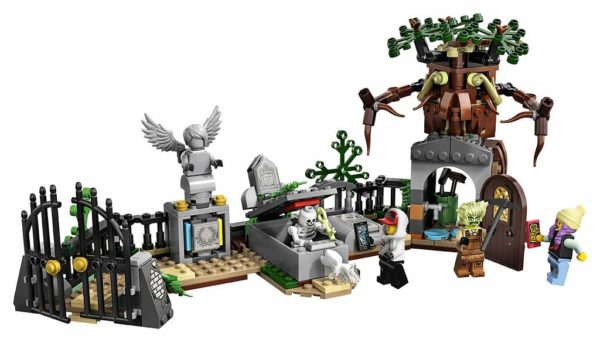 Build and play with this physical graveyard set featuring a tombstone statue that twists, grave that opens and a haunted toy tree!
El Fuego's Stunt Truck 428 pieces, $39.99 (USD)
This unique toy features a stunt truck with rear suspension and a rear-mounted toy cannon, plus an awesome 3-wheel motorcycle chopper.
Shrimp Shack Attack 579 pieces, $49.99 (USD)
This construction set features a cool go-kart and a highly detailed shrimp shack kitchen and a large shrimp sign that pulls away from the shack and changes into a haunted sign.
Paranormal Intercept Bus 3000 689 pieces, $59.99 (USD)
This school bus toy features a pull-out command center, flip-out 'de-haunting' cannons and rooftop scanners.
Ghost Train Express 698 pieces, $89.99 (USD)
All aboard a ghost-hunting AR experience with lots of play-starting features, like ghost wings that fold-out with the flip of a lever and a 'de-haunting' cannon to help defeat the ghosts and return the old train station to normal.