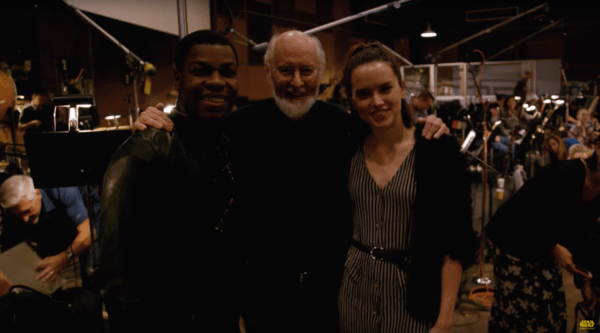 Don Williams, brother of John Williams, has revealed the score for Star Wars: The Rise of Skywalker will feature themes from the entire Star Wars franchise.
On Friday, the Academy of Scoring Arts hosted a score study of Jurassic Park – one of John Williams' most iconic scores. The event also featured Don Williams, a performer and "veteran studio percussionist" who has collaborated with his brother on numerous scores, including the upcoming entry into the Star Wars saga, The Rise of Skywalker. Don Williams shared that the score will not only span the entire Skywalker Saga, but will last a total of 135 minutes. You can watch the score study here…
"It is top to bottom music," Don explained. "We've done four days and we just scratched the surface. I think we've got something like 34 minutes in the canon at this point, but I can tell you that every theme that you ever heard is gonna be compiled into this last effort. Everyone: Leia, Yoda, the Phantom, the Darth, all of it. It's gonna be in there and in his usual style, he hides them. You gotta go look for them. You'll find them, but you gotta go look for them."
With the score lasting a total of 135 minutes, this could give us an idea of the runtime of The Rise of Skywalker – give or take a few minutes. The Force Awakens had a runtime of 135 minutes, whereas, The Last Jedi clocked in at a lengthy 152 minutes which can be considered long for a Star Wars film.
Does these comments by Don get you excited for Star Wars: The Rise of Skywalker? Let us know in the comments below or tweet us @flickeringmyth…
Star Wars: The Rise of Skywalker is set for release on December 20th 2019 with J.J. Abrams (Star Wars: The Force Awakens) directing a cast that includes Star Wars veterans Daisy Ridley (Rey), Adam Driver (Kylo Ren), John Boyega (Finn), Oscar Isaac (Poe Dameron), Lupita Nyong'o (Maz Kanata), Domhnall Gleeson (General Hux), Kelly Marie Tran (Rose Tico), Joonas Suotamo (Chewbacca), Billie Lourd (Lieutenant Connix), Greg Grunberg (Snap Wexley), Mark Hamill (Luke Skywalker), Anthony Daniels (C-3PO), Billy Dee Williams (Lando Calrissian) and Carrie Fisher (Leia Organa) as well as new additions Naomi Ackie (Lady Macbeth), Richard E. Grant (Logan), Dominic Monaghan (Lost), and Keri Russell (The Americans).