Eammon Jacobs on the Bat-Family…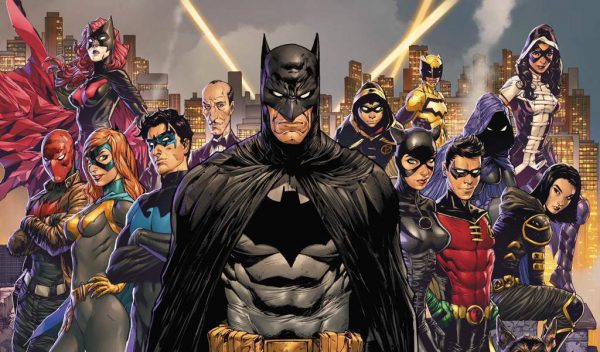 Batman and Robin; the dynamic duo. When Dick Grayson was a created as a way of getting younger children to read Detective Comics in 1940, Batman creators Bill Finger and Bob Kane had no idea the legacy they had spawned; it was one that would rival the world's greatest detective in a variety of different ways. As more vigilantes joined the ranks of the Bat-Family, each of them added their own stories of loss, grief and suffering before forging a heroic career as a cathartic release from their internal struggle – whether they realised it or not.
While it's easy to get lost under the shadow of the bat, the 'sidekicks' are so much more than just a partner for Bruce Wayne. They're often his moral conscience when he takes things a step too far – with Dick Grayson's Robin/Nightwing and Barbara Gordon's Batgirl/Oracle often grappling with Bruce's determination to stamp out Gotham's crimewave. But working alongside Batman quite often feels like school for some of these heroes – they work with Bruce for a limited time before branching off into their own identities or with a whole other team.
The best example is when Dick Grayson's Robin grew tired of being the sidekick and left to form the Teen Titans (a group made up of other teen heroes), before leaving the Robin mantle behind to become Nightwing. Dick's transition from Robin to Nightwing embodied the idea of growing up and leaving your home behind, before seeing more of the world to help develop your own personality. There's plenty to explore in his conflicted desire to leave the Bat behind, while still fighting crime as a vigilante. It's one that the DC Universe's Titans series is trying to flesh out as it heads into its second season. But as he leads the Titans, Dick brings his journey from sidekick to hero into a full circle. He's now become the figure that younger heroes look up to and aspire to be like, as he once did with Bruce before his disenchantment. But where Batman maintained his dark brooding nature when training Robin, Dick strives to be a hopeful hero, with only the occasional dash of contemplation on a rooftop instead of a constantly intense war on crime, sorry Bruce.
Then there's the Batgirl of it all. Who, thanks to Alan Moore's controversial tale; The Killing Joke, became a paraplegic after being shot by The Joker. When it was also implied that she was sexually assaulted by the villain, The Killing Joke became one of the most divisive graphic novels, and remains so to this day. But what it did do was put Barbara on a path to finding her own heroic skills outside of the costume as Oracle. Her reinvention as a tech-expert, hacker and co-ordinator for other heroes opened up fascinating conversations about disability in comics. At the time Barbara remained a hero regardless of her disability, and although it's a vital part of her story, she isn't defined by it – she was simply a hero who happened to be disabled. Although it's disappointing that DC felt the need to later 'cure' her paraplegia to get her back in the Batgirl costume, but it's fantastic that at one time, a sidekick was able to open up the conversation about vital representation in a medium that has previously been wrongfully dismissed for a limited literary scope.
The next Robin, Jason Todd, was killed off in 1988's A Death in the Family after a decision was made by DC's own readers in a phonecall vote. But writer Jim Starlin and artist Jim Aparo had no clue that they were ushering in a vigilante who would force Batman to face his own inadequacies when the mysterious 'Red Hood' surfaced in Gotham years later. After being murdered by The Joker and then secretly resurrected during Infinite Crisis and re-trained in a variety of martial arts, Jason Todd travels to Gotham under the Red Hood persona (previously worn by The Joker years before).
Jason proves that by using lethal force against crimelords – he was a more effective vigilante than Batman. Bruce faced with his literal past coming back to haunt him, forcing him to address his own mistakes – would the city be better off under the iron fist of the Red Hood? Obviously not. Jason realises that his shoot-first-ask-questions-never approach really begin to take their own personal toll… But not until after Bruce threw a batarang into his neck to stop him from killing the Joker. Tough love eh?
When Batman discovered he had a son by Talia Al Ghul, Damian Wayne – the relationship with this new Robin was incredibly strained. Damian's pig-headed stubbornness combined with Bruce's clear disdain for his violent training from the League of Assassins meant that the pair constantly grappled with the way to deal with the criminal element in Gotham. But whereas Dick, Jason and even another Robin, Tim Drake, provided Batman with a pseudo-father-son relationship to replace the one he lost at an early age, Bruce struggles to work with Damian for some time until they hammer out their issues. With Damian's conflicted nature and his violent tendencies he gives readers the best combination of various themes we've seen before in Dick Grayson's storylines as well as Jason Todd's.
But the Bat-Family is even bigger than this – with other members like Cassandra Cain/Orphan, Stephanie Brown's Batgirl/The Spoiler, Duke Thomas's The Signal, Helena Bertinelli as The Huntress and of course; Ace the Bathound. Let's also not forget the international wing of the Dark Knight's crusade against crime; Batman Inc. No, that's not a joke. Bruce Wayne realised that crime crosses international borders all too often – and even as Batman, he can't be in two places at once, let alone in different countries. He establishes Batman Inc. and utilises a whole host of operatives across the planet; The Outsiders operate internationally as the 'black-ops' team, Batwing protects the Democratic Republic of Congo, Nightrunner is based in Paris while The Hood works in England.
If we dove into the back stories and what makes each member of the Bat-Family captivating, this feature would be a lot longer. But the very existence of the Bat-Family proves two things simultaneously, that Batman's sidekicks are so much more than just a colourful costume to make up a team – they're heroes in their own right, with their own agency. However, it says so much about the legacy of Batman if he continuously inspires younger heroes to take up their own fight against evil.
Or, maybe it's because we as readers have become so used to the idea of a 'Dynamic Duo' that there will always be a Robin to Bruce Wayne's Batman…
Eammon Jacobs