Gerald James reviews Blair Witch…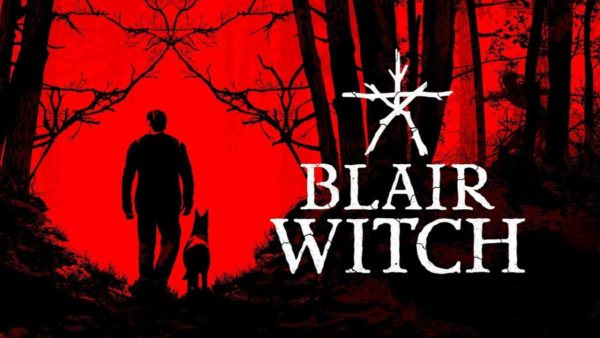 When Blair Witch was announced at this year's E3 conference I wasn't initially sure what to make of it. As a long-time fan of psychological horror and someone who was caught up in the hype of the first film's release I was intrigued to see what this game would be about. I have been itching to find a title that gets under my skin without relying on the over-excessive jump-scares that seem to plague the first-person horror game genre today. Having been molded by the third-person survival horror games of the PS2 era it's been difficult to find something that replicates the sheer unnerving terror I felt playing those titles from so long ago. Blair Witch comes awfully close.
Bloober Team's Blair Witch puts you in the role of Ellis, an ex-cop that immediately shows signs of being unable to escape from a past trauma. When a local child goes missing in the Black Hills Forest, Ellis takes his trusty dog Bullet with him into the woods to seek redemption or at least prove he isn't useless to the force anymore. As you would expect, from the moment you set foot into the woods nothing is what it seems. Time and space itself warp with every step taken deeper and deeper until Ellis is unsure if he's hallucinating or if the woods themselves are an entity that has a personal vendetta against him.
Gameplay consists of trying to follow the bread crumbs laid out and finding the lost child while maintaining contact with the local sheriff and receiving glimpses into Ellis' personal life through phone conversations and text messages. Early in the game Ellis finds a camcorder that allows him to manipulate time through the footage he obtains. This unlocks a puzzle element where you're trying to match footage to the environment to help you progress. Combat is sparse and mostly consists of finding the figure hiding in the darkness with your flashlight and lighting it up long enough to chase it off. It's fairly bare-bones but it works within the context of the game.
The one word that can capture the essence of this game is "lost". As you play through Ellis himself is lost in the forest as paths wrap around on themselves keeping you locked in an area until you've found a way to progress. There's no map in the game so you're constantly on the lookout for landmarks or referring to found footage to find your bearing. It rarely feels like it's an irritating gameplay mechanic and often helps to increase the sense of dread and hopelessness shared by Ellis. The feeling of being lost isn't just relegated to your positioning in the game but also to your mindset as the plot unravels. Story elements are drip-fed to you as you get closer and closer to your goal in a way that has you aching to find out more about what has led to Ellis' retirement and what connection the woods has to him. To this effect Blair Witch does a fantastic job of coaxing the player into the same mindset as it's protagonist.
Of course it would be unfair to throw you into a bleak and lonely situation without some sort of light in the darkness. Enter Bullet, the true star of the game. Though a trained police K9 unit, Bullet acts more as an emotional support dog for both the player and Ellis. I found myself petting him or giving him treats not only when he was able to sniff something out but also after going through something that may well have traumatized the poor pup. Providing comfort and company aren't the only things he's good for as I found myself relying on him to illuminate the path forward multiple times throughout the journey. Bullet gives the game an emotional center that I was not expecting and may be the most charming dog in video game history.
Blair Witch is an absolutely gorgeous game. Whether it be the gnarled branches of a burnt tree or the decaying facade of an abandoned building the detail put into the environment pulls you in and immerses you fully into the twisted setting. The minimalistic hud gives the game a cinematic feel keeping it in line with the films that inspired it. Audio is an important part of the gameplay and thankfully it was well produced.
One of the things I can say about this game when compared to others of it's ilk is that the horror is manifested through the setting and narrative instead of constantly relying on cheap jump scares. For the most part the scares actually feel earned instead of being shoehorned in to make the game go viral. The only groans I had came from the few times I was tasked with traversing in complete darkness knowing that I was being set up for a "boo" moment but thankfully this wasn't leaned on often. There were a few scenes of gore but it never seemed that it was just thrown in for shock value.
As engrossing as the narrative and setting were, the game fell apart for me in the final act. Blair Witch builds a compelling story that it just can't tie together at the end and I felt myself going through the last hour wanting the game to conclude instead of slowly walking my through scene after scene of exposition. Thankfully, at roughly six hours long the game doesn't overstay it's welcome too bad.
Though Blair Witch never reaches the crescendo it builds toward through the various time warps I still feel it satisfied a need I've felt for a compelling narrative driven horror title. It plays more like a walking simulator than the horror titles I had grown up with but managed to keep me engrossed in it's story long enough to beat it within my first sitting. I recommend it for those who are tired of cliched haunted house simulators and demand a bit more from their horror titles. The $30 price point and inclusion in Microsoft's Game Pass at launch make a compelling argument for anyone who enjoys a good scare to check it out.
Pros:
+Compelling narrative
+Beautifully rendered setting
+Fairly earned scares
+A very good boy
Cons:
-Disjointed final act
-Combat feels tacked on
-Movement can feel sluggish
Rating: 7/10
Reviewed on PC (also available on Xbox One)
Gerald James – One half of Mushbrains: The Podcast