Knives Out. 2019
Written and Directed by Rian Johnson
Starring Daniel Craig, Ana De Armas, Lakeith Stanfield, Chris Evans, Jamie Lee Curtis, Toni Collette, Don Johnson, Michael Shannon, Christopher Plummer, Katherine Langford, Jaeden Martell, and Riki Lindholme.
A detective investigates the death of a patriarch of an eccentric, combative family.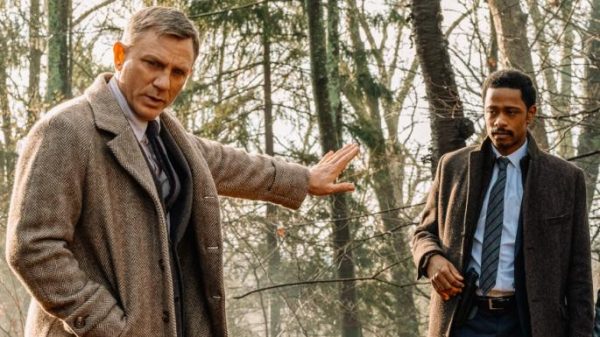 Before even getting into the review, it must be said that Knives Out is one of the most badass film titles in years (and actual clever titles are something the industry could use more of rather than counting on brand recognition for characters, fictional or historical). Even better, the phrase actually refers to something that pretty much sums up the grander themes of writer/director Rian Johnson's subversive yet honorable yarn spin on the murder mystery genre. It's more than just a reference to the Iron Throne (Game of Thrones)-resembling hot seat interview chair decorated with a circular assortment of deadly blades (it goes without saying that the production design inside and outside the house is imaginatively crafted and detailed).
Simply put, renowned mystery author Harlan Thrombey (Christopher Plummer) is found dead the morning after his 85th birthday, with the cause initially ruled as a suicide. That is until an envelope of cash from an anonymous sender shows up at the door of private detective Beniot Blanc (Daniel Craig, doing a Hercule Poirot impression by way of a southern drawl, or CSI: KFC as another character hilariously describes it) tasked with uncovering which of the family members murdered him. Intriguingly, it's not that the suspects have everything to gain following his demise, but everything to lose. In order for that to make more sense, one just has to watch the movie, where Rian Johnson makes bold creative decisions that essentially turn a familiar story on its head.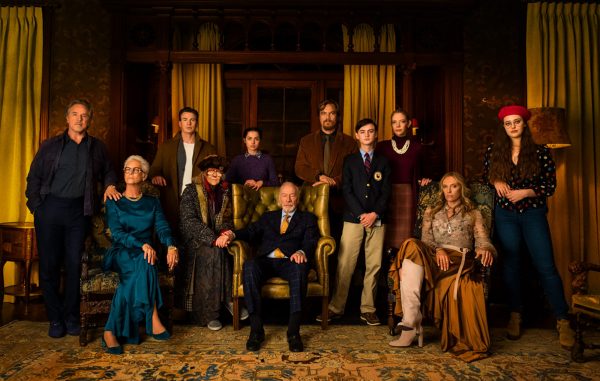 There is also political subtext present that thankfully does not feel shoehorned in or out of place. Knives Out is releasing on Thanksgiving weekend here in the United States, which is no coincidence and all brilliant marketing. In addition to keeping up with nearly everything you learn about these characters (the film actually begins the investigation with a series of interviews that last an appropriate amount of time to get a feel for these people but not too long to where the one-on-one profiling overstates its welcome), it's important to pay attention to their political beliefs. Regarding that aspect, I'm done talking, as the film goes in unexpected directions commenting on societal class structures, privilege, and race. More fascinating, it's cut from the same cloth as Jordan Peele's outstanding Get Out in that it's not afraid to call out bullshit on those that lean politically left just as much as the right. It's a takedown of people of all affiliations that speak from their asses and don't actually understand the issues they are talking about, and how easily those affiliations can change to obtain something they obsessively desire or wrongfully feel entitled to.
This is not a film to praise solely for its enlightened social commentary, though, as Rian Johnson is just as clued in on how to unspool a compelling mystery. It all begins with name recognition casting, and damn does this thing have a loaded ensemble, including some satisfying cameos that might further throw people off. No one is going to care or buy into the idea of unknown actors being the culprit, so Rian Johnson has assembled one hell of a lineup for us to inspect and assume whatever we please. Naturally, some of them are more red herrings than anything, but even the less key players have a meaningful presence defined by their political stances.
As far as singling out talent, Daniel Craig is a hoot trying to solve the case (he's both serious about his profession but with a comedic touch, at one point comparing the whole situation to a doughnut for one of the biggest and most prolonged laughs of the year), Chris Evans commits to a role that would leave Captain America disgusted, Michael Shannon plays another manipulative and threatening shitbag, and it's an utter delight seeing Jamie Lee Curtis in a high profile work that is not Halloween, but it's Ana de Armas that pulls the whole experience together with both the meatiest role and an Oscar nomination worthy performance. She also shares a friendship with Katherine Langford's character that is not only sweet but somewhat shines a light as to how the youngest generation sadly can become pawns in games from their elders, possibly broken apart.
Perhaps most crucial to a 'whodunnit', viewers are going to have a difficult time cracking the truth. Now, there is one element that feels so predictable that it almost has to be intentional, but knowing a major secondary reveal is coming (there's actually a bunch of reveals in the finale which is par for the course in the genre) actually works as a misdirection as to how it could have happened or who could have done it. From line to line the script is filled with rapid-fire information (so much that it necessitates a second viewing just to fully appreciate the excellent production design), with a narrative structure itself that is daring and pays off rewardingly.
Knives Out is absolutely incredible. It honors the murder mystery genre, subverts it, injects on-point political commentary, and most importantly, is one of the most flat-out fucking entertaining movies all year. You are going to spend Thanksgiving arguing politics with your family anyway, might as well do so to the backdrop of this jolt of electricity that actually has something resonant and thoughtful to say. And if you don't want to believe the hype, well, as Chris Evans says, eat shit. Rian Johnson remains one of the best and most versatile filmmakers working today.
Flickering Myth Rating – Film: ★ ★ ★ ★ / Movie: ★ ★ ★ ★ ★
Robert Kojder is a member of the Chicago Film Critics Association and the Flickering Myth Reviews Editor. Check here for new reviews, friend me on Facebook, follow my Twitter or Letterboxd, check out my personal non-Flickering Myth affiliated Patreon, or email me at MetalGearSolid719@gmail.com