Harrison Abbott chats with Terminator: Dark Fate star Natalia Reyes…
Based on the early Twitter reactions, it would seem that a positive consensus is starting to form around Terminator: Dark Fate, with the reboot-quel being likened to the Force Awakens on more than one occasion. The comparison is certainly an apt one, as the new movie affectionately embraces the past – in a way that's intended to remind you of why you fell in love with the series to begin with – whilst also charting a fresh and promising course for future installments.
If we run with this idea, then it's fair to say that Natalia Reyes' Dani is basically the Rey character, in the sense that she is a young, affable lead who recalls the original franchise's protagonist (in this case Sarah Conner). At the same time, just like Daisy Ridley's heroine, Dani is more than just a carbon-copy of her predecessor and has her own distinct background, personality traits, and trajectory. To find out more, we sat down with Reyes herself and chatted about the passing of the baton, as well her experience auditioning opposite Linda Hamilton.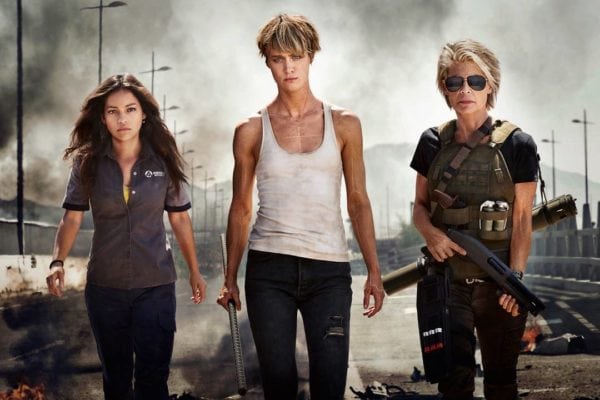 Having what is essentially the lead role in a major Hollywood blockbuster must be pretty exhilarating, but how does it feel to be in a Terminator movie specifically? Because you're following in the footsteps of such an iconic action heroine: Sarah Conner. 
I will remember the whole thing fondly, but working with Linda [Hamilton] and getting to know her, in particular, was such a special experience for me. Sarah Conner has always been this strong, independent, beautiful woman and we all wanted to be like her for the longest time. So getting to collaborate with Linda- spending so many hours together on set to the point where you essentially become family – was a real honour. She works incredibly hard and cares so much about everything from her lines to her co-stars. It was really just inspiring to be in her presence.
Am I right in thinking that Linda was heavily involved in the casting process as well, with you having to do a series of read-throughs together? How did you find that? Did you feel like you nailed your screen test, or was the whole thing just a blur? 
It was insane and I felt so nervous [Laughs]. I showed up, with no idea of how many other girls would be auditioning, and I was panicking about meeting Tim [Miller] as well. But then I got there and this beautiful lady came up to me, asking if I wanted any water and just generally trying to make me feel comfortable. At which point Tim came out and was like: ''Oh, I see you've met Linda Hamilton!'' [Laughs]
Then I was like: ''Of course, that's Linda Hamilton! How did I not recognise her?'' I just had this idea in my head of what Sarah Conner looked like 27 years ago, you know? But I couldn't believe that she was there doing this audition with me. That's when I realised that my character must have been really important.
So I tried my best to stay calm and [Linda] was so kind and supportive throughout. It was a really emotional scene that we were reading and I guess it must have gone well because Tim was crying. Having said that, he cries really easily [Laughs]. But all of us in the room were crying too. It was a really special day, I remember thinking: ''I don't know if I'll get the part, but this was already worth it''
And after that whole process was over and you got the part, how did you react to seeing the script? What did you think of Dani as a character? 
I couldn't believe it! I wasn't expecting her to be so important to the story, but when I was on the way to Ireland [for the final screentest], I was reading through the script and every page was like: ''Dani, Dani, Dani, Dani, Dani''. That's when I suddenly realised that I'd be all over the movie and would have so many scenes! I was honestly shocked. It was such a big responsibility for me.
What about when you read the Mexico border subplot, where the characters are trying to escape the Rev-9 by crossing over into America? I don't know about you, but that was not something I expected to see in a Terminator film. Were you surprised by that as well?
I was! The franchise obviously has a long history with Mexico, like it's where Sarah ends up at the conclusion of T2. But I think in this one it goes even further, to a place none of us saw coming. That's James Cameron though, he's such a visionary and he's always trying to change the rules.
And this whole border situation is something that we're seeing in real life too. You know, that part of the film isn't science fiction. We're talking about immigration, about borders and about how all human beings should have basic rights. We show that these people are risking their lives to have a future and I think that's a very relevant conversation. It's important for movies to touch upon that kind of stuff, you know?
Absolutely. So how did you find working on a movie of this scale, with all the effects and the high level of fan investment? 
I think it can be overwhelming sometimes. I've been acting for a while but I've never done anything like this before. Not only is it a big Hollywood [production], but like you said it's a Terminator movie and lots of people are anticipating it. So it's double the pressure! On top of that, I had to learn how to do action, which was new territory for me. Luckily Tim had my back the whole time.
And on that note, could you talk a little about Tim as a director? 
He is the best! This is my first movie of this scale and I felt so lucky to have him as our captain. He's barefoot all the time on set and that is a reflection of who he is. There's no ego or hierarchy with him and he's working just as hard as everybody else. He's always making jokes, he's relaxed, he's humble and just an [all-round] joy to work with.
Compared to Mackenzie [Davis] you don't get involved with as much action, but towards the end, Dani does pick up a gun and start fighting back. I know everyone else had to do a lot of rigorous training for that side of things. What was it like for you? 
I was kind of fortunate because the others were training for up to a year beforehand, whereas I arrived towards the end of that process. So I got it easy [laughs]. However, I was still doing stunts, weapons training, underwater sequences and car chases – which all required me to work hard and concentrate. Maybe not as much as Mackenzie or Gabriel [Luna] though. Those guys were really committed.
This is the first installment in the franchise, since T2, to have an R-Rating. Why do you think that's significant? 
It's being true to the DNA of what it is and what the audience expects. Obviously we want as many people to see it as possible, but not to the [detriment] of the movie's soul. The R-rating is one of the ingredients that made the original so beloved and we felt like we had to respect that. I think it's important anyway.
To wrap things up, I don't know if anyone has spoken to yet about a potential sequel to Dark Fate? Is anything in the works and if so, where would you like to see Dani go next? 
I don't know what will happen, but I loved working with this group of people. So as long as they're involved, and as long as the ideas are good with stories that have more to say, then I'm in!
Many thanks to Natalia Reyes for taking the time for this interview.
Terminator: Dark Fate is in cinemas from Wednesday, 23rd October.