Gary Collinson attended the Star Wars Triple Force Friday Global Reveal event at Pinewood Studios…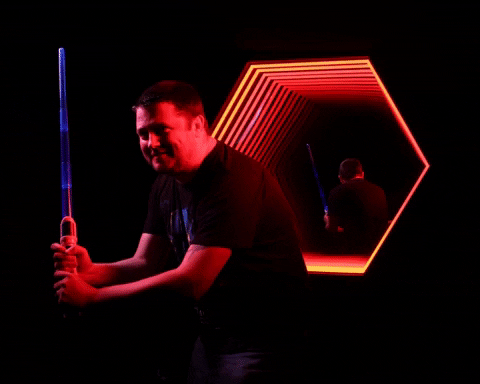 Last Thursday, Disney and Lucasfilm held its Triple Force Friday Global Reveal event, giving fans their first glimpse at new merchandise from three huge Star Wars projects closing out 2019 in director J.J. Abrams' Skywalker Saga-ending Star Wars: The Rise of Skywalker, the first live-action Star Wars TV series The Mandalorian, and Respawn Entertainment's third-person action adventure video game Star Wars Jedi: Fallen Order.
Central to the event was the Triple Force Friday global reveal which was live-streamed on the official Star Wars YouTube channel, but a select number of fans, journalists and influencers were also lucky enough not only receive an invite to the panel held at the iconic Pinewood Studios, but to get hands on with some of the new merchandise and spend a little time hanging out with Star Wars cast members Warwick Davis (Wicket the Ewok), Naomi Ackie (Jannah) and Joonas Suotamo (Chewbacca) and Resistance droids BB-8 and D-O.
Before we got to the merchandise, guests were able to peruse a number of props and costumes from December's The Rise of Skywalker, including Kylo Ren's reforged mask and lightsaber, the famed Skywalker lightsabre and costumes for Kylo Ren, Rey, Finn, Poe Dameron, Rose Tico and Jannah, while a life-size LEGO X-Wing – consisting of more than 2.5 million LEGO bricks! – was also on site along with Star Wars-themed photo booths and culinary delights!
Before the official live-stream started, host Warwick Davis introduced The Rise of Skywalker stars Naomi Ackie and Joonas Suotamo to the stage for a Q&A, where the actors spoke briefly about their roles in Episode IX, as well as their excitement about being part of the Star Wars universe. Also part of the panel were Tasia Filippatos of Disney Consumer Products and Chris Gollaher of Lucasfilm's Global Product Development, who shared some insights into the Star Wars merchandising machine and all of the goodies fans could expect to get their hands on this Force Friday.
Following the panel and livestream, we then got the chance to get up close with a variety of Triple Force Friday merchandise, with representatives from The LEGO Group, Funko and Hasbro on hand to discuss their offerings for The Rise of Skywalker, The Mandalorian and Jedi: Fallen Order, while a variety of books, graphic novels, clothing, costumes and even breakfast cereal were out on display.
Standouts here for me included the latest LEGO Star Wars offerings (Kylo Ren's Shuttle, Resistance Y-Wing Starfighter and The Mandalorian's AT-ST Raider go straight onto my 'must-have' list), pretty much anything and everything from Hasbro's The Vintage Collection line (the retro-packaging gets me every time), and The Black Series Mandalorian figure. And, much to my excitement, said Mandalorian figure was also included in a goody bag that attendees got to take home after the event…
A few things of note from looking at the merchandise:
I was very impressed by the Star Wars Galaxy of Adventures 5″ figure series. They'll perhaps not have the same kind of appeal as The Black Series and Vintage Collection stuff for older collectors, but they look really great, and I'm sure younger fans are going to have a lot of fun with these.
Star Wars Jedi: Fallen Order looks like it could be a solid game. It reminded me of Star Wars: The Force Unleashed, and if manages to live up to that standard then fans are surely going to be happy.
Pretty much every piece of merchandise for The Mandalorian is awesome and pushed my excitement for this series through the roof. It's just a shame that it seems us UK folk are going to have to wait until the as-yet-unannounced launch of Disney+ to see it on these shores.
The Knights of Ren look really cool… but given the generic 'Knight of Ren' names for each of them on the merchandise, I suspect we're not going to see very much of them this December…
Be sure to check out all of the official promotional images for the Triple Force Friday products from Hasbro, LEGO and Funko.
Here's some video I shot from the event, and if you head over to our YouTube channel, you can also find some video interviews with Warwick Davis, Naomi Ackie and Joonas Suotamo – along with a rather great Chewbacca impression from Naomi…
The Triple Force Friday event at Pinewood certainly helped add to my excitement for this year's one-two-three punch of Star Wars goodness – although tomorrow's Force Friday launch is going to leave my wallet feeling a little sore! I'd like to say a huge thank you to Disney for hosting the event, and for inviting me to be part of it.
Gary Collinson is the editor-in-chief of Flickering Myth.