Motherless Brooklyn, 2019.
Written and Directed by Edward Norton.
Starring Edward Norton, Bruce Willis, Willem Dafoe, Leslie Mann, Ethan Suplee, Alec Baldwin, Gugu Mbatha-Raw, Josh Pais, Michael Kenneth Williams, Cherry Jones, Fisher Stevens, Bobby Cannavale, and Dallas Roberts.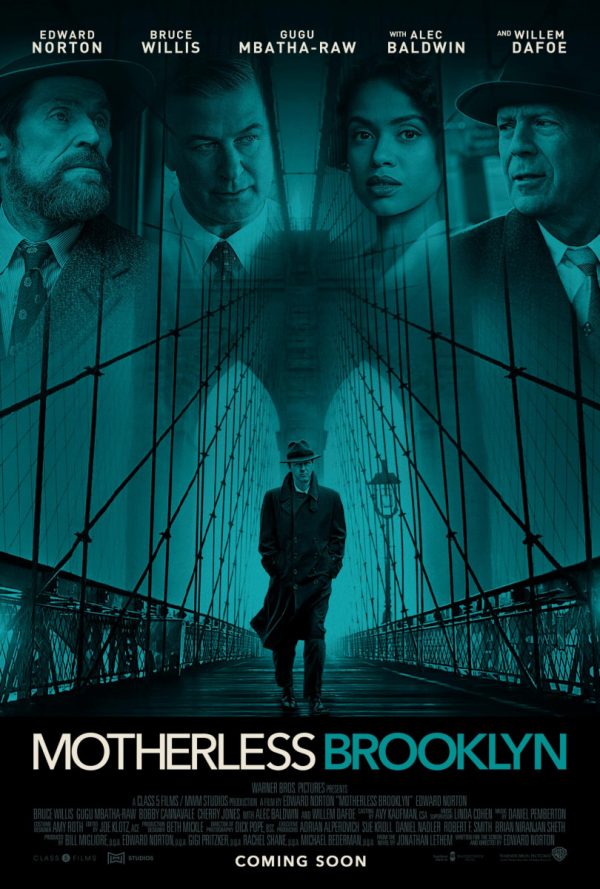 SYNOPSIS:
Set against the backdrop of 1950s New York, Motherless Brooklyn follows Lionel Essrog, a lonely private detective afflicted with Tourette's Syndrome, as he ventures to solve the murder of his mentor and only friend, Frank Minna.
If nothing else, Motherless Brooklyn does employ a fascinating combination of character traits for its central character Lionel (Edward Norton, also serving as the writer and director reworking the acclaimed novel from Jonathan Lethem); he's a former orphan turned private detective affected by Tourette Syndrome. Taking place in 1950s Brooklyn (basing at least one of its characters off of real people from that era), apparently, there is still no medical diagnosis for Lionel's condition (although Internet research does tell me Tourette Syndrome was discovered in the late 1800s, so take what you will with that knowledge), which includes spastic movements, eye-twitching, uncontrollable outbursts of inappropriate/offensive language, and phrase repetition (usually with an insensitive twist), among other tics. Furthermore, in this current political climate, it's the kind of role that elicits similar eye-twitching upon the revelation that Edward Norton is tackling the performance, but is not fully offputting. It goes without saying, but these are difficult mannerisms to nail with believability for anyone without the condition.
There's a lot wrong with the script for Motherless Brooklyn, which stretches to nearly 2 1/2 hours worth of material that needs to be expanded upon if anything. The disjointed structure and hurried pacing of the proceedings mess up the flow, never really allowing us to care about the sizable ensemble. Bearing that in mind, Edward Norton does not fail the character of Lionel, who is more than just a gumshoe with a superpowered memory (one of the only empowering side effects for his version of Tourette Syndrome); it's realistically and movingly portrayed as something that has caused him to always be an outsider, forces him to unnecessarily apologize for things beyond his control because the limited worldview of society around him that simply doesn't understand why he behaves in certain ways (it's not hard to figure out just from watching the convincing performance that there is something wrong with his mind, meaning the characters around him have no excuse for not picking up on it), and in one tender moment, sees him confessing to essentially being what modern-day times refers to as an "incel" (something that is not always insulting considering the definition of the word and the general terribleness exhibited from people towards anyone a little too unique).
Motherless Brooklyn is more admirable as a character study of a man with Tourette Syndrome living in a regressive society rather than the noir detective story involving political corruption, systemic racism, and more personal but connected matters of Lionel cracking the case of for murdering his mentor/father figure Frank (Bruce Willis, who is more energetic here than in years but also perishes 15 minutes in). There's a touching scene where he shares a dance with Laura (Gugu Mbatha-Raw), a subplot love interest that actually works factoring in the interracial aspect; you have two people somewhat disregarded by society (especially in the case of Laura, as Alec Baldwin's Trump-like politician is advocating for gentrification under the guise of eliminating minorities without concern for where they will live) developing a bond that, with more focus, could have been powerful.
Again, the investigation itself is far less interesting than everything surrounding Lionel; Willem Dafoe plays an engineer with ties to Alec Baldwin's character, Lionel has a supportive non-biological family of friends conducting work alongside him, jazz music plays an integral part, Leslie Mann shows up for one or two scenes to subvert expectations by moving along with her life just fine after the death of Frank, there are glimpses of political activism against tearing down lower-class neighborhoods, and clues are put together over time. The plot ends up muddled along the way, consistently falling back on Edward Norton to both humanize this offbeat character and entertain (some of his outbursts are amusing, but most crucially are empathetic in context and are never outright a comedic device).
Alec Baldwin's Moses is the only other character worth ruminating on, not necessarily because of him being a defined multi-dimensional person, but for the Donald Trump parallels that start to crop up the more the truth comes out. The rest of it is just noise that ultimately doesn't matter, which sucks to say considering there are some big twists and turns at the end of the narrative. Likewise, there is a physical battle against a towering behemoth of a man that doesn't excite or feel urgent.
As for the production design, it definitely comes across as a lived-in and accurate portrayal of 1950s Brooklyn (everything ranging from car models to old-timey telephones to the fashion). Both Daniel Pemberton's score and the jazz performances on display add to the atmosphere, all with an extra boost from a new Thom Yorke song lending more mood. This is a departure from the novel which was set in the late 90s, but the creative choice from Edward Norton to diverge from that by going back into the past and incorporate a real historical figure as a key character does elevate the sad similarities between past and present-day morals/power dynamics.
It's normal to come away slightly confused and even tired (it's a long 2 1/2 hours that does not always spend that time wisely) from Motherless Brooklyn, but Edward Norton has made a fairly decent film about life with a disability, specifically Tourette Syndrome. The film is not using this as a gimmick or a contrived plot device (it affects Lionel in nearly every scene) or solely a means to give him enhanced abilities to solve crimes; he's a real person and Motherless Brooklyn is genuinely affecting when tapping into that well.
Flickering Myth Rating – Film: ★ ★ ★ / Movie: ★ ★ ★
Robert Kojder is a member of the Chicago Film Critics Association and the Flickering Myth Reviews Editor. Check here for new reviews, friend me on Facebook, follow my Twitter or Letterboxd, check out my personal non-Flickering Myth affiliated Patreon, or email me at MetalGearSolid719@gmail.com