Rewind, 2019.
Directed by Sasha Neulinger.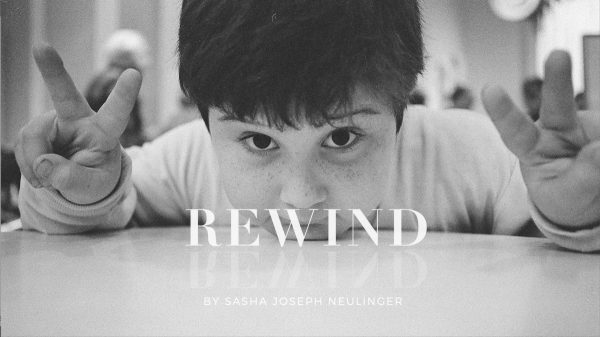 SYNOPSIS:
A debut filmmaker recounts his childhood trauma that exposed a dark family secret.
As much as it is a documentary of the most hard-hitting variety, Rewind is an exercise in extreme courage. For first-time filmmaker Sasha Neulinger, retracing the steps of a childhood marred by years of harrowing abuse will have been far from an easy process. It is testament then to the fortitude of its director and subject that Rewind broaches its difficult, highly personal topic with such devastating directness.
Turning back the clock via the grainy, fuzzy footage compulsively shot by his father on home video throughout the 1990s, Neulinger moves tentatively towards the revelations of his trauma. "You know how you have a nightmare and you wish you could go back and change what happened in the nightmare?" he painfully ponders at the film's opening. And it's not long before both Sasha's nightmare and our worst suspicions are confirmed. "You said there's swords in my penis" his mother Jacqui recalls the day a young Sasha, while taking a bath, gave the first indication that something wasn't quite right. From there, Rewind reconstructs in disconcerting detail the years of abuse both he and his sister were subjected to at the hands of a family member. But their horrifying ordeal had a terrifying twist: there was more than one abuser operating in the family.
Rewind is an account about more than simply the who, however. Sasha's film delves deeper into the devastating psychological impact of such experiences upon the mind of someone so young, someone so impressionable, someone so vulnerable. Through interviews with the psychiatrist Sasha saw as a child, Dr Herbert Lustig, we learn how the internalisation of his pain transitioned from guilt to anger, to self-hatred. Captured with disquieting simplicity by Lustig, he describes sexual abuse as the "vile gift that keeps on giving".
In the case of Rewind, it's an assessment that rings harrowingly true. This is also a film that explores the cyclical nature of child abuse, asking us to consider that the villains of Sasha's story, at one time, might have been victims themselves. Similarly, for the victims who did not go on to become abusers, Rewind ponders the extent to which they too should be held accountable for the heinous acts that took place behind the closed bedroom doors of the Neulinger household. Ultimately, it is the question of culpability that compounds Sasha's case — in a particularly striking scene, Sasha's father, Henry, shows his son the exact spot where he was abused as a child. And yet, decades later, at a time when the same culprit was granted unrestricted access to his own children, not once did he raise the red flag.
Yet, despite its uncompromising subject matter, Rewind remains hopeful. During the film's latter stages, Neulinger outlines how he and his family sought to bring the perpetrators to justice, and the initiatives that have been undertaken in the aftermath to provide support to those who've endured similar hardships. At the same time, Neulinger makes a point of proudly celebrating the love he has for the good men in his family — namely, a touching moment between a youthful Sasha and his maternal grandfather which, in the end, was what gave Sasha the strength to finally face his abusers.
"It's a puzzle made from my life" he quietly reflects; "and I feel like I have to put that puzzle back together if I'm ever going to really move on." As much as Rewind signals the return to an unimaginably difficult time in his life, it also serves as a vital form of catharsis for Sasha. By confronting the demons of his past head on, he might just begin to exorcise those that still linger in his present.
Flickering Myth Rating – Film: ★ ★ ★ ★/ Movie: ★ ★ ★ ★
George Nash is a freelance film journalist. Follow him on Twitter via @_Whatsthemotive for movie musings, puns and cereal chatter.