The Lighthouse, 2019.
Directed by Robert Eggers.
Starring Robert Pattinson, Willem Dafoe, and Valeriia Karaman.
SYNOPSIS:
The hypnotic and hallucinatory tale of two lighthouse keepers on a remote and mysterious New England island in the 1890s.
The beans are spilled; The Lighthouse is no sophomore slump for The Witch director Robert Eggers, here going full-blown insane with a treasure trove of unsettling imagery and a pair of outstanding boisterous performances from Robert Pattinson and Willem Dafoe, that appear to be attempting to one-up each other on the scenery-chewing scale, interaction by interaction. The question isn't which one is crazier, but how crazy will the film actually get. For some perspective, the event that sets the descent into madness in motion is a brutal murdering of a one-eyed seagull, which is a superstitious no-no for those living at sea.
Ephraim Winslow (Robert Pattinson) has taken up lighthouse-keeping to escape a presumably boring 1890s Canadian life surrounded by the forest, and, well, obviously there is more to it than that but the surprising revelations are just as tense and eerily exciting as finding out what's inside the upper echelon of the titular lighthouse. He is not allowed to know, and by extension, neither are we. Partnered up with a long-time veteran of the job, Thomas (Willem Dafoe) seems to possess some kind of spiritual connection to the lighthouse, or at the very least, a deep affinity for whatever resides alongside the  luminous light that shimmers so strong, it's more than just a stylistic creative choice to set the entire film in black and white.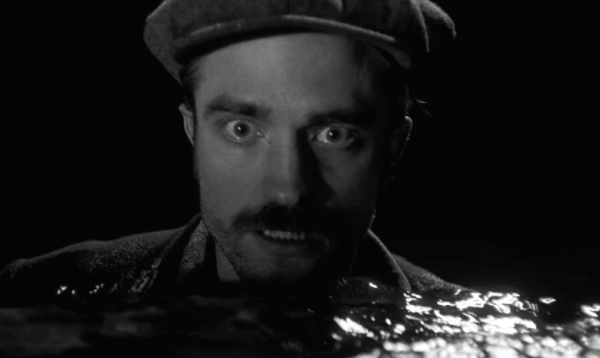 Likewise, the aspect ratio serves to reinforce the claustrophobia these men endure as they lose their sanity whilst arguing with one another in extended takes (assisted by the camera's swaying left and right). These choices are already bold for a modern-day horror film, but under the command of Robert Eggers, they are purposeful and tightly controlled with confident and clear direction. The Lighthouse will assuredly end up eluding viewers (I have my own spoiler theories, but I would by no means say that the happenings are as black-and-white straightforward as the movie itself), but there are a handful of ominous illustrations. Credit the hell out of cinematographer Jarin Blaschke (he also collaborated with Eggers on The Witch), as the chilling photography is equally paramount to not only the madness sticking with viewers, but adding some pop to the mundane handiwork and cleansing Ephraim does all over the island.
There's also no shortage of work to be done from the perspective of Thomas, who orders Ephraim around like a drill instructor, forcing him to sweep floors multiple times over and scrub building sides while dangling from precarious positions. It quickly becomes evident that Robert Eggers (and his screenwriting partner, brother Max Eggers) is commenting on generational divides; Thomas is the kind of boomer that believes in endlessly exhausting hard labor for the sake of it. Nothing builds character better according to him, especially considering he is both a parody of sea captains and historically grounded thanks to literary texts from the times. Some of his musings are direct passages and worth listening to a few more times for clarity.
Thomas also pressures Ephraim to have a drink every night after performing his duties (Thomas doesn't seem to do nearly as much work, transfixed by whatever is inside the mysterious lighthouse as much as we are to discover its secrets), but as this particular brand of toxic masculinity continues on, getting sloshed is the only way to make either of these two find the other tolerable. That is until the drinking really hits hard, sending them each into a belligerently drunken spiral ending with them shouting at each other until the dawn of a new day. And if you thought the superstition about the seagull was bizarre, just wait until Willem Dafoe blasts his way through a monologue about summoning mythological sea figures to plunge a trident through Ephraim. That's also only the first part of his long-winded but rapturously entrancing rant. If you're wondering, all of this occurs because Thomas' cooking skills, or lack thereof, are not appreciated; The Lighthouse is as disturbingly hilarious as it is flat-out weird.
Fear not, I'm still actually holding back on just how nutty the proceedings get, thankfully always for good reason. Ephraim is nowhere near the hero of this story, even if Thomas doesn't sound like he has any redeeming qualities. Robert Eggers also includes intriguing observations on the sexually erratic behavior isolation and loneliness can bring, and who is deserving of salvation. The Lighthouse is exquisitely captured (both lovely and gross elements) while Robert Pattinson and Willem Dafoe psychologically tear each other apart with more turbulence than the dangerous high tides stranding them together. It's the best kind of batshit lunacy.
Flickering Myth Rating – Film: ★ ★ ★ ★ ★ / Movie: ★ ★ ★ ★ ★
Robert Kojder is a member of the Chicago Film Critics Association and the Flickering Myth Reviews Editor. Check here for new reviews, friend me on Facebook, follow my Twitter or Letterboxd, check out my personal non-Flickering Myth affiliated Patreon, or email me at MetalGearSolid719@gmail.com