It looks like we're going to wait a little longer before we get to see the clash between the King of the Monsters and the Eighth Wonder of the World, as Warner Bros. and Legendary Pictures have announced that Godzilla vs. Kong has been pushed back eight months.
The film – the fourth instalment in the MonsterVerse after Godzilla, Kong: Skull Island and Godzilla: King of the Monsters was originally set to open in March 2020, but will now stomp into theaters on November 20th 2020, where it will face off against the Kristen Stewart-Mackenzie Davis rom-com Happiest Season, Sylvester Stallone superhero thriller Samaritan, and an untitled Amblin film.
SEE ALSO: Godzilla vs. Kong monster fight compared to Rocky vs. Drago
The news of the release date shift isn't entirely unexpected, as Warner Bros. chief Toby Emmerich suggested this summer that in the wake of the box office underperformance of Godzilla: King of the Monsters, "[Godzilla vs. Kong] might come out later in the year, so we can deliver an A+ movie."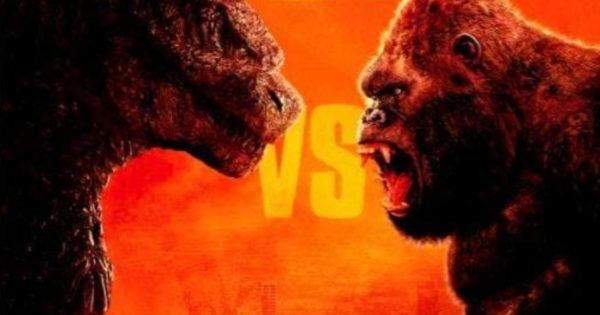 In a time when monsters walk the Earth, humanity's fight for its future sets Godzilla and Kong on a collision course that will see the two most powerful forces of nature on the planet collide in a spectacular battle for the ages. As Monarch embarks on a perilous mission into uncharted terrain and unearths clues to the Titans' origins, a human conspiracy threatens to wipe the creatures, both good and bad, from the face of the earth forever.
Godzilla vs. Kong is being directed by Adam Wingard (The Guest, Blair Witch) and sees Millie Bobby Brown (Stranger Things), Kyle Chandler (Bloodline) and Ziyi Zhang (The Cloverfield Paradox) reprising their roles from Godzilla: King of the Monsters, while new additions to the MonsterVerse include Alexander Skarsgard (Big Little Lies), Julian Dennison (Deadpool 2), Brian Tyree Henry (Atlanta), Demian Bichir (The Hateful Eight), Rebecca Hall (Holmes and Watson), Jessica Henwick (Iron Fist), Eiza Gonzalez (Baby Driver), Shun Oguri (Crows Zero), and Lance Reddick (The Wire).