A much-loved institution of the Leeds International Film Festival is its annual Night of the Dead sidebar, an overnight horror movie marathon which lures some 300-ish genre fans to Leeds' legendary Hyde Park Picture House for 10 hours of cult horror mayhem.
Beginning in the late hours of November 15th and lurching into the early hours of November 16th, Night of the Dead 2019 was the marathon's 20th edition, and my 10th time attending as has become a near-annual pilgrimage for myself and my pal Alex.
As usual, we catch an early-ish coach into Leeds, spend the afternoon and evening hitting up some bars, and then arrive at the Hyde Park Picture House bleary-eyed before the first film has even started.
This year's show trained an uncommon focus on singular visions from filmmakers who typically served as both writer and director, and the result was one of the strongest NOTD years I've ever attended. Once the iffy opening film was done with, anyway…
Go Home (2018)
Written and directed by Luna Gualano.
Starring Antonio Bannò, Sidy Diop, Shiek Dauda, and Cyril Dorand Domche Nzeugang.
The zombie movie has of course proven fertile ground for reflecting societal anxieties back at the audience over the decades, yet despite its earnest intent, Luna Gualano's Italian allegorical zombie film is both awkwardly helmed and frustratingly on-the-nose.
A zombie apocalypse breaks out during a far-right protest against a refugee center being opened in Rome, causing protestor Enrico (Antonio Bannò) to seek safe passage with the very same refugees he was just protesting against.
It's a neat, gleefully ironic hook, at least, yet one with little nuance or subtlety even for the standards of the brain-munching subgenre. The ensemble cast, composed largely of unknown performers and non-actors, does fine work here, trying to accentuate the awkward tension of the confined scenario, even if so much of the film frustratingly shies away from the grimmer – and yes, grislier – implications of the scenario.
Despite a moody atmosphere laid down by Frank Marrelli's musical score, the bafflingly jerky editing renders many scenes infuriating to watch, such that even when the film finally delivers a genuinely wrenching gut-punch in the final stretch, it's tough to care that much.
With a script that trained a cleaner focus on its characters and better crystallised its themes, Go Home could've been a truly evocative thumbing of the nose at racists everywhere, yet the sloppy storytelling and undisciplined filmmaking ultimately hold it back. A well-intended yet technically rough and sledgehammer-subtle zombie allegory. Romero this ain't, sadly.
Flickering Myth Rating – Film: ★ ★ / Movie: ★ ★
Why Don't You Just Die! (2018)
Written and directed by Kirill Sokolov.
Starring Aleksandr Kuznetsov, Vitaliy Khaev, Evgeniya Kregzhde, Elena Shevchenko, and Michael Gor.
If the last 25 years has seen innumerable filmmakers drawing dubious inspiration from the earlier works of Quentin Tarantino, every so often a film comes along which doesn't so much feel like a low-effort echo of the legendary director's style and tone, but a shrewd adjunct to it.
The feature debut of writer-director Kirill Sokolov follows the hammer-wielding Matvei (Aleksandr Kuznetsov), who at the behest of his girlfriend Olya (Evgeniya Kregzhde), visits her hulking detective Andrei (Vitaliy Khaev) with the intent of killing him. Needless to say, things don't quite go according to plan.
The opening passage of this movie sets the tone wonderfully, wasting no time at all as it delves into a bloody, comically over-egged brawl between Matvei and Andrei. What happens after that is simply too delicious to spoil, but this opening salvo of brutal violence, kinetic camerawork and exemplary sound design serves as a fantastic statement-of-intent for the remainder.
Kirill's filmmaking and the project's overall confident sheen belies its not-so-evidently low budget; Dmitriy Ulyukaev's precise lensing and editing undertaken by Sokolov himself combine to generate an uncommonly pulsing style. Even were Sokolov's script not delightfully, bitingly satirical, the bravura technical package – complete with creative camera shots taken from vantage points such as, in one instance, a pube-filled plughole – would sustain interest to the end.
Despite most of the film taking place inside a Moscow apartment, Kirill's enticingly curious camera coverage is further elevated by the film's non-linear plot structure – a Tarantino flourish if there ever was one – with Sokolov taking several lengthy detours to ladle out additional context and playfully re-jig what we thought we knew.
This would all be for little were the central performances not so thoroughly game; Vitaliy Khaev is the easy, terrifying highlight as the burly father-in-law who may or may not be every bit the tyrant he seems, while Aleksandr Kuznetsov's various exasperated expressions – often conducted in complete silence – punctuate the movie's more grim moments with unspoken levity.
It's probably fair to say that the unpredictable lustre of that first act dips slightly once the film reaches a more familiar rhythm, but it's still an artful rendition of a stripped-down concept lent an uncommon degree of attention and care. As a calling card for a nascent filmmaker, it is an incredibly persuasive one.
One of the most evocative horror debuts in years. Kirill Sokolov's energetic, dynamic filmmaking, tricksy plot structure and well-calibrated tone feel Tarantino-esque in the best way possible.
Flickering Myth Rating – Film: ★ ★ ★ ★ / Movie: ★ ★ ★ ★
Mutant Blast (2018)
Written and directed by Fernando Alle.
Starring Pedro Barão Dias, Maria Leite, Joaquim Guerreiro, and João Vilas.
The spirit of schlock maestros Troma is still alive and well in 2019, as evidenced by this charmingly ridiculous gorefest produced by the studio's legendary founder Lloyd Kauffman. For fans of the left-field genre label, Fernando Alle's debut delivers all the cranial destruction and low-fi grotesquery fans could possibly want – played totally straight, no less.
Mutant Blast opens with still-drunk drifter Pedro (Pedro Barão Dias) waking up in the midst of a zombie apocalypse, after which he crosses paths with soldier Maria (Maria Leite), and her superhuman, endlessly muscled experimental cohort TS-347 (Joaquim Guerreiro).
Together, the trio must flee TS-504 (also played by Guerreiro), a mutant super-soldier sent by a shady corporation to eliminate them, all while coping with the effects of radiation exposure in this desolated hellhole landscape.
If a thrilling opening sequence in which Maria and TS-347 earn their gore-soaked freedom appears at odds with the film's early deference for low-effort comedy gags, it soon enough settles into an altogether more consistent mode. Once it embraces the road movie schematic and focuses on the likeable heroes exchanging banter in-between action-packed engagements, things pick up considerably.
It would be fair to call Alle's film scattershot, with a kitchen sink approach taken to both horror and comedy; surreal affectations regularly abound, such as having the word "zombie" bleeped out, and some of the more out-there mutations – which shan't be spoiled – walk a wonderful line between hilarious and intriguingly revolting.
The shamelessly cheap, high-charm production is buoyed by strong performances from Dias and Leite in particular, even if the film's inevitable hints at a romance feel rather tacked on – yet acceptable enough in a movie this keen to trade in tropes.
The end result is creative yet not quite clever; it's far from a glib, cynical attempt to make a self-conscious trash-fire, but clearly born out of a desire to play around in the very demented, icky sandbox Troma themselves helped popularise.
Gloriously low-brow and creatively gnarly, Mutant Blast makes the most of its constraints to deliver a surging splatter romp worthy of the Troma name.
Flickering Myth Rating – Film: ★ ★ ★ / Movie: ★ ★ ★
Harpoon (2019)
Written and directed by Rob Grant.
Starring Brett Gelman, Munro Chambers, Emily Tyra, and Christopher Gray.
By combining a single-location premise with of-the-moment commentary on toxic masculinity – and, really, toxic humanity in general – Rob Grant's Harpoon couldn't really miss. For though this taut thriller is occasionally too smugly playful for its own good, its three remarkable leads commit fully to their disturbingly plausible archetypes.
Upon suspecting that his pal Jonah (Munro Chamber) has had sex with his girlfriend Sasha (Emily Tyra), jealous alpha male bro Richard (Christopher Gray) beats the snot out of him. In order to correct the "misunderstanding," Richard invites the two for a day trip on his boat, but when the engine cuts out and they find themselves marooned in the middle of the ocean, soon enough those pre-existing tensions come bubbling back to the surface.
A movie this intimate in scope – taking place almost entirely on the boat – will always live and die on the merits of its performances, and they're fundamentally what allows this movie to work, no matter the deliciously pulpy twists and turns Grant has in store. Though the three characters form a pretty typical triumvirate, Grant has fun playing with expectations and ensuring that no single character is entirely innocent nor devoid of sympathy.
And what initially seems like it's destined to be an urgent #MeToo horror actually mutates into something more all-encompassing, for as much as the film casts Sasha as the intermediary between two jostling men, she herself is neither a saint nor a passive participant in the film's dramatic powder keg.
Though there's a darkly comic tenor cutting through the film's various dialogues, this is occasionally upended by some voiceover narration spliced into the story, which while voiced with conviction by the brilliant Brett Gelman, nevertheless feels out-of-place in granting a more omnipotent point-of-view to the otherwise closed-off proceedings.
Thankfully these moments are fleeting, with the focus instead trained on unspoken secrets and long-held grudges, building to a brutally violent finale that's nothing if not steeped in a fine veneer of dramatic irony. While not quite making the satiric best of its ripe premise, it certainly exploits sexual tension and ego for a tightly-wound character-driven genre romp.
If you can accept the cuter-than-cute narration, Harpoon is a sinewy low-fi delight distinguished by a trio of terrific performances.
Flickering Myth Rating – Film: ★ ★ ★ / Movie: ★ ★ ★
Tammy and the T-Rex: Gore Cut (1994)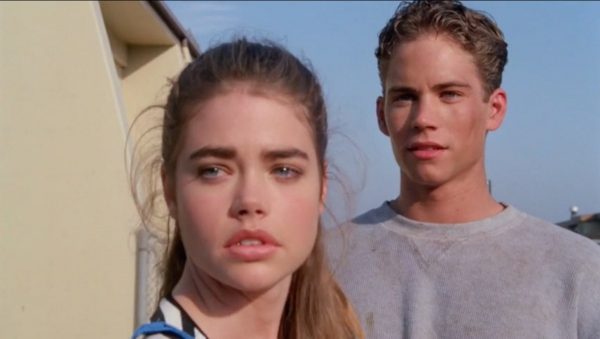 Written and directed by Stewart Raffill.
Starring Denise Richards, Paul Walker, Ellen Dubin, Terry Kiser and Theo Forsett.
The inherent art of "so-bad-it's-good" cinema is that the filmmaker actually made an earnest attempt to make a genuine movie, and though it's scarcely believable that this is the case with Stewart Raffill 's legendarily bizarre 1994 sci-fi comedy Tammy and the T-Rex, the newly-restored "gore cut" bolsters its status as a brilliantly baffling curio.
The story of this movie's production is itself totally transfixing; Raffill was approached to make a movie by a man who had an animatronic T-rex in his possession which was due to be shipped to a theme park. Raffill had just a week to write a script incorporating the T-rex, and shooting started within the very same month. This is the result of that "labour."
And accepting those immense restrictions, it's actually impressive that Tammy and the T-Rex entertains as much as it does. Though originally marketed and released as a wacky comedy following the titular young woman (Denise Richards) whose boyfriend Michael (Paul Walker) has his brain implanted into the body of an animatronic T-rex, Raffill actually shot the film for an R-rating, with the studio cutting roughly 10 minutes of more adult-minded footage, including lashings of honestly-not-bad gore.
After a literal quarter-century of fan pleading, something approaching Raffill's original vision has finally been released, and the result is a movie as fascinating as it is hilarious. From its very first scene onward, the dialogue is aggressively stilted and the performances almost as much, while scenes end jarringly and abruptly, and there's absolutely no consistency to the tone from moment to moment.
And though Raffil has proven good-humoured about the film over the years, it nevertheless walks a fine line of clearly being somewhat aware of its own "badness" and still playing much of its central insanity completely straight, particularly as it pertains to its young leads Richards and Walker.
The camp is considerable, and yet there's a charming earnestness to Richards' attempts to plow through the ridiculous dialogue without winking at the audience.
Viewed in the bleary early hours of a Saturday morning at the tail-end of a film festival marathon, it brought the house down and perked up the tired crowd, ensuring the gore cut is destined for a tenured future on the midnight movie circuit. Rather than the mild mean-spiritedness that comes with laughing hysterically at a terrible film made with serious intent, there's a commitment of vision throughout here, at least on Raffill's part, to make a wacky, balls-to-the-wall film with limited time, resources, and an outrageously naff dinosaur prop no less.
There will be few feeling that the film short-changes them on its dementedly dumb promise; there's not a hint of Tammy and the T-Rex being positioned as a forced cult classic, but rather a genuinely fun film that embraces its Mad Libs-like set-up. For some its rat-a-rat stupidity will be too much, but for those who can appreciate no-holds-barred genre-bending filmmaking – or an early-twenties Richards packed into as many skimpy costumes as possible – there's plenty to enjoy here.
Tammy and the T-Rex: Gore Cut is ludicrously, brilliantly weird; a "bad" movie that, by embracing its campy tone and demonstrating a slight-but-significant self-awareness, is really anything but.
Flickering Myth Rating – Film: ★ ★ ★ / Movie: ★ ★ ★
Shaun Munro – Follow me on Twitter for more film rambling.