21 Bridges, 2019.
Directed by Brian Kirk.
Starring Chadwick Boseman, Sienna Miller, Stephan James, Taylor Kitsch, JK Simmons and Keith David.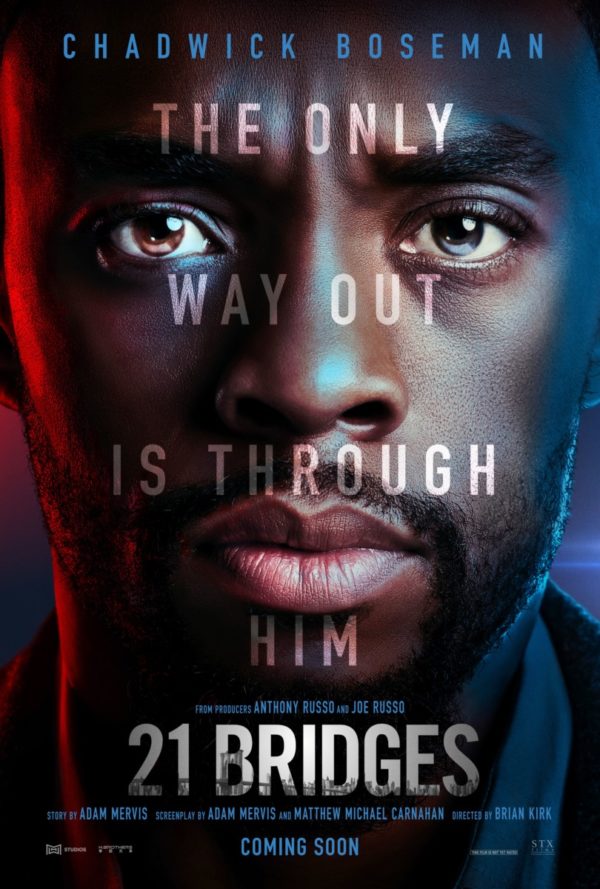 SYNOPSIS:
When a drug deal gone wrong leads to half a dozen dead cops, a determined detective closes all of the transport links in and out of Manhattan Island until the killers are found.
21 Bridges stars Chadwick Boseman. You know, the guy from Black Panther? In case you didn't know, the marketing for the film has made a huge deal of the Avengers connection, and the word "avenger" appears in the very first dialogue. It's an act of remarkable restraint that the movie never describes Boseman's character – hotshot detective Andre – as being as smart and dangerous as a panther. What it does do, however, is deliver a fairly efficient cop thriller.
We meet Andre as an intense, talented detective who tells an Internal Affairs interview that "being a cop isn't a choice for me", adding that it's down to "DNA". His father was an officer killed on the job 19 years previously. So he's immediately impassioned when he's called to the scene of a drug deal gone wrong, involving 300 kilos of uncut cocaine and about half a dozen dead cops. With the head of the precinct (JK Simmons) out for blood and a talented narcotics detective (Sienna Miller) assigned to join Andre, he shuts all of the routes in and out of Manhattan and starts to close the net on the perps (Taylor Kitsch and Stephan James).
If you've ever seen a gritty cop thriller, you stand a pretty good chance of joining many of the narrative dots here. There's something not right about the initial heist from the start, with the crooks turning up to steal 30 kilos only to find ten times that amount waiting for them. The plot unravels almost exactly as genre conventions suggest it should, with shadowy people disguising their motivations and acting for themselves. Meanwhile, Boseman's stoic cop promises to "flood the island with blue" while Henry Jackman and Alex Belcher's score blares with self-conscious epicness in the background. Subtlety is not the movie's strong suit.
Thankfully, Boseman oozes cool and is never anything less than a consummate leading man. He's entirely believable as a man willing to do whatever it takes in the pursuit of justice. Andre is someone who believes, above all else, in the integrity and meaning of his badge and what it means. An early conversation between him and Simmons brilliantly outlines the human cost of being a cop, which is an intriguing notion that the movie never has time to tease out. Economics, too, is briefly mentioned in a crucial stand-off, but also forms an under-played narrative strand.
The problem is that 21 Bridges isn't that interested in its own themes and ideas. Director Brian Kirk, best known for helming a handful of early Game of Thrones episodes, has absolute faith that any narrative cul-de-sac can be escaped in a hail of machine gun fire and yelling. The initially simple story quickly becomes muddied by the presence of some USB drives containing crucial data and the streamlined nature of the film somewhat goes with it, though Boseman holds everything together and there's enough style in the action to keep the train on the tracks.
There is also welcome depth when it comes to the bad guys themselves. Kitsch and James are excellent as the criminal duo, with James in particular allowed to explore considerably more character avenues than you might expect. The film has a social conscience, but it never really becomes the focus in the way that a more interesting film would, often retreating into gunfire and bluster when it ought to be allowing the characters to marinate. It's a mature examination of the modern world, wearing the clothing of a noisy action thriller. Unfortunately, it wears those clothes for so long that its maturity somewhat ebbs away.
Flickering Myth Rating – Film: ★ ★ ★ / Movie: ★ ★ ★
Tom Beasley is a freelance film journalist and wrestling fan. Follow him on Twitter via @TomJBeasley for movie opinions, wrestling stuff and puns.