Last Christmas, 2019.
Directed by Paul Feig.
Starring Emilia Clarke, Henry Golding, Emma Thompson, Michelle Yeoh, Lydia Leonard, Peter Mygind, and Boris Isakovic
SYNOPSIS:
Kate (Emilia Clarke) is a down-on-her-luck twenty-something who's caught in a downward spiral of burning the candle at both ends. She works in a Christmas shop with her curt boss (Michelle Yeoh), and spends the nights coach surfing. Things appear to change when she meets a random stranger (Henry Golding), and the two embark on a George Michael accompanied festive adventure.
It has been a wait that feels as long as that of a kid on Christmas Eve since we had a festive film that would join the seasonal TV syndication likes of Love Actually or ELF as a modern Christmas classic. Combined with the fact that there's currently a paucity of decent romcoms out there, and you might start to believe the world is too cynical of a place for such films to exist.
Step foward potential saviours Paul Feig and Emma Thompson, who come bearing a gift in the form of this selection-box story of London love. Both carry the highest credentials: she was in the aforementioned Richard Curtis favourite, arguably stealing the entire film with her Joni Mitchell heartbreak, and Feig is behind some of the best comedy of the past decade, most notably Bridesmaids and Spy. So why then, much like said selection box, is this over-stuffed with too many stale elements and underwhelming choices that'll make you wish you'd never indulged?
The first hour is rough: cracker-standard jokes land with a thud, and the meet-cute, usually integral to a romcom, is completely absent of any chemistry or charm. Feig's reverence for British comedy – Blackadder plays on a TV somewhere – has Last Christmas unfolding like a seasonal Open All Hours, and not just because a large chunk of the film takes place in a festive shop run by Michelle Yeoh (terrific throughout), but due to the fact characters just step in from off-screen with little-or-no introduction, deliver a couple of duff lines, and then 'end scene'.
So thank the Christmas Elves for Emilia Clarke, for she carries Last Christmas with the kind of warm likeability that'd melt the polar ice caps in a heartbeat. There's nothing too original about her character or the cards she has been dealt by the script, but she plays Kate with the perfect balance of modern snark and relatability, grounding the film in the face of an ensemble of much broader performances. Clarke embraces every line, of which there are many clunkers, and imbues them with a real movie star magic. You might never find out why she's so in love with George Michael and his music, beyond simply singing his songs or having posters on her bedroom wall, but she's appealing enough for you to look past the lack-of-depth, and follow her weird Wonderful Life.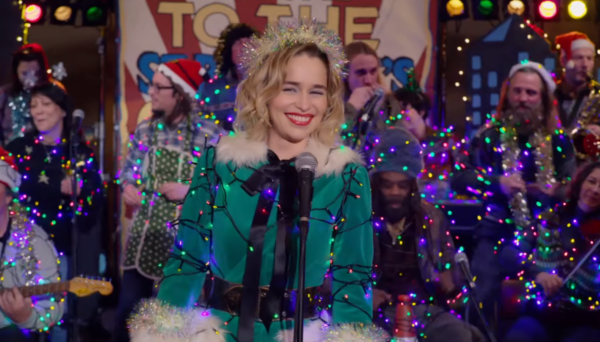 'Weird' is a bit of a watchword for the film. Kate constantly calls Henry Golding's enigmatic love-interest out for being just that. And for good reason, because he is. Initially in a charming, lamp-post swinging fashion that'll have you giggling, but it soon gives way to a frustration that completely undermines their supposed chemistry. Constantly asking her to "look up" and take in the world around her is a cute and well-intentioned message at first, but it soon begins to grate as they repeatedly trek around an admittedly stunning London set to 'tourist filter'.
This vision of the capital might be soft-focus, but Feig and Thompson (who's absolutely wonderful as Kate's Yugoslavian mother) also attempt to ground their fantastical fable with some admirable social commentary. The Brexit backdrop might irk some, and admittedly it's clumsily executed, but it's used to underline both the folly of the entire debacle, and to emphasise the culture of hate which has emerged from it. For a film that sets out to jump start your heart, and despite its many faults, Last Christmas might just be the kind of movie we need right now.
For that reason, it feels like you'd be in need of a visit from three ghosts if you were too harsh on the film, but considering the talent involved it's like getting the knock-off version of a gift you wanted, or rummaging through the glittery packages of your stocking with excitement, only to discover a piece of sickly-sweet fruit at the bottom, which for all the good intentions in the world, you'll quickly forget about.
Flickering Myth Rating – Film ★ ★ / Movie ★ ★ ★
Matt Rodgers – Follow me on Twitter @mainstreammatt