Kathleen Kennedy, the president of Lucasfilm, says that the force and how it works will define Star Wars going forward.
With Star Wars: The Rise of Skywalker signaling the end of the Skywalker saga, the franchise is almost getting a new start going forward. What will that future look like? Well, Kathleen Kennedy is pointing to the mysteries of the Force.
Kennedy says the scene where the young boy uses the force to grab the broom at the end of The Last Jedi is a moment that represents what the future will be and elaborated further to Gizmodo:
"What the Force means lying ahead, I think is Star Wars. It certainly is a part of what Episode IX is. But the Force is a huge part of the conversation about where we're going and what is the future of Star Wars. And once we move on from Episode IX and we start telling new stories, the Force is the foundation of Star Wars."
SEE ALSO: SPOILERS: Tracklisting for Star Wars: The Rise of Skywalker score leaks online
The future of the franchise is going to be very interesting indeed. Hopefully, it won't be too long before we get a glimpse of what the next big-screen offering will entail.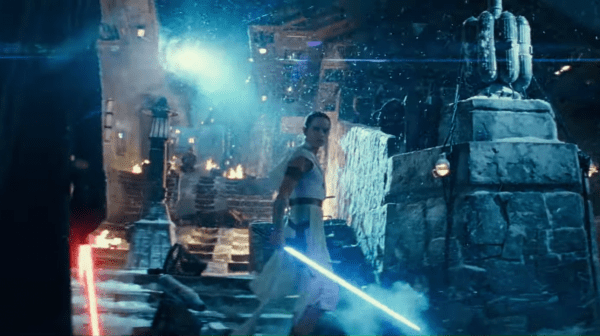 Star Wars: The Rise of Skywalker sees J.J. Abrams (Star Wars: The Force Awakens) directing a cast that includes Star Wars veterans Daisy Ridley (Rey), Adam Driver (Kylo Ren), John Boyega (Finn), Oscar Isaac (Poe Dameron), Lupita Nyong'o (Maz Kanata), Domhnall Gleeson (General Hux), Kelly Marie Tran (Rose Tico), Joonas Suotamo (Chewbacca), Billie Lourd (Lieutenant Connix), Greg Grunberg (Snap Wexley), Mark Hamill (Luke Skywalker), Anthony Daniels (C-3PO), Billy Dee Williams (Lando Calrissian) and Carrie Fisher (Leia Organa) as well as new additions Naomi Ackie (Lady Macbeth), Richard E. Grant (Logan), Dominic Monaghan (Lost), and Keri Russell (The Americans).