Star Wars: The Rise of Skywalker spoilers follow…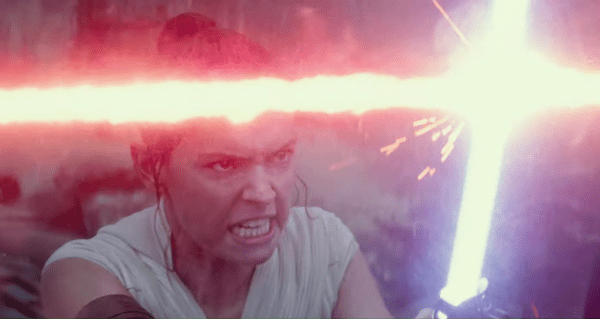 With just seven days to go until Star Wars: The Rise of Skywalker begins its worldwide roll out, the track listing to John Williams' score for the final chapter of the Skywalker Saga has made its way online.
While there's no 'Qui-Gon's Funeral'-level spoilers on display, the track titles do give some indication of how the movie is likely to play out – and if you've been paying attention to all of the supposed "leaks" regarding the plot, you'll be able to make a pretty good judgement as to how accurate they've been:
1. Prologue (1:45)
2. Falcon Flight (2:22)
3. We Go Together (2:10)
4. In the Desert (2:26)
5. A Prisoner (1:23)
6. To Kimiji (1:37)
7. Fleeing from Kimiji (1:53)
8. Hallway Shooting (2:11)
9. Hard to Get Rid Of (2:19)
10. Join Me (2:21)
11. The Old Death Star (2:14)
12. Off the Waterfront (1:03)
13. Final Saber Duel (1:38)
14. Healing Wounds (2:49)
15. Advice (1:54) 1
16. Battle of the Resistance (1:54)
17. Approaching the Throne (4:16)
18. Parents (1:57)
19. Coming Together (1:44)
20. Seeing Sights (3:17)
21. Rescue (1:10)
22. Farewell (4:27)
23. A New Home (1:42)
SEE ALSO: Star Wars: The Rise of Skywalker introduces new force powers says J.J. Abrams
Star Wars: The Rise of Skywalker sees J.J. Abrams (Star Wars: The Force Awakens) directing a cast that includes Star Wars veterans Daisy Ridley (Rey), Adam Driver (Kylo Ren), John Boyega (Finn), Oscar Isaac (Poe Dameron), Lupita Nyong'o (Maz Kanata), Domhnall Gleeson (General Hux), Kelly Marie Tran (Rose Tico), Joonas Suotamo (Chewbacca), Billie Lourd (Lieutenant Connix), Greg Grunberg (Snap Wexley), Mark Hamill (Luke Skywalker), Anthony Daniels (C-3PO), Billy Dee Williams (Lando Calrissian) and Carrie Fisher (Leia Organa) as well as new additions Naomi Ackie (Lady Macbeth), Richard E. Grant (Logan), Dominic Monaghan (Lost), and Keri Russell (The Americans).