In 2015, director J.J. Abrams took the helm for the first instalment in the sequel trilogy – or the seventh Star Wars episode of the saga – with Star Wars: The Force Awakens. Now, in two weeks, the filmmaker has a huge task of releasing the ninth and final episode in the entire Skywalker Saga, The Rise of Skywalker.
In a recent cast interview with Entertainment Tonight, Abrams explained which was the more difficult challenge during his experience on Star Wars – starting a brand new trilogy or bringing an entire 40-year arc to a satisfying conclusion.
"Not starting it," he said. "Wrapping it up for sure, because there's nine movies, and the responsibility is much greater. Starting something isn't necessarily easy, but its' far easier because the possibilities of what happens are everywhere."
In addition to finishing off a nine-film saga, J.J. Abrams has also previously stated one of the most important aspects of The Rise of Skywalker is making a film that Carrie Fisher would be proud of.
"I don't want to talk about that, per se, because it just — I don't think it's quite my place, although I would love to go and talk about it, but I will say that nothing has been more important to me than making sure we do something that Carrie herself would have been happy with, and proud of," Abrams said.
Do you agree with J.J. Abrams' comments regarding which is the more difficult challenge? Are you looking forward to The Rise of Skywalker? Let us know in the comments below or tweet us @flickeringmyth…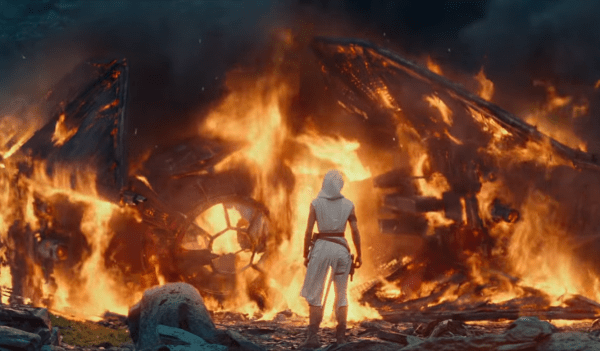 Star Wars: The Rise of Skywalker sees J.J. Abrams (Star Wars: The Force Awakens) directing a cast that includes Star Wars veterans Daisy Ridley (Rey), Adam Driver (Kylo Ren), John Boyega (Finn), Oscar Isaac (Poe Dameron), Lupita Nyong'o (Maz Kanata), Domhnall Gleeson (General Hux), Kelly Marie Tran (Rose Tico), Joonas Suotamo (Chewbacca), Billie Lourd (Lieutenant Connix), Greg Grunberg (Snap Wexley), Mark Hamill (Luke Skywalker), Anthony Daniels (C-3PO), Billy Dee Williams (Lando Calrissian) and Carrie Fisher (Leia Organa) as well as new additions Naomi Ackie (Lady Macbeth), Richard E. Grant (Logan), Dominic Monaghan (Lost), and Keri Russell (The Americans).