Richard E. Grant, one of the stars of Star Wars: The Rise of Skywalker, has teased a major character plot twist.
Star Wars: The Rise of Skywalker is now little over a week away but that doesn't mean its stars are finished hyping the movie. From the sounds of it, fans can expect a major plot twist to occur.
Speaking to Yahoo, Richard E. Grant, who plays a First Order General, has commented on what he thinks will surprise fans most about the movie: "The big character plot twist that I had no idea would be coming. It made total emotional sense and story sense and I thought that was really smart. And I think that's an incredible thing to take something that began with the first movie in 1977 and nine movies later reach a conclusion/resolution."
SEE ALSO: Watch the full Star Wars: The Rise of Skywalker press conference
The anticipation is certainly building among Star Wars fans, especially with the recent warm reception of The Mandalorian and Star Wars Jedi: Fallen Order. It will be interesting to see if this plot twist Grant mentions is as game-changing as he suggests.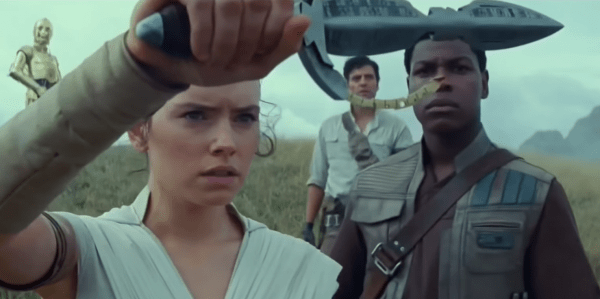 Star Wars: The Rise of Skywalker sees J.J. Abrams (Star Wars: The Force Awakens) directing a cast that includes Star Wars veterans Daisy Ridley (Rey), Adam Driver (Kylo Ren), John Boyega (Finn), Oscar Isaac (Poe Dameron), Lupita Nyong'o (Maz Kanata), Domhnall Gleeson (General Hux), Kelly Marie Tran (Rose Tico), Joonas Suotamo (Chewbacca), Billie Lourd (Lieutenant Connix), Greg Grunberg (Snap Wexley), Mark Hamill (Luke Skywalker), Anthony Daniels (C-3PO), Billy Dee Williams (Lando Calrissian) and Carrie Fisher (Leia Organa) as well as new additions Naomi Ackie (Lady Macbeth), Richard E. Grant (Logan), Dominic Monaghan (Lost), and Keri Russell (The Americans).