9 – Doctor Sleep
Much like Glass, Doctor Sleep is a film that could've easily placed the top five if I was predicting at the start of the year. Mike Flanagan tackling the world of Stephen King is a horror nerd's dream. And the film isn't bad by any means, but it doesn't meet the heights it needed. And that's not even trying to compare it to the Kubrick sister film.
8 – Ready Or Not
Even though I didn't give Ready Or Not the kindest review, it's still a film with a fanbase and some enjoyable qualities. Trying to find the balance between comedy and horror is never easy; Ready Or Not is smart for sitting firmly in the middle. Also, any movie that includes Samara Weaving in such a strong role deserves major credit.
7 – Crawl
When Quentin Tarantino openly praises a movie, you must put it on your list. But Crawl is good without a recommendation from an iconic filmmaker; it's just a damn good time. Where the 47 Meters Down sequel messes up creature features, Crawl makes up for it with a thrilling ride. Horror master Alexandre Aja needs more work like this!
6 – Happy Death Day 2U
Trying to make a modern slasher film is no easy task; it's a genre been done to hell so many times. Happy Death Day 2U continues the re-invention of the sub-genre by adding in so many other elements. Adding some sci-fi components makes the film feel unique, becoming one of the most entertaining slashers in quite some time.
5 – Horror Noire: A History of Black Horror
Horror-focused streaming service Shudder makes an appearance on the list, with an impressive documentary nonetheless. Horror Noire dives into the storied history of the black community and the horror genre, something mostly over-looked by mainstream viewers. With great guest stars and so much wonderful info, this is a must-see.
4 – It Chapter Two
The only real negative about It Chapter Two isn't about the film itself, but the fact it didn't make the splash of the first entry. Following up such a massive event film is no easy task, and while It Chapter Two isn't perfect, there's still a lot to love here. Great acting, good scares, and a bigger scale, any Stephen King fan needs this in their life.
3 – The Lighthouse
Robert Eggers is a filmmaker that understands style and horror better than most. His debut The Witch took the genre by storm, and now his follow-up is making equally big waves. A contender at many prestigious award shows, The Lighthouse is a disturbing tale and one of the year's best films. Watch this for Pattinson and Dafoe's acting alone!
2 – Us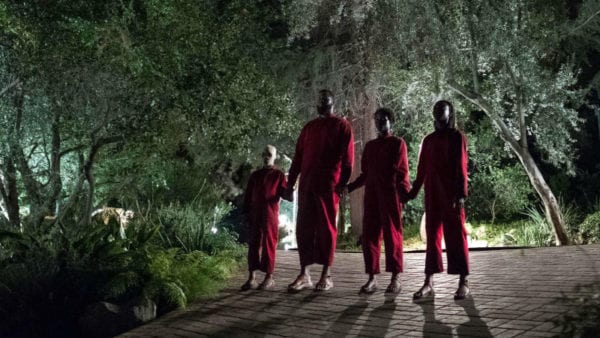 2017's Get Out took the industry by surprise as no one expected Jordan Peele to make a film like that. With our expectations at a high now, Us had a lot of work to keep up. What a wonderful surprise to see the film is another strong piece from Peele. Seriously, Lupita's acting alone as Red and Adelaide is a masterclass in acting.
1 – Midsommar
Ari Aster crafted one of the best films of 2018 and came back this year with something as amazing. Midsommar is somehow painfully real and surreal at the same time. Euro-trips and couples breaking up have never felt so scary, a true testament to the filmmaker's power. There have been no films quite like Midsommar this year.
What do you think of this ranking? Where does your favorite 2019 horror rank? Don't forget to comment down below or reach out to us, @FlickeringMyth on Twitter…
EJ Moreno
https://www.youtube.com/watch?v=gdDokMB3Yg8