Carrie Fisher's daughter Billie Lourd played a young Leia in a flashback for Star Wars: The Rise of Skywalker.
There is an awful lot going on in Star Wars: The Rise of Skywalker but one of the surprising scenes was the flashback of Luke and Leia training together as Jedi. The two actors were de-aged for the scene but with Fisher now deceased, how did they go about making the scene?
Well, according to VFX supervisor Patrick Tubach, Fisher's daughter Billie Lourd played a young Leia before the effects team did their magic. Speaking to Yahoo, Tubach said: "Billie was playing her mother. It was a poignant thing, and something that nobody took lightly — that she was willing to stand in for her mom.
"It felt great for us, too. If you're going to have someone play [Fisher's] part, it's great that it's [Billie] because there are a lot of similarities between them that we were able to draw from. The real challenge was just making the Leia footage we had to work with fit in that scene."
SEE ALSO: Star Wars: The Rise of Skywalker writer explains how the Luke and Leia flashback was created using Return of the Jedi footage
Using old footage of Fisher from past movies helped the team to bring Leia back in Episode IX. It's great that she was able to have such a significant role despite Fisher's passing.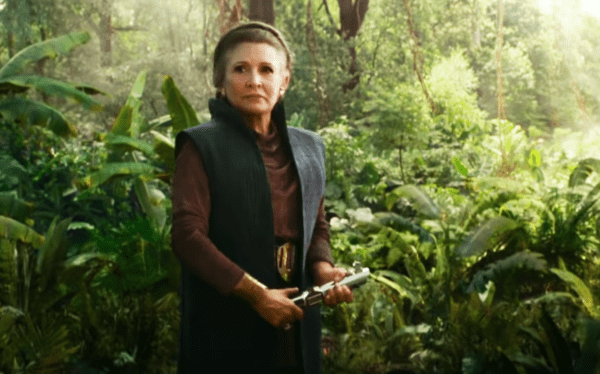 Star Wars: The Rise of Skywalker sees J.J. Abrams (Star Wars: The Force Awakens) directing a cast that includes Star Wars veterans Daisy Ridley (Rey), Adam Driver (Kylo Ren), John Boyega (Finn), Oscar Isaac (Poe Dameron), Lupita Nyong'o (Maz Kanata), Domhnall Gleeson (General Hux), Kelly Marie Tran (Rose Tico), Joonas Suotamo (Chewbacca), Billie Lourd (Lieutenant Connix), Greg Grunberg (Snap Wexley), Mark Hamill (Luke Skywalker), Anthony Daniels (C-3PO), Billy Dee Williams (Lando Calrissian), Ian McDiarmid (Emperor Palpatine) and Carrie Fisher (Leia Organa) as well as new additions Naomi Ackie (Lady Macbeth), Richard E. Grant (Logan), Dominic Monaghan (Lost), and Keri Russell (The Americans).