Dolittle, 2020.
Directed by Stephen Gaghan.
Starring Robert Downey Jr., Emma Thompson, Micheal Sheen, Tom Holland, Jim Broadbent, Antonio Banderas, Harry Collett, Carmel Laniado, Ralph Fiennes, and Rami Malek.
SYNOPSIS:
Locked behind the gates of Dolittle Manor, eccentric veterinarian Dr. John Dolittle (Robert Downey Jr.) grieves the loss of his beloved wife and famed explorer Lilly. His former animal patients now do their best to look after him, until one day they learn Queen Victoria (Jessie Buckley) has taken gravely ill, her only hope is the fruit from the Eden tree located on a mythical island. It's a journey filled with peril and painful memories. Can John and his loyal animal pals captained by wise and trusted Polynesia the parrot (Emma Thompson) confront the past, locate the healing tree and make it home in time to save the young Queen's life?
During the horrifying reality of the trenches in WWI, Hugh Lofting escaped into his imagination and created an extraordinary Doctor, sending story fragments via illustrated letters home to comfort and entertain his children. Yhese tales eventually became the popular book series Doctor Dolittle published throughout the 1920s and '30s.
Lofting's multilingual veterinarian who could talk to animals has been adapted for stage and screen many times since, and now it's retired Marvel superhero Iron Man Robert Downey Jr.'s turn to breathe new life into this cherished classic English character by making him… Welsh? Yes, this John Dolittle has a heavy Welsh accent which is extremely distracting, however there is method in his strange madness as it seems RDJ drew a lot of inspiration from another bizarre Doctor – no, not not Doctor Who but Dr. William Price, a 19th century romantic and revolutionary figure who believed he could actually communicate with nature. Flamboyant in his appearance Robert also based some of Dolittle's look and wardrobe on this real-life one of a kind Welshman, which explains a lot and does make his confusing dialect choices a little more understandable.
Dolittle is a fun family fantasy, vibrant and very funny at times with jokes, for the most part, landing on target. The voice cast is ideally placed and impressive; producer Susan Downey (Mrs. RDJ) expressed they "were really fortunate, we thought about the personalities behind the animals then picked our top choices" and included in those top choices are Marvel co-star Spider-Man Tom Holland who voices Dolittle's faithful dog Jip, a soon to be Marvel star from upcoming flick The Eternals, comedian Kumail Nanjiani as fussy Ostrich Plimpton who bickers constantly with frenemy Polar Bear Yoshi, voiced by former wrestling superstar John Cena.
Songstress Selena Gomez gives us Betsy and Hot Tub Time Machine's Craig Robinson is hilarious as vengeful Fleming the Squirrel, along with a host of Oscar winners: Marion Cotillard as Tutu, Octavia Spencer as duck DabDab, Bohemian Rhapsody star and soon to be Bond villain Rami Malek as fearful Gorilla Chee-Chee and topping the bill, Emma Thompson, terrifically voicing Polynesia, the prettiest of parrots. Poly also narrates the story which helps to give background and understanding to John's history.
Entirely created using CGI, the animals in Dolittle are delightful, with convincingly expressive reactions and stunning physical effects. There are one or two misses but if it's a choice between computer animals and training the real thing (however expert and humanely) then computer is going to win out with this critic every single time, as it would have with Mr. Lofting who it's said came up with the Dolittle idea after seeing how little compassion the horses received on the battlefield.
Dolittle is not as good as it could be; a production plagued with setbacks, multiple reshoots following test audiences feedback and missed release dates, it sadly still has issues, disjointed scenes, and a muddy narrative, and while the stellar human cast including a wonderfully envious Dr. Blair Mudfly played with scalpel-like precision by Micheal Sheen, a luminous Lady Rose gracefully portrayed by Carmel Laniado, and Harry Collett from Dunkirk as likable and plucky wannabe Dolittle assistant Tommy Stubbins all do their best, there's no chance to really engage with this film. Everything seems to happen at a distance, and action shots and framing are sometimes misplaced creating a low level of empathy and engagement throughout.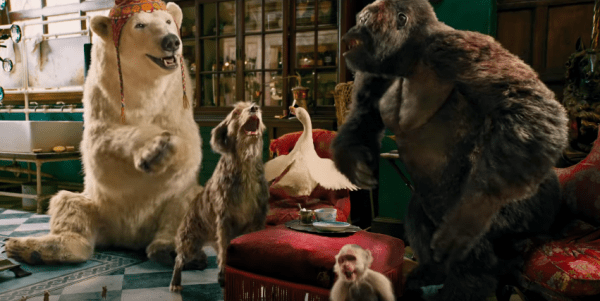 The interplay between Downey and his merry menagerie is believable and charming although Robert is underutilized in terms of wit and one on one moments. He handles the highly physical scenes with ease and skilfully exhibits range from heartbroken husband to fearless adventurer, yet again the empathy is just not as potent as it could be and many times the heartstrings simply don't get tugged. Key moments need more time to breathe, and a couple of relationships go sadly underdeveloped with the emotional build-up not quite paying off, Downey Jr.'s innate star power and unique charisma does get plenty of opportunities to shine bright during the movie's 101 minute duration and it is, for the most part, a rip-roaring romp with a few high moments of comedy and entertainment.
As with Eddie Murphy's Doctor Dolittle hit franchise way back in the 1990s this film also features a memorable tiger, and like all big cats this kitty is not to be toyed with. Voiced by Voldermort himself, Harry Potter villain Ralph Fiennes, Tiger Barry successfully brings the claws, managing to be both sinister and comical during his briefly fierce appearance.
With core messages of love, healing and family Dolittle contains many positive aspects and timely life lessons that will entertain the little and big kids with plenty of movement and pace. Its simple, compelling premise is bound to reignite interest in all things Dolittle and that alone is never a bad thing, as now a whole new generation will get the chance to imagine what it might be like to squeak, squark and talk with the animals.
Flickering Myth Rating – Film: ★ ★ ★ / Movie: ★ ★ ★ ★
Laura Jorden is a freelance journalist, creative writer, and fashion jewellery designer for LadyLLondon.