Red Stewart reviews the tenth episode of Black Lightning's third season….
I'm not quite sure how I felt about Black Lightning's triumphant return following its near-month absence. That absence, of course, was attributable to The CW's overarching "Crisis on Infinite Earths" event, which Jefferson became a part of when he was transported at the end of "Earth Crisis." As such, it wouldn't have made sense to continue airing the show for risk of spoiling the ultimate ending to Crisis.
That being said, the writers still had the tough task of incorporating the aftermath of "COIE" into the Black Lightning narrative while still continuing their own preexisting storylines involving the Markovian war and ASA occupation. In my review of "Earth Crisis" I praised the team for their approach at bringing the Crisis to newcomers who (like myself) weren't keeping up with the otherworldly events going on in the Arrowverse multiverse: they managed to make their characters feel genuinely shocked at what was going on.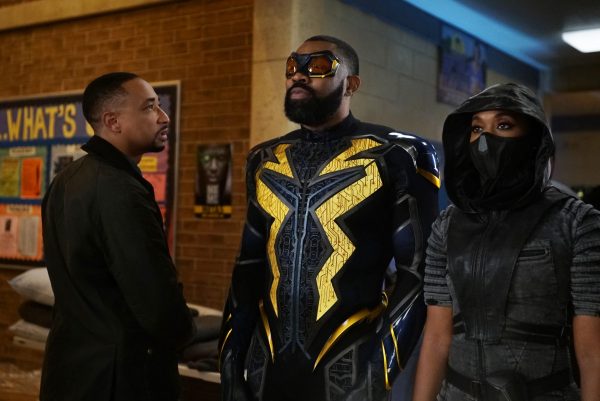 Here, though, I was very mixed on the approach they took towards the aftereffects. With "Crisis" over, everyone except Jefferson and Jennifer have no memory of what transpired. On the one hand, maybe this can make sense, but on the other it feels lazy. It basically means we don't see any significant changes to the setting of Black Lightning, which begs the question of why even incorporate the show into the event. Fan service has its place, but all the Arrowverse shows are supposedly in the same universe now, so I would've liked to have seen some acknowledgement of it outside of Jefferson's brief dialogue at the beginning recapping what he went through.
This expository dialogue begins "Blessings and Curses Reborn" with Jefferson and Jennifer returning to Freeland only to realize that things have moved on in their absence. Anissa and the Resistance are continuing their war on the ASA, Lynn's addiction has gotten worse, and Jennifer is desperate to get revenge on Odell for his manipulations. In addition to this, TC has returned from before to seek out Gambi's help as he fears the ASA's crackdown on metas will get to him.
These would be straightforward, but my earlier point about my general uneasiness about the writers handling of the COIE event left something to be desired. I'll put it this way- no one except Jefferson seems to be acting like themselves. Anissa's out leading the resistance all macho and gung-ho like, but she comes off like a different person. It doesn't help that the writers chose to regress her relationship with her father by having get into another pointless fight about leadership style. Likewise, Jennifer is now intent on killing Odell, a clear regression from her getting over her bloodlust for Tobias beforehand- and the thing is, she's blatantly open about it in front of Jefferson and Gambi, yet none of them do anything to dissuade or to try and talk her out of it.
That's what I mean when I say that the characters all felt different. It's slight, but very noticeable, and it gave the entire episode a bizarre atmosphere, which is kind of a downer because most of the plots were pretty good. I liked seeing Jennifer continue to develop her relationship with Brandon and officially call it quits with the ASA. I surprisingly enjoyed seeing Gambi and TC become like a surrogate family, especially with the latter having a cool set of powers. And I was thoroughly engaged with Lynn's complete fall into addiction. I know I criticized Christine Adams's performance before for lacking that convincing factor, but here she knocked it out of the park, depicting someone who is blatantly mentally and chemically strained. Her confrontation with Jefferson was a noteworthy highlight.
It's sad that that aforementioned strangeness, as well as the idiotic conflict between Jefferson and Anissa, pervaded most of the episode. It made things less enjoyable for sure.
Rating – 6/10
Red Stewart