Dark Waters. 2019
Directed by Todd Haynes
Starring Mark Ruffalo, Anne Hathaway, Tim Robbins, Bill Camp, Victor Garber, Mare Winningham, William Jackson Harper, Louisa Krause, Brian Gallagher, Bruce Cromer, and Bill Pullman
SYNOPSIS:
A corporate defense attorney takes on an environmental lawsuit against a chemical company that exposes a lengthy history of pollution.
Dark Waters closes with a fascinating statistic, stating that 99% of all human beings, by now, have traces of perfluorooctanoic acid (more simply referred to as C8) inside their systems, a powerful chemical cable of rotting teeth, causing facial defections on children in the womb, and generally bringing about an assortment of diseases. Maybe it's true or maybe it's a scare tactic to drive home the resonance of its underlying messages, but if anything, such an extreme claim is a disservice to the true story (adapted from Nathaniel Rich's 2016 New York Magazine article detailing the shocking events). That's not to say that thousands of people didn't actually come down with various cancers from the exposure (they did), more that such life-threatening effects are rarer than the film might let on.
What is genuinely horrifying is the effects the chemical had on Parkersburg, West Virginia; a small rural town that got hit with the most exposure from a nearby DuPont chemical plant willingly and freely putting its employees at the risk of the aforementioned health hazards just to produce mass quantities of Teflon with it. Perhaps what's even scarier is the landfilled waste ended up as an additive among the drinking water for the cows of local farmer Wilbur Tennant (Bill Camp laying on a thick accent so deep his dialogue borders on indecipherable, but never too campy as not to take away from his humanization as a character; it's one of the actor's best roles to date). The distraught underclass citizen pleads with defense attorney Robert Bilott (Mark Ruffalo, bringing the necessary all-consuming personality required for this legal battle that, apparently, is still going on today) to watch his VHS tapes, as he closely analyzes the many disturbing deformities that have taken the lives of over 150 of his cows.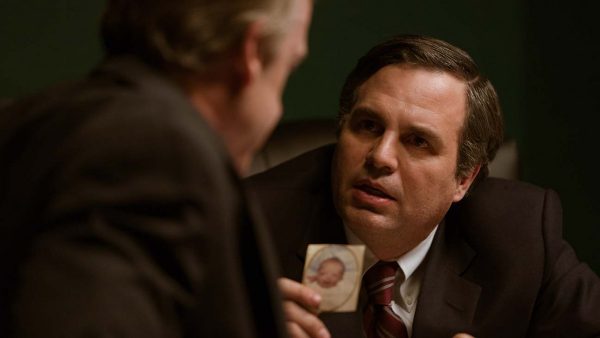 Directed by Todd Haynes (Mario Correa has the honors of adapting the eye-opening New York article), Dark Waters is just as much a fascinating study regarding the dynamic between the poor and the wealthy, or more specifically, the lack of faith one group has many other to accomplish anything and make the world a better place as it is a procedural investigation. It's not that Robert doesn't care about these horrific incidents (it's quite the contrary, as the loner alienates himself from his family due to obsessing over the case and its revelations in relation to the sick carelessness from DuPont), but rather that the legal system is designed to favor the rich and shut these cases down.
Fittingly, Dark Waters does not abide by formulaic legal thriller structure climaxing with a course-correcting victory. There are small victories, but Todd Haynes is ultimately siding with the little guy, the same little guy that is just as quick to turn on members of their community or attend a blood test for the tantalizing reward of $400 instead of further studying the chemical in order to finally pin DuPont with a plethora of criminal charges. No, as one woman convinced that DuPont would never do something that dastardly. These are also the same people that don't trust lawyers, but why should they considering Dark Waters spans from the late 90s all the way up until 2013, and still doesn't cover the whole story. Our government has failed these citizens time and time again, so their finger-waving and mockery oddly feels appropriate; their beliefs may be incorrect but not exactly grounded in stupidity
Coupled with Todd Haynes' Carol cinematographer Edward Lachman that once again emphasizes moody lighting and green-tinted color palettes (frequently applied during outdoor scenes in West Virginia, almost as if to add an eerie layer onto the dangers of the environment), Dark Waters overcomes the sometimes bland direction to be expected from the genre. Mark Ruffalo himself is 5′ 8″ but intentionally appears captured at angles presenting him as shorter despite his status as a defense attorney; he truly is fighting a never-ending battle possibly in vain. Speculation aside, there are haunting shots of West Virginians riding bikes along the sidewalk with profoundly messed up teeth (one of the side effects of C8 exposure), with more unsettling imagery down the road as the situation only gets worse.
Not everything in Dark Waters works, as Robert's personal life seems to only provide a chance for him to panic over the thought of his own children being affected by C8 (Teflon objects are obviously sold all over) and his wife Sarah (Anne Hathaway, fairly wasted here) one solid speech that doesn't necessarily justify her floundering presence. Robert also has a medical condition of his own, although it doesn't add anything meaningful to his character; nothing is done with it to not make it seem out of place.
Surely, some of these missteps can be chalked up to the original script requiring a massive overhaul, although the patches have been smoothed over nicely. Dark Waters offers no happy ending, only fear from what was hidden to the public for an inexplicably prolonged amount of time. Todd Haynes has applied his own signature touches to a legal thriller, resulting in an experience both cold and rattling.
Flickering Myth Rating – Film: ★ ★ ★ ★ / Movie: ★ ★ ★ ★
Robert Kojder is a member of the Chicago Film Critics Association and the Flickering Myth Reviews Editor. Check here for new reviews, friend me on Facebook, follow my Twitter or Letterboxd, check out my personal non-Flickering Myth affiliated Patreon, or email me at MetalGearSolid719@gmail.com