Hasitha Fernando with ten great film scores that should have been Oscar nominated but weren't…
The awards season has officially drawn to a close, culminating with Sunday's Academy Awards. And like every year, there are snubs and surprises galore interspersed with a handful of sure-fire predictable wins. The category of Best Original Score isn't one that is immune to this cruel fate either. In this article we explore a few amazing films scores that deserved to be nominated over the years, but were completely and utterly ignored by the Oscars.
Psycho (Bernard Herrmann, 1960)
Alfred Hitchcock's Psycho has often been ranked as one of the greatest films of all time. And quite rightly so. It was one of the most fiercely original productions of its era, which set new precedents with what was considered taboo in the film industry of that time period, especially with regard to violence, sexuality and deviance. In recognition for its groundbreaking achievements the film was blessed with four Oscar nominations. But none were in acknowledgement of composer Bernard Herrmann's outstanding musical contribution; even though the film owed much to it. Psycho's pervading sense of doom, nerve-racking suspense and shocking scenes of violence were augmented hundred folds by Herrmann's effort, of that there is no doubt. Just try re-watching the infamous 'shower scene' without the score, and you'll understand what I'm talking about. Although the film's music went on to receive critical and audience acclaim later on, it's a goddamn shame that Herrmann didn't get due recognition at that point in time; for what would go on to become one of the most memorable horror-film scores of all time.
The Good, the Bad & the Ugly (Ennio Morricone, 1966)
When A Fistful of Dollars was in production during the 1960's, Italian film composer Ennio Morricone didn't have access to a full-scale orchestra due to budgetary limitations. As a result, he resorted to using extremely unconventional methodologies to bring to life his version of the Western soundscape. It was a far cry from the more traditional orchestral heavy sounds of other Westerns in that era, but his unorthodox approach helped define the Spaghetti-Western sub-genre and it was with The Good, the Bad & the Ugly, that he delivered his pièce de résistance. Recognized now, as one of the greatest instrumental scores of all time, it didn't receive any attention from major awarding bodies back in the day. But I really don't know which is more shocking; the fact that this film failed to receive an Oscar nod or the fact that it took the Academy 50 years…that's right, 50 long years to deem this musical genius worthy of an award in 2016, for Quentin Tarantino's The Hateful Eight. And that too, was 'after' awarding Morricone with an Honorary Oscar in recognition for his body of work in 2007. Ouch. Oscar is pretty weird like that.
Blade Runner (Vangelis, 1982)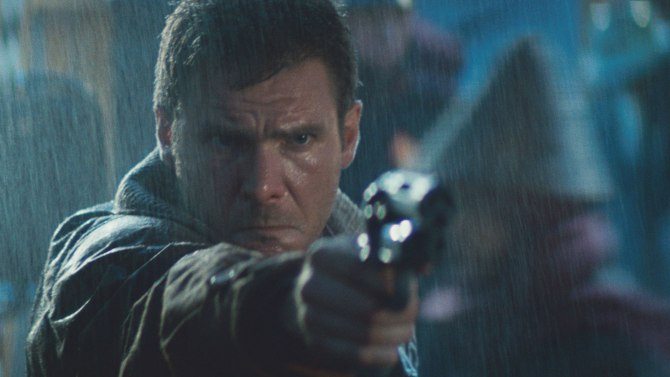 Vangelis followed up his Oscar winning work on Chariots of Fire with one of the most influential film scores of all time in Ridley Scott's genre-defining sci-fi opus Blade Runner. But of course, he received no nomination for his stellar work here. Even the film, by and large, received a rather tepid response when it opened back in the early 80's. Only later was it reevaluated and its significance appreciated, by film critics and audiences alike. Likewise, it's quite possible that even the Academy didn't quite 'get' what Vangelis has accomplished here, which resulted it not being nominated, despite garnering nominations for Best Score at the BAFTA's and Golden Globes. Perhaps it was a bit too 'unconventional' by the Oscars standards, who knows? The tragedy of it is this: the efforts of this reclusive Greek composer is limited to less than ten films, and Blade Runner just happens to be one his greatest achievements.
Jurassic Park (John Williams, 1993)
Yes, you've read that correctly. John Williams did not receive an Oscar nomination for Jurassic Park. Granted, the juggernaut of a shadow cast by his devastatingly beautiful score for Schindler's List certainly complicated things. But I mean come on, seriously? The man has been nominated multiple times in a single year on multiple occasions – a total of seven times before 1993 to be exact, so that can't be it. Up until that point, blockbuster franchises such as Star Wars, Indiana Jones, Superman and Home Alone, for which Williams' composed music for, have all been bestowed with honors in the form of Oscar nominations. So, what happened here? I guess we'll never have an answer for that. Perhaps the groundbreaking CGI which received the lion's share of the attention, is to blame. I don't know. Regardless, Jurassic Park still remains one the greatest sci-fi fantasy scores to come forth from the 90's. An era defining masterpiece whose magical legacy continues to live on. This is without a doubt the most glaringly perplexing omission ever to be committed by the Oscar awarding body, and one that will forever be a source of mystery to me.
The Lord of the Rings: The Two Towers (Howard Shore, 2002)
Howard Shore deservingly walked away with an Oscar for his monumental contribution in creating the soundscape of Middle-earth, in Fellowship of the Ring. To imagine Shore's score without it, is even unthinkable. Yet the most damning drama took place one year later, following his win. In a nutshell, Shore was denied an Oscar nomination for his efforts for The Lord of the Rings sequel based on the fact that it was deemed ineligible by the music branch of the Academy of Motion Picture Arts & Sciences. And their justification was, that the near three-hour score for The Two Towers contained themes from the previous film. Confused yet? I know I was. Barring the fact that a vast component of this epic score was original, the fact that it was ruled-out in the first place, based on such an idiotic rule, was a real WTF moment back in 2002.
Click below to continue on to the second page…