Giancarlo Esposito, one of the stars of The Mandalorian, says that he broke three Darksabers on set.
The Mandalorian season two is shaping up to be pretty epic and with the introduction of the Darksaber in the season one finale, an extra layer of intrigue has been added.
Giancarlo Esposito's Moff Gideon is in possession of the legendary weapon and – having promised "major, major, epic, epic lightsaber action in season two – the actor has now told IMDB that he's getting pretty good with it:
"I'm decent. I'm getting better. But you have to respect the power of it, the energy of it. It's long, dude. I've bopped myself three times already. Pop in the head, I'm like oh my God, what do I do? I start laughing. People look at me, they want me to be the expert right off the bat, because I'm the bad ass. But you know what? It takes practice. So we have long ones, we have short ones. Because sometimes they have to put it in. And guess what? I can say this? I can say it, I can say it. I'm going through it in my head, spoilers, blah blah blah. I can say it. I've broken three of those bad boys."
SEE ALSO: Michael Biehn cast as a bounty hunter in The Mandalorian season 2, Robert Rodriguez confirmed to direct an episode
Hopefully, this means there will be plenty of Darksaber dueling going on. We will find out when the season comes to Disney+ this Autumn.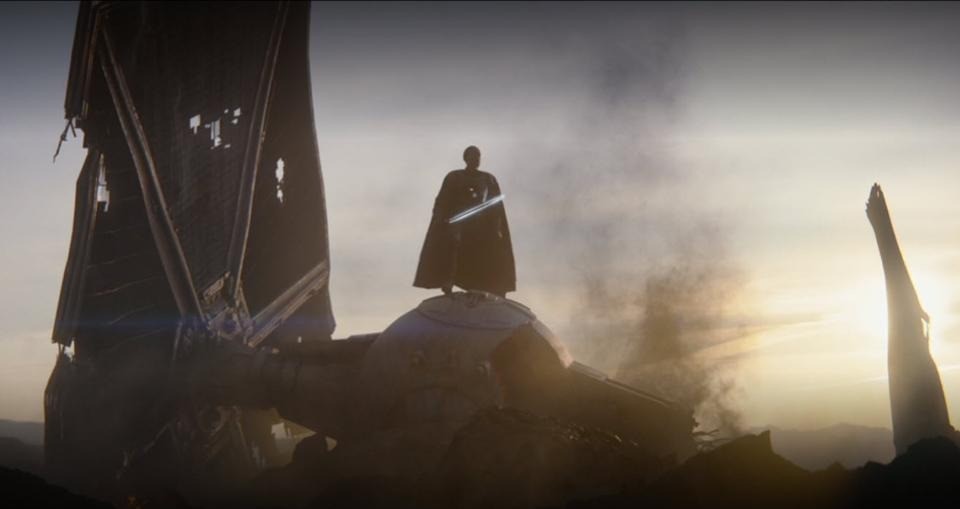 After the stories of Jango and Boba Fett, another warrior emerges in the Star Wars universe. The Mandalorian is set after the fall of the Empire and before the emergence of the First Order. The series depicts a lone bounty hunter in the outer reaches of the galaxy far from the authority of the New Republic.
Pedro Pascal (Game of Thrones) leads the cast of The Mandalorian, alongside the likes of Gina Carano (Deadpool), Carl Weathers (Rocky), Nick Nolte (Afflication), Giancarlo Esposito (Breaking Bad), Taika Waititi (Thor: Ragnarok), Werner Herzog (Grizzly Man), and Rosario Dawson (Daredevil).