Girls Just Wanna Have Blood, 2020.
Directed by Anthony Catanese.
Starring Gigi Gustin, Bettina Skye, Destyne Marshai, Amanda Renee, Craig Kelly, Chrissy Cavallo, and Penny Praline.
SYNOPSIS:
When Jessica's accepted by a trio of fun loving vampires, she finds herself thrust into a lifestyle full of long nights, sex-crazed bikers, and blood suckin'.
While "Girls Just Wanna Have Blood" descriptively embodies Anthony Catanese's depiction of hedonistic sisterhood, the original title "Teenage Bloodsuckin' Bimbos" more accurately conveys sought after roughneck "bikersploitation" tones. Catanese wants you to have fun. Girls Just Wanna Have Blood takes sleepover-cute teens and unleashes them as feral temptresses with a thirst for neck juice. Think an 80s hair metal music video meets The Craft, but with way less budget and somehow more juvenile tendencies. Naughty babes, cheap booze, rockin' tunes, it's all here. Alas, this up-all-night rager is missing the restraint necessary to balance vampiric intrigue and "scintillating" desires. I get that sometimes we're looking for nothin' but a good time, but unfortunately, it does get better than this.
Jessica's (Amanda Renee) trailer-park lifestyle changes forever the night she meets lollipop-innocent Trish (Destyne Marshai), who turns out to be a vampire. Instead of being abused by her alcoholic, prostitute mother, Jessica now stalks the night alongside Trish and followers April (Penny Praline) and Stacy (Gigi Gustin). Besties forever bonded in cruel feeding practices, until their slumber party massacres start spinning out of control. To no surprise, dangers pile like corpses. Enter Boris Von Yelsing (Craig Kelly), a pissed-off motorcycle gang leader, and a warpath of vengeance that'd wake the undead.
It's impossible to ignore the financial hurdles Girls Just Wanna Have Blood attempts to skirt around. Set dressings are stuffy suburban bedrooms, repetitive bar hangouts and such, while execution remains roguishly do-it-yourself. Joe Dirt wigs, sleazy motel locations, and backyard homeliness struggle to elevate specific sequences above what you might shoot for fun with your friends. Catanese's vision is a patchwork indie that does what it can, utilizing local pizza shops and businesses if necessary (traded for product placement), but keeps pushing forward in the name of arterial ventilation. Ambitious, yet underwhelming given an overall "home movie" chic.
Girls Just Wanna Have Blood sports an insatiable eagerness to honor sleaze-o-rama rebellion through soundtrack and attitude but stays chained to affordable on-screen events. As Trish "gets back" at one of Jessica's bullies (whose insults wouldn't pass the audition for Yo Momma), some knockoff Mötley Crüe ballad about leather-clad badasses highlights simplistic Goosey Night pranks. Expect too many random asides where the once-titular "bimbos" dance around in skimpy lingerie to another distortion-crunchy guitar and screecher vocalist. Over and over, promoting bloodlust to the degree that becomes a fixation more than boot-lickin' accompaniment.
Herein lies the problem with Girls Just Wanna Have Blood. Catanese's screenplay panders to the basest iterations of cheapo horror cinema that might screen at 3 AM on Skinemax. Rituals involve nudity, party montage interludes are abundant, and eroticism props a wobbly screenplay like Tiny Tim's crutch. My words do not declare that vampirism can't be sexy, nor any creature sensuality for that matter. A movie like Byzantium drips Eastern European seduction off Baroquian designs, costumes, and just-eat-me-already entrancement. The attraction is inherent where Girls Just Wanna Have Blood forces less natural pornographic inspirations that are even referenced mid-film with a fake softcore VHS screening. Performers bare breasts for the sake of titillating entertainment; blood-soaked bodies writhe together in unison because "that's what horror fans want."
Every written joke ends with some punchline variation involving tits and ass. Harsh dialogue about "skanks" and "hoes" is thrown around because that's how rugged roadsters communicate. Perversion is played as comedy, but never with subtle satire or more poignancy than uttering the crassest line imaginable for a "laugh-worthy" shock. Girls Just Wanna Have Blood is the kind of horror that's dreamed up amidst middle school boy's room conversations, down to the fake semen, voyeuristic parents, porn-addict friend, so on and so forth. The film's sense of humor overstays its welcome, especially running over one hundred minutes.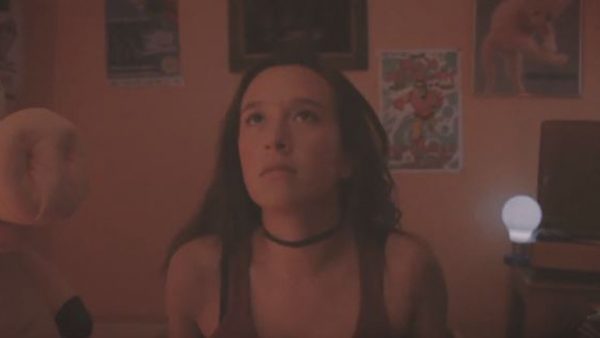 It's a shame, because the production elements that bolster Girls Just Wanna Have Blood are out of their depth. Camera operators make do with poor lighting and drab locations, but lensed quality ranges between crisper stationary shots and almost completely blurred nighttime "action" (speeding motorcycles). Performances throughout the main cast attempt to salvage midnighter energies, but harsh edits around spoken dialogue and rudimentary effects are clunky. Oh, and the effects themselves? One "fight" sequence kills off some rumble-ready thugs with comical practical gags ("kiss of death," "stacked nuns," "rectal rip"). Otherwise, feeding frenzies can only show actresses clamp their mouths over someone's neck before the camera cuts and non-bloody blood drips down an exposed back (injury out of shot). There are a plethora of shortcomings, each more exposed as scenes press onward. Let's not even talk about computerized fire effects, or…well, even worse.
The spirit of Girls Just Wanna Have Blood means to incite riots and rambunctiousness in a punk-as-hell vampire howler. Execution, on the other hand, stokes a one-note thirst for Halloween girlies dressed as Twilight side characters shoving their cleavage towards the camera. Anthony Catanese gets lost in a narrative that one minute is skewering religious "wholesomeness," the next jumps over to a rah-rah friendship arc that falls apart, then launches into a team-up offshoot far later than required. A Dracula lover's fantasy this mediocre genre mixtape surely is not, too preoccupied with finding the next insertion point for another ogle-happy strip number.
Flickering Myth Rating – Film: ★ / Movie: ★ ★
Matt spends his after-work hours posting nonsense on the internet instead of sleeping like a normal human. He seems like a pretty cool guy, but don't feed him after midnight just to be safe (beers are allowed/encouraged). Follow him on Twitter/Instagram/Letterboxd (@DoNatoBomb).