The King of Staten Island, 2020.
Directed by Judd Apatow.
Starring Pete Davidson, Bel Powley, Bill Burr, Marisa Tomei, Maude Apatow, Pamela Adlon, Machine Gun Kelly, Jimmy Tatro, Pauline Chalamet, Moisés Arias, Kevin Corrigan, Lou Wilson, Ricky Velez, Carly Aquilino, Joseph Paul Kennedy, Lynne Koplitz, Giselle King, John Sorrentino, Domenick Lombardozzi, Rafael Poueriet, and Steve Buscemi.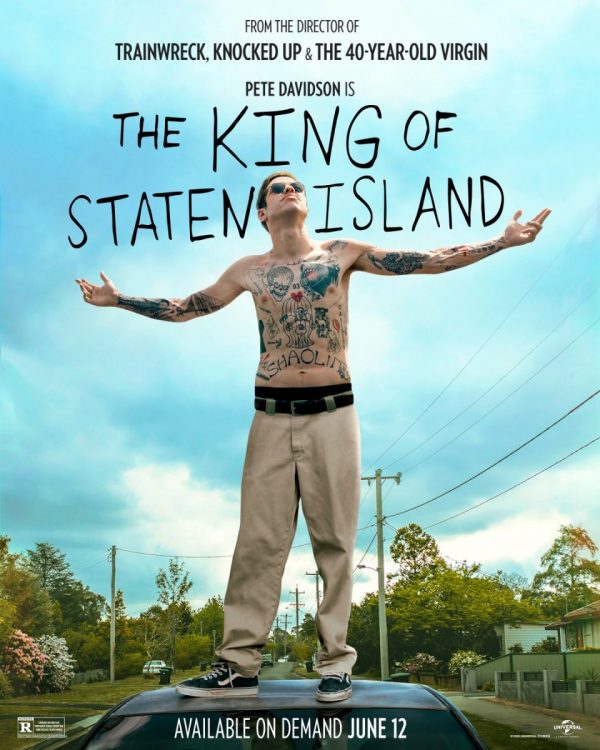 SYNOPSIS:
Scott has been a case of arrested development since his firefighter dad died. He spends his days smoking weed and dreaming of being a tattoo artist until events force him to grapple with his grief and take his first steps forward in life.
As The King of Staten Island closes it brings awareness that the film is actually dedicated to star Pete Davidson's father, Scott Davidson, a New York firefighter who lost his life trying to put out the fires of the World Trade Center during the aftermath of 9/11. Directed by Judd Apatow (as usual, also serving as a co-writer but with Pete Davidson himself and Saturday Night Live writer Dave Cirus lending assistance), it's overly lengthy (not a surprise) but in a sense that packs too many supporting characters, subplots, and traits to the otherwise fictional character Pete is playing, diluting the one thing that matters; the biographical parts which don't really hit their mark in a way that feels cathartic for the performer or the audience.
Instead, this comedy (which pretty much follows the Judd Apatow template to a T with off-the-cuff humorous dialogue, sudden jerks into melodrama, pop-culture references, and enough new on-screen faces that should and will hopefully receive more comedic work in the future similar to how the careers of recognizable faces such as Seth Rogen and Jonah Hill got launched into superstardom at the hands of the filmmaker) tackles one too many themes at a time. Plenty of characters are outright abandoned by the ending with no resolution, leaving me to presume that there's a three-hour cut of the film out there somewhere (if a three and a half-hour version of Paul Feig's Ghostbusters reportedly exists, there most certainly is an even longer version of this narrative).
If anything, the biggest downfall to The King of Staten Island is that all of the characters are so damn likable, that it's unavoidably transparent whenever the film seems to be going out of its way to avoid giving them more screen time. At the same time, the plot itself does feel too unoriginal to justify say, a TV series out of the whole thing. Most time watching The King of Staten Island is spent wondering why or how Judd Apatow spent years for a standard story of a stoner pothead refusing to grow up, finally move on from his father's death, and enter the workforce to be his follow-up to Trainwreck, but then again he peaked with his debut feature The 40-Year-Old Virgin and has been steadily going downhill since then. It pains me to say it, but The King of Staten Island might be his first mediocre movie.
Named after his real father, Pete Davidson is Scott, a 24-year-old slacker who spends his nights smoking with the guys and playing video games, generally having amusing conversations (there is a subplot where one of them might be getting catfished online by an attractive woman, which coincidentally has one of the only worthwhile payoffs of everything going on). His sister Claire (Maude Apatow, and let me tell you right now being the daughter of the director doesn't mean your character isn't going to be left in the dust here) is graduating high school and moving away for four years. This leaves Scott along with his mother Margie (Marisa Tomei), who consoles the widowed and now more lonely woman that he will never leave, which comes across more like a threat given the current trajectory of his life.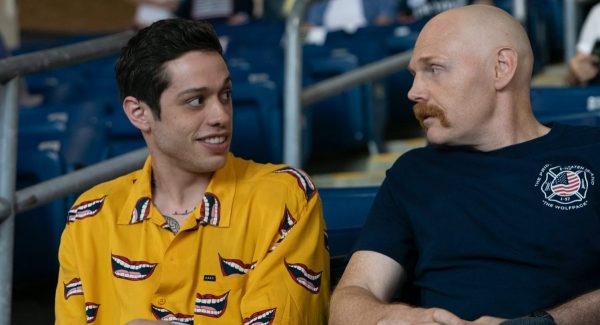 Scott has a dream to be a tattoo artist, except he doesn't even have the basics down pat. His friends throw their bodies at him as blank canvases for artistic creativity yielding horrifically funny results (namely a Barack Obama sketch and another involving the butthole of a cat). He's also scared to commit to his childhood best friend Kelsey (Bel Powley), who aspires to work for the city and transform Staten Island into the hottest spot in New York (another interesting plot idea that doesn't really go anywhere). If that wasn't enough, Margie starts dating another firefighter named Ray (Bill Burr), which naturally doesn't sit well with him but eventually becomes the driving force in him coming to terms with his father as a hero and finding closure. The icing on the cake is that he must also walk Ray's children to school, although the bonding here is delicately crafted with heart and small moments that remind us of the humanity inside such a loser. Naturally, chaos and fighting ensue not amounting to saying much other than most people have a vice of their own.
No one can say that Pete Davidson doesn't turn in a good performance and give the story his all, but he actually plays a better and more layered version of the character in the recently released Big Time Adolescence. Needless to say, there are sequences here such as the opening, which sees Scott so emotionally distant and most likely high that he almost gets into a car accident, beautifully acted. His refusal to move on to the point of having a meltdown that firefighters should not be allowed to have children is nonetheless moving. Most importantly, The King of Staten Island is also a funny movie with plenty of crass jokes and wild situations (there's a robbery scene that is all at once hilarious, scary, and politically relevant).
It just never comes together in a satisfactory manner, even if it does toss in some great work from the likes of Steve Buscemi as a firefighter that did know Scott's father. The King of Staten Island consistently moves on like an episode of TV to different situations rather than evolving the larger surrounding narrative. It's fine if a comedy has too little plot to make room for the character actors to pull off their shtick, but the story spreads to wildfire size and nearly drowns out the positive aspects. Pete Davidson can't carry it all, but he burns charisma like blunts and does deserve more leading roles; particularly ones that have a more clear direction for his character and those around him. Regardless, I have a heart and genuinely hope the experience of working on this film was therapeutic and provided closure for his own tragic loss.
Flickering Myth Rating – Film: ★ ★ / Movie: ★ ★ ★
Robert Kojder is a member of the Chicago Film Critics Association and the Flickering Myth Reviews Editor. Check here for new reviews, friend me on Facebook, follow my Twitter or Letterboxd, check out my personal non-Flickering Myth affiliated Patreon, or email me at MetalGearSolid719@gmail.com